As a new parent, you may be overloaded with questions and worries about your new baby.
With all the items on the market, it isn't easy to know what works and good choices.
One such item is pajamas for babies, and that is what we will be looking at in-depth in this aren't of the best baby pajamas.

---
What Should Babies Sleep In?
Firstly, let me start by saying that as a mother myself, you will find that a newborn and young baby will not actually have pajamas the few first months, but rather very comfortable "clothing" that is basically pajamas they sleep most of the time.
You will want to only bathe and change baby into new clothes once a day, and preferably very comfortable clothes for them to sleep in.
After around six months, when they tend to move around more and get dirty, this is when I started essentially using day clothes and pajamas at night.
So here are some ideas for pajamas for newborn up to toddler age babies;
Pyjamas for Newborns – A newborn baby will usually be swaddled in a blanket for the first month or so, which is an added layer for warmth. Keep in that it is much more dangerous for a baby to be overheated than cold. So try Layering with clothing and blankets that you can remove should the baby get too hot. I usually use a snap vest, and a baby grows or baby onesie inappropriate materials and designs for the season.
Baby Pyjamas – As your baby grows, you may not swaddle anymore, but it would still use the layering technique with a body vest and baby onesie or an extra layer for colder weather. I have heard about the sleep sack but not yet used one myself. The sleep sack is a blanket that a baby wears much safer than having an actual blanket in their bed that can cause suffocation. It is also a great idea to swap out to get the baby used to not being swaddled anymore. Then again, as the baby gets older and starts moving around more, I would still opt for onesie pajamas or two-set pajamas with a onesie vest that snaps in the bottom to keep their body warm.
Toddler Pyjamas – For toddlers, you can start opting for a two-piece pajama set for warmer weather and maybe a onesie for colder weather. However, keep in mind that when potty training, onesie pajamas may not be the best option for a toddler.
---
Best Pyjamas Materials
You need to consider things such as overheating, sweating, allergies, eczema, and basically just materials that will cause discomfort and whatnot when it comes to fabric for baby pajamas.
I personally prefer cotton as my youngest suffers from eczema, and this is the only fabric that her skin tolerated at first. But whatever you choose, make sure that it is ideal for your baby personally.

Bamboo – Bamboo, or rayon-derived bamboo, is a material that is becoming more popular but is still rare in most aby pajamas. This is a natural, absorbent, and hypoallergenic fiber.
Cotton – By far my favorite, just make sure it is 100% genuine cotton. You get different eaves for summer and winter/. Cotton breathes well, absorbs moisture, and is hypoallergenic. It s one of the best fabrics for babies with eczema. Cotton is also affordable and quite easily obtained. Most stores sell cotton pajamas for babies of all ages. Cotton also is available in winter and summer pajama options.
Linen – Linen is extremely cool to the touch and ideal for scorching climate areas where the baby may become overheated. It is also a hypoallergenic fabric that breathes well.
Flannel – We all love flannel pyjamas. Flannel is basically a softer and heavier weave of cotton, wool, or synthetic fibers, and I would opt for cotton for the baby. The pajamas are soft and ideal for cold winter months.
Polyester – I have added polyester as it is a cost-effective and very easy to come by fabric that baby pajamas can also be made out of, especially the hot fleece design pajamas. However, for skin allergies and eczema, I would not recommend polyester pajamas at all
---
Features of a Good Baby Pyjamas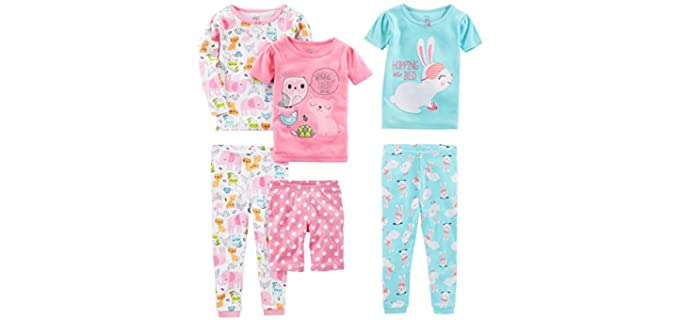 Materials – Baby Pyjamas can consist of natural and soft cotton or brushed cotton, bamboo, or synthetic polyester. Fleece and plush fleece materials are ideal for winter pajamas.
Design – Baby Pyjamas are usually a one-piece pajamas design that offers the most warmth and comfort. However, for older babies and toddlers, you do get two-piece pajama sets for both winter and summer.
Closure – Mostly, the pajamas will have either a zip or a snap closure if they are not a simple pull-on design. Button closures are never recommended for babies as they may swallow the buttons.
Fit – For the fit, as long as the pants do not slip off, a loose and relaxed fit is ideal, hic know you can even size up so that baby can grow into the pajamas. Pajamas are meant to be loose and comfortable and never restricting.
Options – Baby pajamas come in various options in terms of size, colors, patterns, or prints, which will, of course, depending on what the specific brand and model has to offer.
---
Reviews: Best Pyjamas for Babies
With much research behind it, the following list contains some of the best available pajamas for babies and toddlers;
---
1
The set from Carter's is ideal for older babies and toddlers.
It is a three-pack snug-fitting footless cotton pajama set.
I love the fact that it is cotton, and Carter's is an excellent quality brand.
The Pyjama set comes in many more colors and prints.
---
2
This is the boy's version of the three-pack set from Carter's, the Simple Joys range.
It is 1005 cotton, lightweight, and breathable.
There are colors and designs available specifically for little boys.
The set fits older babies and toddlers.
---
3
This is asleep and playset from Burt's Bees for baby boys.
This pajama is more suitable for younger and newborn babies.
It consists of 1005 organic cotton and is of the finest quality.
There are some more colors and prints available in the pajamas for boys.
---
4
The Burt's Bees Pyjamas for girls is similar.
It is a single-footed onesie in organic cotton.
The pajamas are certified organic and very comfortable.
The onesie is available in more colors and prints for girls.
It is also fully machine washable and has a zip closure.
---
5
For those cold winters for small babies and newborns, we have the BabyMine one-piece pajamas with a hood.
The one-piece consists of fluffy fleece that is extra warm and cozy for cold winters.
There are three available colors for boys and girls.
The hood provides protection and warmth for the baby's head.
---
6
This is a Sleep bag, as I discussed, for smaller babies and newborn babies from Carter's Simple Joys range.
There are three sleep bags in a set.
They are ideal when you want to get a baby from swaddling to sleeping without a swaddle.
The colors are neutral, so they are ideal for boys and girls.
---
7
I just had to add this fun and colorful summer pajama set for girls.
It is also from the Crater's Simple Joys range.
There are three different two-piece pajama sets.
The fit is designed for toddlers and older babies.
More colors and prints are also available.
---
Index Table: Top Rated Pyjamas for Babies
---
---