Flannel is one of our best friends in the cold weather and even in the warm weather!
The classic, casual look that it adds to your wardrobe says "friendly" and "home," so having a bit of plaid in your closet is definitely a good thing. There are so many ways that you can rock it!
Below, we highlight a mixture of the best flannel shirts for both men and women. Whether you're looking for a mixture of colors or only two, large prints or small, we have some great suggestions for you on our list below.
---
Few Things to Consider
Here are a few things to consider before you select a flannel shirt.
Colors – Aside from the fact that the colors need to compliment your skin tone, hair color, and eyes, they also need to complement your wardrobe. What colors are your current shirts missing that you would like to add in? Try choosing a shirt with basic patterns with complex patterns to spice things up a bit. The more colors a plaid pattern has, the more combinations you will create with your current clothing. The pattern contains yellow, olive green, dark blue, orange, and grey. That's five colors and, therefore, five possibilities that you've just opened up to pick up some other colors in your current clothing!
Season – Generally, flannel is used for cold and cooler weather, so you'll often find the plaid pattern in the colors of these seasons. Orange, yellow, khaki, and reds in fall; bright red, green, dark colors in winter. Don't forget the spring flannel! Spring can still be a chilly month in some areas, so instead of opting for the earth tones, brighten up your look as spring arrives with some pastels mixed in with darker colors.
Hang – One thing to check is how the shirt hangs. Is it longer in the front and shorter in the back or on both sides? If you plan to tuck the shirt in, this won't be an issue, but the hem length makes a huge difference when you wear it untucked. Men's untucked flannel shirts should not fall below the crotch of their pants and not sit above the halfway mark of their zipper. The hemline for women's shirts is a bit more forgiving, and you usually hang down to the thigh if the shirt isn't tucked in.
What Is Flannel Made Of?
While it was originally made of wool or worsted yarn (a type of wool yarn), nowadays, flannel is often made of cotton.
To loosen and raise the loosely woven yarn's fibers, yielding it soft and fuzzy, the flannel is sometimes brushed with a fine metal brush. This can be done on just one side of the fabric or both sides.
---
The Plaid Confusion
While you oftentimes hear the word "flannel" and "plaid" used interchangeably, they are two different things.
Flannel is the fabric that we have just described above, and "plaid" is a pattern. Plaid shirts can be made of poplin, broadcloth, or various other fabrics with different textures, weaves, and weights.
Sometimes you'll even find flannel shirts in a solid color, but to remain true to tradition, they are often printed with the classic plaid pattern, just like the shirts on our list above.
---
Features of a Good Flannel Shirt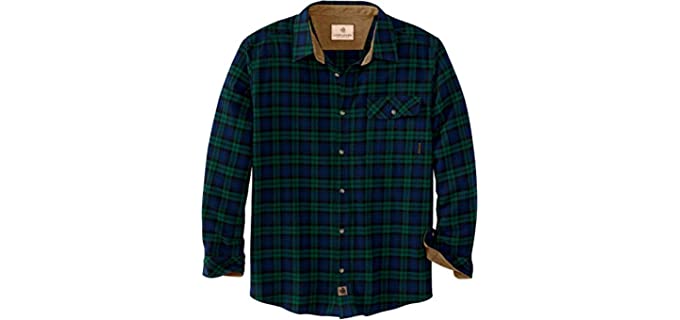 Materials – A Good Flannel shirt will be either a cotton and polyester blend, pure cotton or polyester. Most of the softer fleece type winter Flannel shirts are mostly polyester.
Design – Most FFlanner shirts have the check pattern design in two colors with corduroy or reinforced cuffs and collar. Some also come with side and, or chest pockets.
Options – Flannel shirst will be available in a wide range of color optiosn as well as differen sizes, even plsu sized options.
---
How to Style a Flannel Shirt
Here is a short video that gives you some ideas of how to style a flannel shirt.
---
Men, we didn't forget you. Here is a short video that will give you some ideas for how to wear a flannel shirt
---
Reviews: The Best Flannel Shirts
In our extensive list, you will find some of the most fashionable and best quality Flannel Shirts for both men and women;
---
1
A comfortable loose and leisure fit flannel shirt for women from Hotouch.
These are cotton and polyester blend shirts that are comfortable and durable.
The flannel shirt is available in many more color options in a similar design.
They offer a regular fit with long sleeves and have pockets.
You can also machine wash the shirt and iron them on low heat.
---
2
From legendary Whitetails, we have a pure cotton flannel shirt for men.
These Flannel shirt models are full cotton with button closure.
They can be machine washed in cold water and tumble dried at low heat.
The Flanner shirt is available in many more colors you can select.
They have contrasting corduroy collars and cuffs for decoration.
---
3
The Stylish Alimens and Gentle Flannel shirt come with convenient and decorative pockets in full cotton.
These Flannel shirts are breathable 100% cotton.
They have a full button closure design and three pockets, one left and two sides.
You can machine wash and hand dry the shirt and iron them on low heat.
They are also available in more color selections.
---
4
The Zeagoo Flannel Shirt for women has a wrap-around waist design and roll-up sleeves.
The Zeagoo Flannel shirt is cotton and polyester that breathes well.
They run a bit small, so be sure to size up.
The shirts have a classic checkered design and are available in more color selections.
You can also choose from available extended size options.
---
5
We have the slim-fit design, flannel shirt from Match for the ladies.
The Flannel shirt is a 100% cotton option.
It offers a slim-fit design and button-up closure, with long sleeves.
The classic Plaid design and collar also has two chest pockets.
You can likewise add a belt for a more feminine design.
---
6
A comfortable hooded design flannel shirt option from Legendary Whitetails.
Here we have another excellent 100% cotton Flannel Shirt model.
They have a button closure and are fully machine washable.
The corduroy lined cuffs and collar is durable and looks great.
What is more, is that there are many more colors to choose from.
---
7
The Amazon Essentials Flanner shirt has a much more comfortable, looser, regular fit for men.
The AmazonEssentialss Flannel Shirt is 100% pure cotton.
The shirt is available in plenty more colors from which you can choose.
It offers a regular and comfortable fit with button closure.
Furthermore, you can also machine wash this shirt.
---
8
The Wrangler Authentic Flannel shirt is a warm heavier fleece material for those cold winters.
A top brand and a durable Flannel shirt for men.
The shirt is 100% polyester that is soft and very durable.
It is ideal for colder weather with a medium weight fleece design.
There are a few more colors available for your perusal.
You can machine wash and iron these shirts.
---
9
The Carhartt Rugged Flex Flannel shirt comes in various sizes and fits types for men.
The Carhartt Rugged Flex is a comfortable and stretchable Flannel shirt.
It has a relaxed fit design and a full button closure.
The soft finish is comfortable against your skin, and it is shrink-proof.
You can also select from more color options in this Flannel Shirt model.
---
10
The Flexible Flannel Shirt from Dickies has moisture-wicking cotton and a comfortable fit.
The Dickies Flex Flannel Shirt is at the top of its class.
It has a more lightweight and flexible design and more colors available.
There is a full button closure with faux horn buttons.
The materials are moisture-wicking to keep you cool and dry.
---
Index Table: Top Rated Flannel Shirts
---
---