Hawaiian shirts are definitely "in" right now. They are casual, cool, and comfortable, and they make for excellent attire for a weekend barbecue, a night at the movies, or chilling at home with friends and family.
Those of you sick of settling for shirts made from low-quality materials are probably ready for some decent options. Are we right?
If that's the case, then you are definitely in the right place!
We have an excellent selection of some of the best Hawaiian shirts in our table below, so check them all out to find the one that fits your style and budget needs.

---
How to Choose a Hawaiian Shirt
Age – Do you want a true vintage Hawaiian shirt or a modern shirt? Vintage Hawaiian shirts are hard to find and will likely fetch a higher price. They have cool features that are not common in modern shirts, such as large butterfly collars and even wooden or coconut buttons. Modern Hawaiian shirts have smaller collars, plastic buttons, and vertical buttonholes. You should get a true vintage Hawaiian shirt for a truly Hawaiian experience.
Fabric – Hawaiian shirts are available in a variety of fabrics. Most of these shirts are made of polyester, cotton, rayon, or silk. Some are made of a blend of these fabrics. Silk and rayon are lighter materials, and they are used in modern shirts. Vintage shirts were commonly made from polyester and cotton fabric.
Pattern – Hawaiian shirts can feature either a repeating pattern or a full scenic landscape image that spans the entire shirt. Repeating patterns feature a small image or design that is repeated several over the entire shirt. Popular images include flowers, birds, or any other island image. Scenic landscape images extend across the entire shirt, and popular scenic images include the ocean, the beach, and volcanoes.
Little Details – When it comes to Hawaiian shirts, you get what you pay for, and the little details can tell you a lot about the overall quality of the shirt. Opt for high-quality fabric and check to see what the buttons are made of: usually, wood or seashells, and they feature a unique double-stitched design.
---
Features of a Good Hawaiian Shirt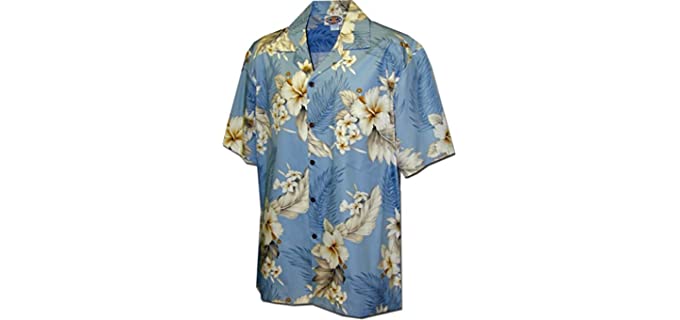 Materails – Materails used in most Hawaiin shirts are natural cotton, although you will find polyester and polyester beldn models.
Prints – Prints can vary in style and are usually things like Hibiscus and tropical floral prints, Flamingos, and anything trivial in nature. Hawaiian shirts are generally very colorful and bright, with bold prints and color options available.
Details – Additional features such as side pockets and Cocvonut material butons can be found in some modesl and designs.
---
How To Wear A Hawaiian Shirt
Wearing a Hawaiian shirt is not that easy. Here is a video that will give you some ideas of how to wear a Hawaiian shirt.
---
Reviews: Best Hawaiian Shirts
Here are some of our top favorite Hawaiian shirt designs and brands for men and women;
---
1
None is better than Pacific Legend Men's Hawaiian Shirt of all the Hawaiian shirts in the market. It is made of pure cotton material that feels soft and smooth on your body.
The buttons are made of coconut for the true Hawaiian experience. The breast pocket fits into the design pattern seamlessly for a smooth and polished look.
The color is vibrant for the ultimate tropical look. It won't shrink or enlarge with time, making it one of the most durable Hawaiian shirts on the market.
---
2
Geometric Forest Tropical Hawaiian Cotton Shirt is made of the best material for the ultimate tropical experience. It is light and free, and this makes it perform better in hot weather.
It has one breast pocket that matches the shirt's pattern for an uninterrupted design.
The print is produced with stamps that are approximately 8 square inches in size, and they are applied to the shirt by hand for a repeating pattern.
This gives it an excellent Hawaiian look different from the rest.
---
3
Niashot's short sleeve V-neck Hawaiian shirt is one of our favorite options for women. It has a fun yet sophisticated look that makes you stand out from the crowd.
It features a beautiful floral print, and the dropped-shoulder design allows you to flaunt your sexy shoulders and awesome summer tan. You can pair it with jeans, shorts, or a skirt, making it a versatile piece of clothing to have on hand in your wardrobe.
The cut is very flattering to many figures, especially if you are longer in the torso. Tuck it in if you would like to show off your waist and curves, or leave it untucked for a more carefree, casual look. The material is lightweight, perfect for packing in your bag for that tropical vacation you've been longing for.
It comes in a wide range of tropical (and some non-tropical) prints, too.
---
4
The Cotton Hawaiian shirt from Pacific Legend is a soft touch comfortable shirt for men.
The shirt comes in four different color options, all with a white hibiscus print all over.
This is a cotton shirt that is a durable and highly breathable material.
The button consists of genuine coconut.
This shirt is actually made in Hawaii.
---
5
I love the Alvish shirt is the variety of optiosn that it comes in coor and prints.
It is a 100% Polyester shirt that is lightweight and breathable.
The buttons consist of coconut fiber to give a more classic Hawaiian look.
This is a women's shirt of high quality and comes in different size options.
Bottom of Form
---
6
Another excellent addition from Pacific Legend is their Flamingo print Hawaiian shirts.
As I have mentioned before, these shirts are made in Hawaii itself.
The buttons are coconut, and the shirt is a 100% cotton poplin fabric.
There are two color options available in this range.
---
7
From King Kameha, we have these fun and funky Hawaiian shirt options.
They are denser, and of higher quality, so they will last much longer.
There are many color options available from which you can choose and sizes up to plus sizes.
The shirt comes with lovely Hawaiian prints and is ideal for women.
---
8
The Tipsy Elves Tropical design Hawaiian shirts have a front tie and a feminine and elegant style.
A bright and fun Hawaiian style shirt just for women.
The shirt consist of Polyecotton blended for softness, durability, and breathability.
There are different color and print options available and sizes up to plus sizes.
The shirt has a button closure design with plastic buttons and a fun Hawaiian appeal.
---
9
The La Leela Hawaiian printed blouse for ladies has an elegant design and is available in many color options.
This is a soft and sheer fabric that is not see-through.
The shirt has a button closure and short sleeves, and a straight hem.
Ideal for beachwear and casual wear in warmer weather conditions.
---
10
The SSLR Hawaiian shirts have a lovely button detail design and a collar and availability in many other color selections.
The shirt consists of a soft and lightweight Polyester and is available in many color selections.
The straight fit is quite flattering, with a perfectly tailored silhouette.
You can machine wash and tumble dry this shirt on colder settings.
---
Index Table: Top Rated Hawaiian Shirts
---
---