There are more than just dress shirts to wear with your favorite pair of jeans, and this counts for men and women. You can get instant formal or casual styles with the same pair of jeans, just by changing your shirt.
In this article, we look at the best shirts to wear with jeans and concentrate on formal as well as casual styles.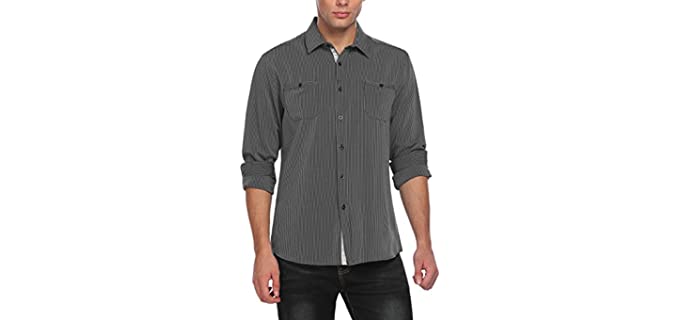 ---
The T-Shirt with Jeans
Firstly let us start off with the casual T-Shirt style, which is a favorite for wearing with jeans of all colors, styles, and cuts;
Styles – T-Shirts come in so many styles and cuts today, there are plain cuts, flowy loose fits, boxy T-Shirts, and not to mention the variety of necklines. You get V-necks, round, scoop, and off-the-shoulder necklines.
Color – If you are wearing distressed and decorated jeans,s you should opt for a plain color T-Shirt that does not look overly busy. On the other hand, you can spruce up a plain pair of jeans with a T-Shirt that has a fun print or patterned design. High waist jeans look great with cropped t-Shirts, while for regular waist and hipster jeans,s I recommended a typical length T-Shirt. Try to pair your jeans with a contrasting-colored T-Shirt. For light jeans, pick for a darker shirt, and for dark jeans, opt for a more lightweight shirt.
Fit – Make sure that your T-Shirt, whichever style you choose, fits properly, not too tight, and not overly loose as to look sloppy. I generally go with a looser fit tunic type T-Shirt with my skinny jeans and jeggings, and a more tailored and tight-fitting T-Shirt with straight leg or bootleg cut jeans.
---
Dress Shirts to Wear with Jeans
Then for a more formal look, a dress shirt for men, and a dressy blouse or tailored dress shirt for women, is an excellent choice;
The Cut – A tailored cut dress shirt always looks good on men and women. The fit should be roomy but not loose and achieve an overall balanced feel with your jeans. For the ladies, more flowy and loose-cut blouses look great with a pair of skinny jeans. However, they do not work well with looser fit jeans and wider leg jeans.
Tuck or No Tuck – Tucking your dress shirt all depends on the style and occasions, for formal occasions, a dress shirt should be tucked for me; however, women can get away with untucked styles. The folded style likewise works well with high-waisted jeans for ladies.
Complement Colors – Find Dress shirts in colors that are contrasting to your jeans and that complement your personality and skin tones. Always wear lighter shirts with darker jeans and darker shirts with more lightweight jeans.
Layering – You can always layer a dress shirt with your jeans with a tailored suit jacket, a cardigan, or even a sleeveless jacket.
Accessories – As jeans with a dress shirt for men boast a professional but not completely formal look, I would not really consider wearing a tie with your dress shirt. For ladies, some stylish and elegant jewelry will complement a dress shirt with your jeans.
---
Features of a Good Shirt to Wear with Jeans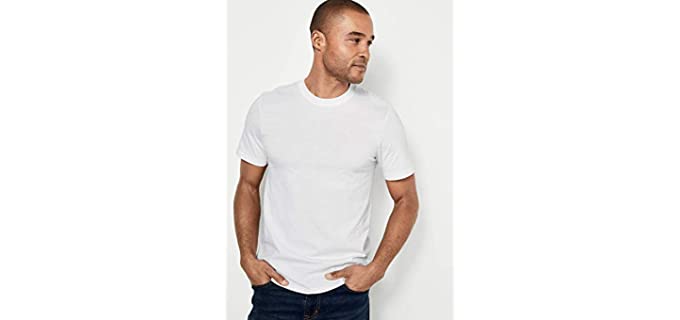 Materials – A good shirt for wearing with jeans comes in literally any material that you can find. Generally, more natural materials such as cotton, rayon or bamboo and viscose are desirable, yet synthetics including polyester, microfiber and velvets, and Nylon.
Shape and Design – Any shape and design of the shirt are acceptable, depending on the occasions, whether formal or informal, and the type of jeans you will be wearing.
Fit – When wearing tight skinny jeans or jeggings, I generally recommend wearing a looser shirt. Whereas with a loose bootleg or wider leg jeans, I recommend a more fitted and snug-fitting shirt.
Options – Shorts for wearing with jeans come in a huge array of colors, prints, and patterns, all for your personal preference. Deepening on the brand and model, you maybe also get Plus sizes, besides just the regular standard sizes.
---
Reviews: The Best Shirts to Wear with Jeans
In our reviews section, we look at some excellent styles of shirts from trusted brands that can be worn with different types of jeans;
---
1
One of the best choices you can make for a semi-formal and professional look with jeans is a check or striped dress shirt.
This is a check-patterned dress shirt for men that goes well with jeans in a semi-formal to a professional setting.
The dress shirts are available in plenty of color options and sizes.
The shirt consists of polyester and spandex for soft comfort and stretch.
There are a button-down closure and pocket details.
---
2
Why not opt for a cool summery Hawaiian print button shirt with your favorite pair of jeans.
A fun colored Hawaiian dress shirt for men.
There are three color options available with Hibiscus prints.
This is a short-sleeved button closure shirt in cotton and polyester,
The shirt is light and breathable and aa s well as fully machine washable.
---
3
The Polo Shirt, such as the one from Lacoste, looks great as a casual option with any type of jeans for men.
A stunning Polo shirt design from a top brand Lacoste.
The shirt has a polo design with a button neckline and collar.
There are a few color options available, as well as the basic white and black.
The shirt consists of 100% pure cotton and has a trim fit design.
---
4
The Dickies long sleeve plaid flannel shirt is a winter staple to wear with any type of jeans.
Another 100% cotton dress style shirt for the ladies this time.
The dress shirt goes well with jeans in the wintertime and has a check print.
There are more colors and sizes available to you.
The shirt has a button closure and is fully machine washable.
---
5
For a more professional look, you can opt for the LilySilk Silk Blouse, available in solid colors and prints.
Nothing beats a stunning silk shirt paired with a pair of formal style jeans.
The shirt consists of a pure A6-grade mulberry shirt and is of premium quality.
There are more colors and standard sizes available.
The shirt has a full button placket and pleated design, with a collared neckline.
---
6
The Basic cotton T-Shirt is a classic to wear with any type of jeans , and it comes in some lovely neutral colors.
A 100% Supima cotton T-shirt for casual days with your jeans.
The shirt comes in a few solid color options and is of premium quality.
It has a fitted silhouette with a cap sleeve and a U-neckline.
Enjoy it for everyday luxury and comfort.
---
Index Table: Top Rated Shirts to Wear with Jeans
---
---