There's no better way to celebrate friends and friendships than with a fun, cozy sweatshirt.
Yeah, you can get a mug or a piece of jewelry, but if you want to show the world who your BFF is, then a sweatshirt is the way to go.
Check out some of the top best friend sweatshirts in our list below. Whether you are looking for a comical way to celebrate your friendship or a cute way to show your spouse you love them, we have something for everyone on our list below.
---
Few Things to Consider
Before you choose some sweatshirts, here are a few things to consider.
Message and Style – Are you looking for humorous sweatshirts, something casual, something cute, or bold? There are plenty of ways for you to celebrate your friendship, so find a style, message, and some colors that reflect both of your personalities. We've included a mixture of styles below.
Couple or Friends – What if your best friend happens to be your spouse or significant other? If that's the case, then you'll want to check out the couples sweatshirts we have below. Numbers two, three, five, and six are awesome. If your BFF isn't your spouse, then we have plenty of other options for you below.
Plain Sweatshirt – As an alternative idea, we have included two sweatshirts on our list below that have no writing on them; one for women (number eight) and one for men (number seven). We will discuss our idea for these plain sweatshirts below, so keep reading!
For Pets – Does your best friend have four legs, wings, or a tail? You might consider getting a best friend sweatshirt for your pet that matches something that you have. This works best for dogs since some wear sweaters, but if you don't want to dress your pet or can't, then think about customizing a shirt with something of theirs (a food bowl, a bed, etc.)
---
Use Plain Sweatshirts
Above, we mentioned that there are two plain sweatshirts on our list, and we included them because they are made of quality materials, they fit well, and you can still use them as best friend sweatshirts.
Get two of the same color and personalize them with whatever you like. You may want to use some retro puffer paint to design your own logos, draw your own personalized art on fabric paint or markers, or leave them natural.
There are plenty of things you can do with a plain sweatshirt to personalize it for you and your BFF.
---
Sweatshirt Material
Most sweatshirts are made from a blend of cotton and polyester, and some are made of a fleece mixture.
The following characteristics mean that the sweater was made with quality material, so consider them as you shop:
Stretch – 20-50% stretch is right for a quality sweatshirt. Anything less, and you may need to go up a size since the fit might be snugger than you had anticipated.
Fleece – Sweatshirts made of microfleece have enough stretch. Avoid polar fleece sweatshirts. Sweatshirt fleece is usually what you'll find, where one side is jersey (the smooth part on the outside), and the other side is fuzzy (the part that makes contact with your body.)
---
Features of Good Friends Sweat Shirt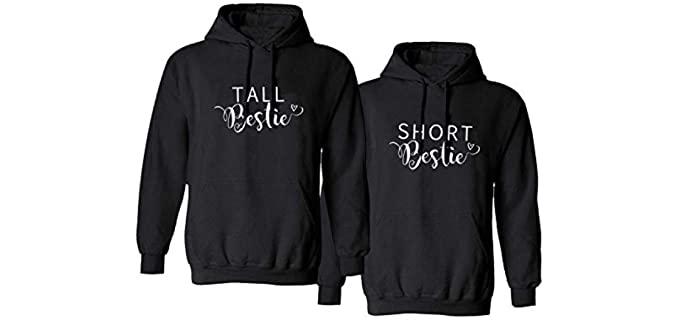 Materials – Sweatshirts consists mainly of two materials, which are polyester and cotton. Some are 1005 cotton, whereas some have a blend of cotton and polyester.
Design – The Friend Swaeytshirt range comes with prints and pictures that depict friendship or couples relations ships. They come in a set of two and usually have a classic style with or without a hood.
Colors and Options – Friendship Dio Swaetshirst come in a avrity of solid color optiosn, as well as standard and plsu size options.
---
---
Reviews: Best Friend Sweatshirts
In this list, we have some of the best couples and friendship duo sweatshirt that you can find;
---
1
The Tstars hoodie set is designed specifically for couples and comes in many more color options.
The Tstars besties hoodies come in a set of two for a couple.
They consist of half polyester and half cotton.
There are also more color options from which you can choose.
The fit and design are comfortable, cozy, and warm.
---
2
The Epic tees friendship hoodie set to come in a comfortable classic fit and more colorful designs.
These are friendship sweatshirts in a set of two.
The sweatshirts consist of cotton and polyester that is soft and breathable.
They are of excellent quality and offer a classic, comfortable fit.
There are more colors and designs that you can opt for.
---
3
Another addition from Tstars is their friendship hoodie set.
The Friendship sweatshirt comes in a set of two for you and your bestie.
They are also available in more styles and colors.
The sweatshirt is cotton, and polyester blends are soft and cozy.
You can machine wash them and tumble dry on low heat.
---
4
From Aganmi, we have the best friend's hoodie set in pure cotton.
These are 95% cotton sweatshirts with 5% polyester.
They come in a set of two for you and your best friend.
More colors and designs are available to you.
The crewneck design and long sleeves are warm and very comfortable.
---
5
The Couples Apparel sets are very comfortable in fit and have extra-large size options available.
Another cotton and polyester option that is very cozy and warm.
This is a set of two sweatshirts that are designed for couples.
There are various sizes available up to 3XL, as well as more colors.
The sweatshirts are comfortable and very cute to wear for couples.
---
6
The Friends girls BFF set is a unisex design with soft fleece for comfort.
Here we have another BFF duo sweatshirt set.
The sweatshirts consist of cotton and polyester that is pre-shrunk.
They are machine washable and can be tumble dried on a lower heat setting.
The sweatshirts offer a classic and comfortable fit.
---
7
A comfortable and versatile duo set from Best Friends with a coffee and donut print.
This is a stunning donut and coffee design for best friends that come in a duo set.
There is more color available, and they come with a hood.
The sweatshirt consists of cotton and polyester that is warm and breathable.
Extended size ooptons are also available.
---
8
The Best Friends Hoodie set comes in more color to choose from, and are pure cotton.
Another excellent best friend addition in a duo set.
Ideal for girls that like to match.
The sweatshirt is 100% breathable and lightweight cotton fabric.
They also come in more neutral color selections.
---
9
The Soul Couple offers you a matching best friend's set sweatshirt.
Matching Best friend sweatshirts from soul couple with fun logos.
They are ideal for girls that are blonde and brunette.
The sweatshirts consist of healthy cotton and polyester fabric.
There are a few neutral color options available for your perusal.
---
10
Another excellent addition from Soul Couple in 100% cotton with high-quality prints.
Another stunning duo sweatshirt set for girls.
They are ideal for best friends with a bestie logo and design.
The sweatshirts come in more color selections and extended size options.
They are high quality 100% breathable cotton.
---
Index Table: Top Rated Friends Sweatshirts
---
---