An excellent selection of t-shirts is the foundation of every woman's wardrobe. You can wear them alone or use them for layering, and you can never have too many in your closet. A high-quality t-shirt worn the right way will make you look your best.
You shouldn't underestimate the process of searching for the best t-shirts for women. Your choice of clothing is an imminent reflection of your personality and style.
Shopping may be dreary and tiring, but this is why we're here: to present to you the best options so that you can make a sensible purchase.
---
Tips on Shopping for T-Shirts
When browsing for the best t-shirts for women, we would recommend you to factor in various aspects. The clothing fabric influences its care, how it can be worn, and how it will wear over time, for starters.

Cotton – It is implied that clothes made of cotton represent the best options. It's comfortable and, most importantly, breathable. Plus, cotton combinations are more durable than other materials.
Linen – Linen shirts provide almost the same breathability and comfort as cotton shirts. Nonetheless, the look is more structured.
Polyester – Shirts made from synthetic materials such as polyester aren't the best out there. They wear out faster and don't feel as comfortable on the skin.
Another fundamental rule when it comes to clothing is that it must fit. As most t-shirts seem to have a basic cut, you may have some hard time distinguishing a high-quality cut from a bad one. Hence, what you should do is look at the way the t-shirt is sewn. You should see if the stitching is well-made.
At the same time, t-shirts come in various cuts and sizes, and you can choose from classic cuts, printed shirts, polo shirts, v-lined shirts, and so on.
At the end of the day, you have to feel comfortable and confident in the clothes you're wearing, and this is the first thing you should bear in mind while shopping.
---
Features of a Good T-Shirt for Women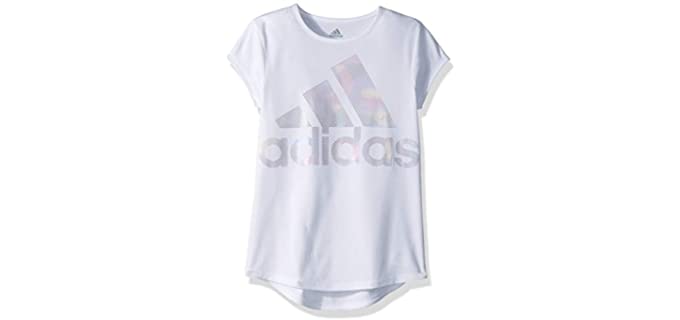 Materials – Good t-shirts usually consist of 100% pure cotton that breathes well and that wicks away moisture. Some consist of advanced polyester blends or a blend of polyester and cotton.
Neck Design – T-Shirts for women may have a V-Neck, Crew Neck r a scoop neck design depending on the brand.
Options – You can get a t-shirt in a large variety of solid colors, or print options. Standard and plus size, size options should be available depending on the brand.
---
How To Wear A T Shirt Fashionably
---
Reviews: The Best T-Shirts for Women
In the below reviews are some great T-Shirt ideas just for women;
---
1
The Tommy Hilfiger T-Shirt has a large logo across the chest and consists of 100% cotton.
This is a 100% pure cotton jacket.
Cotton is breathable, cool, and crisp, as well as very durable.
The T-Shirt is available in more colors for your perusal.
It comes with a big logo across the chest.
The sleeves are short and comfortable.
---
2
The Tommy Hilfiger T-Shirt range comes in a variety of colors, all with the logo detail.
This is a solid color t-shirt with more colors available.
It consists of durable cotton and polyester that also breathes well.
The t-shirt offers a comfortable and feminine fit.
It has a V-neck design that is flattering for ladies.
---
3
PrinStory t-shirts are very soft and comfortable to wear and have a V-Neck design.
This is a cotton, rayon mix t-shirt that is very soft and comfortable.
The blended materails ensure a highly lightweight and flowy t-shirt that breathes well and is ideal for hot summers.
There are more color options available from which you can choose.
The casual loose t-shirt is easy to wear and match with other items of clothing.
---
4
The Amazon Essentials two packs of t-shirts have moisture-wicking materials and are of excellent quality.
The t-shirt consists of polyester and spandex, and it is machine washable.
There is moisture-wicking stretch tech technology in the fabric to keep you cool and dry.
You get two t-shirts in a pack, and there are more colors available.
The fit is comfortable and loose.
---
5
From Sexy Basics, you get a five-pack of the multi-colored t-shirt with cotton and spandex.
This is a set of 5 t-shirts which is very convenient and practical.
They are already pre-shrunk and offer a great fit.
There are plenty of colors from which you can choose.
The t-shirts are very durable and comfortable to wear.
---
6
The Amoretu t-shirt is a very lightweight and comfortable rayon t-shirt for women.
This is a lightweight rayon and Spandex T-shirt.
Rayon is a very lightweight, soft, and flowy material that breathes well and is very thin.
It is ideal for summertime when you need to stay cool and fashionable.
The t-shirts are comfortable and have a casual, relaxed fit.
They are also available in more color options.
---
7
The Amazon essentials Classic Fit T-Shirts for women come in a set of two and are available in many more color selections.
Here we have a two-pack t-shirt option.
The t-shirts are durable and comfortable, with more colors available.
They offer a comfortable fit for everyday wear.
There are also plenty of size options available.
---
8
The Nike Legend is a Dri-FIT technology T-shirt that will keep you dry and cool all day.
Nike is a top brand making some of the best t-shirts in turn.
Their Legend t-shirt has Dr-FIT fabric to keep you dry and comfortable.
It consists of 100% polyester that is soft and comfortable.
There are also a few more colors from which you can select.
---
9
The Adidas T-Shirt for girls comes in three feminine colors and is very comfortable for all-day wear.
The Adidas girls come in a pink, white, or black color option.
The t-shirt has a large printed Adidas logo across the shirt for fashionability.
It is durable and highly breathable.
There is also a curved drop tail hem design at the back.
---
10
The Asics T-Shirt for women is ideal for sports and exercises.
The perfect t-shirt for sports and exercise routines.
It offers excellent moisture-wicking capabilities and breathability.
Asics is a top brand that makes premium quality shoes and clothing.
These t-shirts are available in more neutral colors.
---
Index Table: Top Rated T-Shirts for Women
---
---