Choosing the right undershirt should be simple, right?
A six-pack (no, we aren't referring to your abs) of cotton shirts, what can be so hard about that? You get six. They're cotton. Sounds good.
Well, not quite.
You could go for the classic Fruit of the Looms (which happens to be on our list of the best undershirts for men below), but you need to know that there are so many more options available.
Never fear. Our detailed guide will help you understand the different options and help you choose the right ones for your needs. You might be pleasantly surprised by a new style, so check them all out if you're sick of the same old stuff!
---
Before You Choose
Here are a few useful tips that will simplify the selection process for you:

Neckline – Think about the neckline. Do you need a crew neck or a V-neck?
Sleeves – Sleeves vs. sleeveless. It really depends on what you're wearing and your comfort level. Sleeveless shirts (tank tops) are great in some instances, as are long-sleeve undershirts. We'll discuss these more in detail below, so keep reading!
Color – Light on light, dark on dark. Stick to this rule, and you're gold (we don't want to see any black t-shirts under your white dress shirt. Come on!)
Fabric Weight – Decide if you need something lightweight for warm weather or if you might be better off with a heat-retaining base layer top that will keep you warm when you're outside.
---
Fabric
Here are the differences between the fabrics:

Cotton – 100% cotton is always an excellent choice. It's breathable and soft and safe for those of you with sensitive or delicate skin.
Bamboo Viscose – Bamboo stalks are processed into fibers, spun into yarn, and used to make various fabrics. Sometimes the bamboo yarn is woven together with cotton. It's an excellent material and another great option for those who like the more organic underwear approach.
Silk – Silk is smooth and lightweight. If you're looking for something that won't create a living sauna or bulk up your silhouette too much, then silk (or a silk blend) is an excellent choice. If you decide to go thermal (like the Under Armour undershirt we have above), the fabric fibers vary. Most likely, it will be a mix of Spandex and polyester.
---
Sleeves vs. Sleeveless
The undershirt's point is to protect your outer clothing (a button-up dress shirt, sweater, another t-shirt, etc.) from your sweat. It is there to take the brunt of the wear and tear for you.
If you're not sure when to use one over the other, here are some tips:
Sleeveless – If you're wearing a t-shirt, then opt for a sleeveless tank top underneath. Another t-shirt will add bulk to your arms, and not in a good way. These won't soak up much sweat under your arms since they lack sleeves, so expect it to help you with back sweat mostly.
Sleeves – Long or short? It depends. If you have a lightweight shirt that is slightly see-through (or else it's solid, but you can still tell that you're wearing another shirt underneath), then opt for short sleeves. In general, most of you will probably need a short-sleeved undershirt, but the difference in how they feel on you will be determined by the fit and the fabric (see our fabric suggestions above)
---
Collar
So what's the point of the different collar lines?
Crew – These are the rounded necklines that work for most guys out there.
V-Neck – If you like to unbutton the top buttons of your shirt (maybe one or two) then, use a V-neck over a crew neck (unless you want the color of the undershirt to show for contrast).
---
Features of a Good Undershirts for Men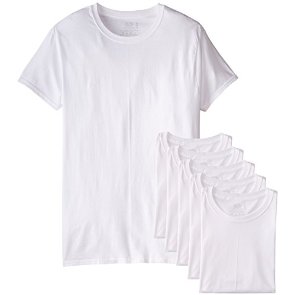 Materials – As you will see, most of our listed Undershirts are 100% cotton,, which is the best choice for an undershirt. Some models have cooling technology Polyester or Polyester in the blend.
Designs – Men's undershirts come in three designs, sleeveless tanks, t-shirt designs or long sleeves. They can have a crew or V-neck design.
Options – Most Undershirts come in multipacks with different colors and print options. Some are only available in single colors or neutral options.
---
Reviews: The Best Undershirts for Men
Here are our top favorites in comfortable undershirts for men;
---
1
From Gildan, we have a crew neck design undershirt in pure cotton.
The undershirt consists of 100% pure cotton, and there are more color options available.
They are machine washable and can be tumble dried.
The neck and shoulders have a taped design for durability.
The undershirt feels soft to the touch and is tag-free.
---
2
For hot summers in the sun, the Hanes Cool Undershirt offers UPF protection and cooling comfort.
The undershirts consist of a 50+ UPF protecting and UV shielding Polyester.
The polyester has an interlocking jersey knit to create the fabric.
There is a narrow and comfortable ribbed collar.
The shirts are designed to keep you cool and dry.
---
3
Calvin Klein brings you their multipack variety undershirts with a tagless design.
They are 100% pure cotton.
Cotton breathes well and wicks away moisture to keep you dry and comfortable.
They have short sleeves and a crew neck design.
The multipacks have different colors in sets of three.
The undershirts are completely tagless for less irritation.
---
4
From Devops, we have a two-pack long-sleeved thermal undershirt for cold weather.
They consist of Spandex and polyester with Thermal technology to keep you warm those cold winters.
The fabric is very soft and warm against your skin.
They are also quite stretchable and durable for daily wear.
The thermal undershirts will retain heat but still breathe well.
---
5
The Fruit of The Loom Undershirts is sleeveless tank top designs in full cotton.
The undershirts are 100% cotton and available in many colors.
They can be machine washed and tumble dried.
The shirts come in sets with solids and prints in multipacks.
The cotton will wick away moisture and keep you dry and comfortable.
The design is similarly tag-free.
---
6
From Amazon essentials, we have a short sleeve, crewneck design Undershirt for men.
The undershirt has short sleeves and a classic fit design.
They consist of 100% cotton, and there are more neutral colors available.
The shirt is lightweight and breathable.
You can get your undershirts in a set of six, which is much more convenient.
---
7
The Hanes ComfortSoft is a tank design plush and soft Undershirt.
The undershirt is 100% pure cotton that is light and breathable.
They have ComfortSoft fabric technology that feels so great against your skin.
The armholes are roomy and allow much more freedom of movement.
The Full cut is comfortable and easy to use.
---
8
The Jockey brand offers you a classic T-Shirt design undershirt.
They are 100% cotton undershirts.
There are many more neutral colors available for your perusal.
The undershirt is comfortable and offers a relaxed fit.
There is a reinforced crew neck design.
You can also machine wash the undershirt.
---
9
The Polo Classic Undershirts are soft and ribbed cotton, with short sleeves.
They are available in many neutral color options from which you can choose.
The shirts consist of 100% pure, durable cotton.
Cotton is moisture-wicking and breathable, ideal for all-day wear.
They have a crew neckline and a comfortable classic fit.
---
10
The Tommy Hilfiger Undershorts for men is sleeveless and very comfortable.
They consist of 100% pure and breathable cotton.
You get your undershirts in a multipack, and there are more neutral colors available.
The undershirt is sleeveless for summer and offers a comfortable classic fit.
They are also completely tagless for less friction and irritation.
---
Index Table: Top Rated Undershirts for Men
---
---