We all love the high-waisted jean or a pair of pants. They have so many advantages, they hide a muffin top, they never show a "plumber's crack," and they are so comfortable.
But what is the best shirt for high-waisted pants?
Today, we will look at some of the best choices in shirts that you can create a variety of looks with your high-waisted pants.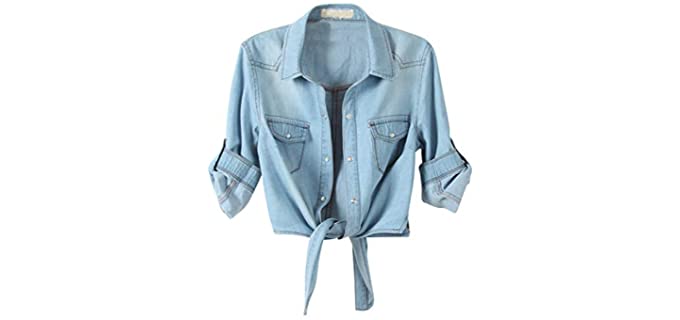 ---
Tips for Wearing High Waisted Pants
Here are a few great tips on how to wear high waisted pants;
The right High Waisted Pants – Firstly, get the right fit that fits at the narrowest part of your waist and not higher or lower. Also, opt for skinny and straight legs high-waisted pants rather than too flowy high-waisted pants.
The Right Top or Shirt – You can wear a cropped top and jacket with high-waisted pants or a shirt that you can tuck in. Both these styles look great. Try to avoid overly bulky and flowy tops, which may have you looking like a lollipop with your high-waisted pants.
Accessories – Keep accessories and embellishments at the top to a minimum. A Plain belt can be worn with high-waisted pants and a top with fewer embellishments. Keep your jewelry elegant and feminine and not too bold and chunky.
Shoes to Wear with High Waisted Pants – The shoes that you wear with high-waisted pants depend largely on the legs of the pants. You need to opt for shoes with a chunky heel or sole with wider flowy legs, whereas with a skinny or straight leg fit, flats and pumps look good, and for more formal styles, high heels.
---
Types of High Waisted Pants
There are three basic types of high waisted pants available;
Cropped – These can be any fit, straight leg, or skinny, but they are a shorter cropped length. The Cropped High Waist pants and jeans are ideal for summertime when you can pair them with a short-sleeved or sleeveless shirt.
Wide or Flare Leg – High waist pants come in wider leg options that are either a bootleg cut or a flowy wide fit. The Flowy and wider leg fits are more formal and pair well with a more fitted type of shirt that has a tailored and neat design.
Skinny Fit – Most high-waisted jeans and some pants come in a skinny leg fit. Luckily with the skinny leg high-waisted pants and jeans options, almost anything goes. You can wear formal fitted shirt styles, loose shirts, or the tighter fit and cropped fits.
---
Features of Good Shirts for High Waisted Pants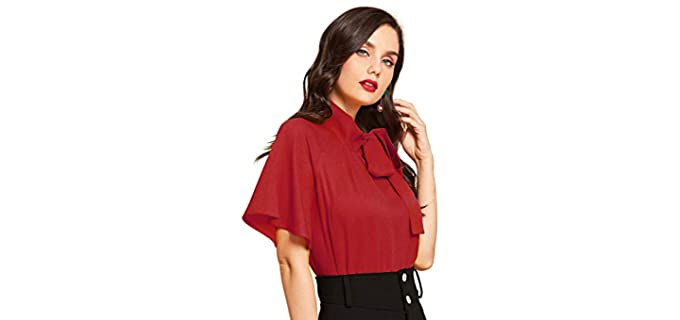 Materials – Good shirts for wearing with a high waisted jean can consist of a variety of materials. Natural materials include Cotton, wool blends, viscose, rayon an bamboo blends, or linen. Synthetic materials may be nylon, polyester or microfiber.
Design – Shirts for wearing with high-waisted jeans are usually a cropped style or have a known tie in front. Regular length shorts are also ideal for wearing with high waist jeans. If your jeans are a bootleg or wide leg, I recommended a fitted snug fit design shirt, and if you have skinny jeans or jegging, a looser-type shirt will suffice.
Closure – Shirts for wearing high-waisted jeans may have a zip, button, or a pull-on closure design, contingent on the brand and model.
Options – According to the brand and model, you may be able to select from different colors, patterns, and prints, as well as plus or standard size choices.
---
Reviews: The Best Shirts for High Waisted Pants
In our list, we have some of the top favorite shirt brands and models that you can wear with your high waisted jeans;
---
1
The cropped and printed T-Shirt is a fun casual wearing shirt with high-waisted jeans or shorts.
A fun printed cropped t-Shirt from a top brand.
The shirt is premium 1005 cotton and breathable.
It is available in a few neutral color selections and very durable.
You can machine wash the shirt, and hang it to dry.
It pairs well with any high-waisted jeans and pants.
---
2
The Cropped Demin Cardigan Shirt from Omoone is perfect for wearing with a high-waisted pair of pants.
Wear it as a shirt or jacket with your high-waisted pants for a more formal or professional look.
The shirt is a 100% cotton denim wash with three colors available.
It is cute and lightweight, with a distressed design and roll-up half sleeves.
Available in Us size options.
---
3
The Grace Karin Sleeveless top has a ruffle hem that pairs well with high-waisted pants and jeans.
A colorful floral printed top for summer.
This top pairs well with High waisted Capri or short pants and jeans.
The top is available in two color options, as well as more sizes.
It consists of soft and stretchable materials and has strappy sleeves.
---
4
This is a stunning shirt from Sheln with many decorative details, ideal for wearing with high-waisted pants.
A casual and stylish short-sleeved top that you can tuck into your high-waisted pants or jeans.
The top is available in ore solid colors and size options.
The shirt has a side bow-tie design and a higher neckline, with short sleeves,
It consists of 100% polyester and is machine washable.
---
5
The Hotapei shirt has a tie front and a V-Neck, which pairs well with high-waisted pants.
A loose and cool blouse for wearing with high-waisted pants and jeans.
The shirt is a button closure design with a front knot at the hem.
There are more solid colors and printed color options available.
The shirt is very comfortable to wear and ideal for both casual and formal occasions.
---
6
The Akewei Plaid button shirt is ideal for tucking in or hanging over your high-waisted Pants.
A warmer winter shirt that can hangover or is tucked into your high-waisted pants.
This is a flannel long-sleeve button-up shirt available in plaid color options.
It consists of cotton and polyester and has front pockets.
The shirt is available in standard and plus-size options.
---
Index Table: Top Rated Shirts for High Waisted Pants
---
---