If you are an office warrior or like to look dapper during your free time, then finding the best men's dress shirts to suit your needs and physique is critical. Great fitting, functional, and flattering dress shirts enhance your appearance and add versatility to the rest of your closet.
We understand that searching for the perfect dress shirt is daunting – there are enough options to make anyone's head spin. Luckily, we researched for you and put together this guide to the best styles on the market. Your new wardrobe essentials are just a few clicks away.
---
Things to Consider
Fit – It's important to find a shirt that fits your proportions and flatters your silhouette, whether you have a thin, athletic, or larger build. Two popular fit styles are:
Slim Fit – Cut to hug the body: not skin tight, but you can see the torso's outlines. A great option for thin and trim physiques.
Regular Fit – Cut more forgivingly. Better for larger physiques.
Fabric and Finish – Think about how much time and money you are willing to spend laundering your shirts. It may be worthwhile to purchase wrinkle and/or stain-resistant shirts. Sweat a lot? Shirts fabricated from 100% cotton are breathable and durable, standing up to many washes.
Formality – If you're looking for a traditional dress shirt that can be worn in more formal settings, stick to pale solid colors and simple patterns such as pinstripes or checks. You can never go wrong with classic white, which is also the most versatile option for styling. Pale blue complements all skin tones.
If you want a more casual look, choose a style with short sleeves, or go for a bright color or bolder pattern than the more conservative standbys.
The best men's dress shirts come with a variety of additional features worth assessing. Read on to determine which options are the best match for you.
---
Collar Styles for Dress Shirts
While collars may seem like an afterthought to most, there are subtle differences that could make one style a clear match for your face shape and styling preferences.  Three popular collar styles are:

Point –  This style is the most common. It slims a wide face because the collar points are angled close together and therefore draw the eye downward. The collar can be worn with or without a tie.
Spread –  This style features a wider distance between the collar points, which balances a thin face by drawing the eye outward. This collar reveals more of the shirt below the throat and highlights a well-knotted tie.
Button Down. Buttonholes at the tips of the collar allow it to be affixed to the shirt's body. This style is great for those who want to go tieless while still looking neat and tidy.
---
Type of Weave
While not usually something most shoppers stop to think about, if you live in a particularly hot, cool, or fluctuating climate, choosing an appropriate fabric weave can help you stay comfortable. Here is a simple breakdown:

Poplin –  Poplin shirt fabric features a lightweight weave, making it comfortable to wear and a good choice for warmer climates.
Twill –  This is a weightier weave, making it warmer and therefore ideal for colder climates. The heavier fabric also makes it easier to iron.
Pinpoint –  This is a mid-weight weave, between the warmth of poplin and twill, making it great for Spring and Autumn.
Oxford –  This weave also falls in the range between poplin and twill.
---
Color and Print
The best dress shirts for men typically come in a variety of hues. Once you find a style that fits you well, you can choose an array of colors that complement your suits, ties, and accessories. Here are some pointers:
In general, solids are great for highlighting a fantastic fit. They are also a canvas showing off the rest of your outfit, from an elegant suit to an interesting tie. Stripes add visual interest to a plain suit and look great layered under a jacket or sweater.
White – is the most classic color. It's a great starting point for any dress shirt collection, as it's acceptable in both casual and formal settings, and the styling combinations are endless. Pale blue favors all complexions, as does pale pink, (except for very pale skin tones).
---
How to Choose the Right Size
Many dress shirts are sized according to a pair of numbers, which correspond with the circumference of the sleeve's neck and length.
Here is a quick way to determine your measurements:
Measure the Circumference of Your Neck –  Take a fabric tape measure and wrap it around the low part of your neck, just above your shoulders and collarbone. Add ¼ inch to the measurement to account for room to breathe, and then round up to the nearest ½ inch.
Measure the Length of Your Sleeve –  Keep your arm at your side. Place the tape measure where your neck joins your shoulder. Run it over the outside of your shoulder and your arm, all the way down to the wrist, round this number to the nearest 1 inch.
---
Confirming a Good Fit
Once your dress shirt arrives, try it on to ensure a good fit. Check to confirm that most of the following factors are satisfied:
Shoulders – The seam where the arms are joined to the shirt's body should sit anywhere between the top and the outside corner of your shoulder bones. If the seam hits further down your arm, the shirt is likely too big.
Chest –  When you pull the shirt away from your chest, there should not be more than 4 inches of loose material. Anything more than that will look unflattering. If the material is stretched between the buttons while you are standing upright, then the shirt is cut too snug for you.
Neck –  With the top button closed, try inserting a few fingers between your neck and the collar – if they fit snugly, then you have a good fit with room to breathe comfortably. (If you don't plan on buttoning all the way up, you don't need to ensure a perfect fit in the collar).
Arms –  The sleeves should follow the shape of your arm, tapering off towards the wrist. When you have your arms by your sides, you shouldn't have fabric bunching at the cuff – you don't want the sleeves to be baggy. Also, check that you can raise your arms above your head without pulling the sleeve down towards your elbow.
Cuffs –  The cuffs should extend past your wrist bone and stop at the bottom of your palm. They should be tight enough that you need to unbutton them to take the shirt off.
Waist –  The shirt should stay tucked into your trousers when you raise your arms above your head.
---
Features of Good Men's Dress Shirt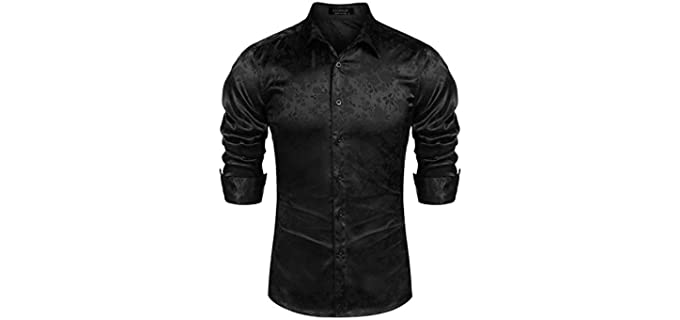 Materials – Cotton is most likely the best material for a dress shirt as it wicks away moisture and is very durable. Polyester is also a good choice of material.
Fit – Dress shirts come in regular or slim-fit options, so it all depends on what you are looking for.
Options – There are many colors available in most dress shirt brands and models. However, dress shirts are usually solid colors, and some do come with stripes, prints, and patterns. You will also find that most dress shirt brands offer plus and standard size options.
---
How to buy a dress shirt
Here is a short video that will give you guys some tips before buying a dress shirt.
---
Reviews: The Best Men's Dress Shirts
In our list we have featured the top brands and models in men's dress shirts;
---
1
Lacoste is a high-quality well-known brand, and their dress shirts are the best.
The dress shirt consists of 100% pure cotton.
They have a button closure design and a regular fit.
There is a signature Lacoste crocodile logo embroidered on the chest.
The hem is curved for easy tucking into the waistband.
---
2
The Calvin Klein Dress shirt is 100% cotton and requires no ironing.
The Calvin Klein Dress shirt is also 100% cotton.
Cotton breathes well, is soft against the skin, and is very durable.
The shirt is moisture-wicking and requires no ironing.
The shirt has a point collar and adjustable cuffs.
---
3
The Polo casual dress shirt is ideal for all occasions.
The shirt is made from a premium Nylon blend fabric that provides a professional look while staying comfortable.
Iron-Free Wrinkle Release shirt.
Breathable and Lightweight shirt, Moisture Wicking.
The shirt has a button closure and needs to be dry cleaned only.
The shirt offers a very comfortable regular fit.
---
4
From Van Heusen, we have a wrinkle-free dress shirt design in a comfortable regular fit.
The shirt has a regular fit and points collar design.
It is a comfortable and breathable fabric with availability in more color options.
The cuffs are fully adjustable for your convenience.
There are big and tall size options available.
---
5
The Hugo Boss dress shirt is high quality and comfortable dress shirt available in more colors.
The dress shirt is 100% pure cotton.
It has a button closure and a woven weave type.
However, you will need to use dry cleaning as a cleaning method only.
The shirt comes in more color options as well as specialized sizes.
---
6
The Coofandy Casual dress shirt is ideal for casual and formal encounters.
The Coofandy shirt is of exceptional quality and very durable.
It comes in many color choices for your perusal.
The design is trendy with a turndown collar and long sleeves.
The spread button collar is also ideal for all occasions.
---
7
From Amazon Essentials, we have a pure cotton dress shirt that is wrinkle resistant.
Another excellent cotton dress shirt that is breathable and durable.
It has a button-up design and spread collar that can be buttoned down.
There are more colors available for your choice.
The shirt is also machine washable for your convenience.
---
8
The Carhartt dress shirt is a regular fit design and comes in many more neutral color variations.
A durable cotton shirt from a top brand.
There are neutral solid colors available and more size options.
The shirt has a button-down collar and two chest pockets.
The fit is original and very comfortable.
---
9
The Hurley dress Shirt has short sleeves and a textured design for casual and formal wear.
A short-sleeved dress shirt for warmer weather.
The fabric is cotton with a slight texture to it.
There are three neutral colors available for your selection.
There is also an Icon heat transfer pocket on the left chest side.
The shirt has a button closure and is machine washable.
---
10
Something more daring is the satin printed dress shirt from Coofandy.
Colorful and printed with a satiny soft finish.
This is a stain polyester dress shirt with a high-density weave.
There are different colors and floral pattern options available.
The shirt can be hand washed or machine washed.
---
Index Table: Top Rated Men's Dress Shirt
---
---