If you are someone who struggles with excessive sweating and you are getting tired of wet blotches on your shirts, then this article is just for you.
Today we will look into the world of sweat proof T-Shirts, their designs, and which are the best that are available to you.

---
What do Sweat proof T-Shirts Do
You get both actual sweat proof t-shirts and also sweat proof undershirts that are quite similar and can be worn either way.
Sweat proof T-Shirts help to prevent visible sweat marks on your shirts using advanced technology and certain fabrics that breathe well and wick away moisture, and that is quick drying.
Regular T-Shirts have a way of becoming drenched with sweat because they actually absorb moisture and do to expel it.
Sweat proof shirts have fabrics that absorb the moisture and evaporate it into the air so the moisture is wicked away and you will look and feel dry.
---
A few More Sweat Management Tips from Us
Besides wearing sweat proof t-shirts, there are a few tips that essentially do work and work very well to help keep excess sweat at bay;
Sweat Blocking Underwear – Similar to sweat proof shirts, you get undershirts that you can wear that actually block sweat so that it does not show on your shorts.
Anti-Perspirants – There is some antiperspirant that is actually designed for excessive sweating and even conditions causing excessive sweating, such as Hyperhidrosis.
Manage Head Sweat – Keeping your head cool and free from sweat will also, in turn, help to cool down your body. So, wiping sweat from your heed or using a cooling pad on your forehead can help to cool you down.
Change Your Shirts – You can also keep an extra shirt at hand if you know you tend to sweat quite a bit, which you can change into.
Keep Well Hydrated – Drinking cool water regularly hydrates and keeps your body cool, which in turn prevents excessive sweating.
Wear Breathable Clothing – Try to wear clothing that consists of fabric that breathes well and wick away moisture rather than absorbing it.
---
Features of a Good Sweat Proof T-Shirt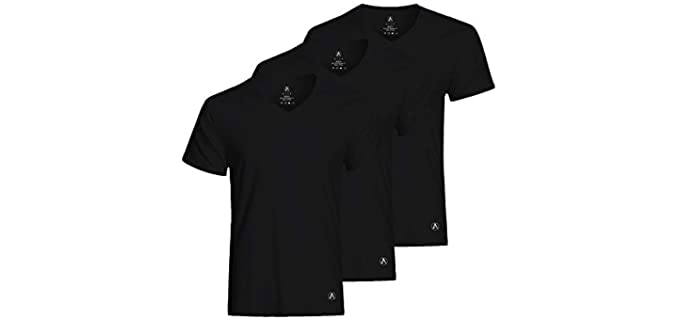 Sweat Proof Materials Materials – Generally, you can look for T-Shorts with materials that will wick away moisture and dry quickly. Materials including Polyester, bamboo, and synthetic fibers. Materials such as cotton and linen are more natural but tend to absorb sweat.
Sweat Proof Technology – Mostly polyester blends or fabrics are used and advanced to include technology that will wick away moisture and allow it to evaporate into the air. Different technologies are used by different companies, but they all work on the simple moisture wicking principle that is sweat absorbing as well as repelling and quick drying.
Fit Size and Style – You will also need to consider the fit and style of the T-Shirt as you want something that is not skin tight, which is worse for sweet, but that hangs slightly loose with a more comfortable and relaxed fit. The style is your personal preference.
Colors and Options – Most Sweat Proof T-Shirts come available in more colors, prints, and sizes depending on the actual brand and model.
---
Reviews: Best Sweat Proof T-Shirts
Here are some of the best available Sweat Proof T-Shorts with superb sweat reducing technologies;
---
1
The Thompson T is a sweatproof under shirt that you can wear on its own or underneath a t-shirt.
The shirt has fully integrated pads underneath the arms to absorb sweat and to keep you looking dry and fresh all day long..
Also seen on TV as the Shark Tank, the T-Shirt is an absolute hit, whether wearing it as underwear or as an actual top.
Furthermore, there are a few neutral colors available to you, as well as more sizes to suit your needs ideally.
---
2
For the women, we have a sweatproof short sleeve T-Shirt and undershirt, whichever you choose.
It consists of a breathable and moisture wicking bamboo fabric.
The T-Shirt offers a flattering, slimming fit that sits snugly and is more comfortable.
There are also more colors available to you, as well as more sizes for your preference.
---
3
Similarly from MD is the Scoop neck design sweatproof T-Shirt, which has some excellent sweat combatting technology.
The t-shirt also consists of moisture wicking and breathable bamboo fibers and is completely seamless.
There are a few neutral colors and more sizes available from which you can choose as needed.
The T-Shirt has a flattering scoop neck and a relaxed fit that is much more comfortable and easy to wear.
---
4
The Smartwool Henley t-shirt has sweat combatting technology to keep you dry and comfortable all day long.
The T-shirt consists of genuine merino wool that is breathable and absorbs moisture, allowing it to evaporate.
There are a few colors available and plenty of size options.
The t-Shirt is soft and comfortable, along with being sweat resistant and highly breathable.
---
5
From Under Armour, a trusted sports brand, we have their sweatproof technology t-shirts.
The shirt is machine washable, which is quite convenient and streamlined in fit.
UA technology fabric is used that dries quickly and is ultra-soft, which in turn helps to prevent excessive sweating and sweat from showing.
There is also anti-odor technology in the fabric that will help to keep all bad odors at bay.
---
6
This is the Thompson T sweatproof t-shirt design for ladies that offers a comfortable fit.
You can wear it on its own or as an undershirt with a blouse or top of your choice.
There are a few neutral colors and size options available from which you can choose as your own personal preferences.
The T-shirt has underarm pads to absorb sweat and moisture wicking technology.
---
7
The Atek T-Shirt is a durable Nylon and Spandex blended fabric.
The design keeps you cool by wicking away moisture and breathing well.
The T-shirt has a wider neck design that is more cooling.
There are also more neutral color options available from which you can choose.
Furthermore, the materials also prevent odors.
---
Index Table: Top Rated Sweat Proof T-Shirts
---
---