When you kick up your workout intensity, you expect your bra to step up to the challenge. Preferably with support, style, comfort, and moisture-wicking properties.
That's a pretty lofty list for many women's least favorite clothing items. It can be difficult to find the support you need to feel comfortable while giving a workout all you have, especially if you're one of many women who needs a bra designed to accommodate larger sized busts.
So begins the search for the best high impact sports bra.
We have read reviews and compiled tips, suggestions, and reviews of our own to help you find the perfect bra so that you can have the perfect workout.
---
To Consider Before Buying High Impact Sports Bra
Please look at these suggestions while you shop; they will help you find the best sports bra to meet your specific needs.

Fit – Finding the perfect fit can be tricky. Check the manufacturer's sizing chart to make sure you're on the same page measurements wise. Take the time to check reviews to ensure that bras run true to size; this will help you decide if you need to size up or down.
Style – Colors and fun prints matter, but here we're talking about the style and construction of the sports bra instead. Your cup size can determine how much support you need. If you're looking for a lot of support, avoid small straps and choose thick racerbacks instead.
---
Purchase Information
Check out these buying tips to find the best high impact sports bra for your unique shape and needs:

Budget – If you're shopping on a budget, prioritize what is really important. Everyone wants a cute sports bra, but typically basic colors without embellishments are cheaper than prints, cutouts, and zippers. You can easily afford a high-quality sports bra if you stick to the basics.
Support – During your search for the perfect sports bra, you'll find that they come in varying degrees of support. Some might look like high impact sports bras but are actually only mid-impact. Take the time to read all information to make sure you're getting what you need.
---
Features of a Good High Impact Sports Bra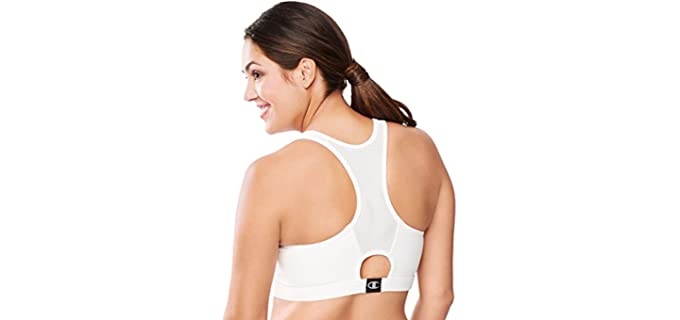 Materials – Sports bras consist of either Nylon, Cotton or polyester materials, with lycra, elastane or spandex for stretchability.
Design – Most sports brad have a racerback or regular strap design. However, you do get models with criss-cross straps and other designs. They may be padded, and some do come with underwire support. Sports bras are labeled into three categories offering medium, high or light support. In this article, we only look at those offering high support levels for high impacts sports and activities.
Closure – Most sports bras have a pull-on design. However, some models may have a hook and eyelet closure, or zip closure, placed in the front or back.
Fit – Sports bras offer a snug and comfortable fit that offers maximum support to prevent your breasts from bouncing while you perform sports or exercise activities.
Options – Sports bras is available in many color options and prints, depending on the brand. They should also be available in standard and plus-size options.
---
How to Choose the Right Sports Bra
---
Reviews: Best High Impact High Impact Sports Bra
These are our favorites when it comes to high impact sports bras;
---
1
The bras consist of Dri-Fit fabric that is cooling and breathable.
There are removable pads for light support and definition.
The fabric offers slight compression and full support,
There is also a mesh back for ventilation.
---
2
The bra has a hook and eyelet closure design.
It is a high impact sports bra with double layered molded cups.
It has cushioning and three-row hook and eye closures.
The fabric will wick away moisture and keep you dry all day.
---
3
This is a nylon and spandex full impact bra.
It has cups with a hidden inner sling for support,
The mesh back keeps you cool and comfortable.
There are close set back straps with a slide-and-hook adjustment feature.
There is also an outside underwire frame for better support.
---
4
A polyester and spandex high impact sports bra.
It comes with light compression support and stabilized tension in the straps.
The DriFit technology keeps you dry and comfortable.
The bra has a comfortable and supportive fit and is available in grey, black or white color options.
---
5
A Nylon and spandex sports bra for high imp[act activities.
The bra has molded cups for shape and support,
There is a padded hook and eyelet closure at the back.
It is smooth lined, and comfortable.
---
6
The bra consists of recycled polyester and elastane.
A pull-on design that offers excellent support and comfort,
The bra has a body wrapping Alphaskin design and light compression.
There is also moisture-wicking AERO READY technology to keep you dry.
---
7
The sports bra offers high-impact activity protection.
It has a zip closure and racerback design.
There is a Dri-Fit drying technology fabric used for moisture resistance,
More colors are available.
---
8
A cotton-polyester and elastane bra.
This is a high impact sports bra for all high impact sports and activities.
The bra has a zip closure and a SpeedForm mesh lining.
It offers strategic support and comfort and is ideal for high impact sports and activities where you need additional support and comfort.
---
9
The Puma high impact sports bra is available in a few feminine colors.
It is a pull-on design and very durable, so it will last you for a very long time to come.
There are stabilizing shoulder straps and a racerback construction.
The band is elastic with mesh to keep you dry, which also breathes well to keep you ventilated.
---
10
The bra has a hook and eyelet closure design, allowing you to adjust the fit to your needs fully.
It is a high impact bra for all sports and activities, including exercise routines and gym.
There are three colors available that are feminine and light.
The cups are molded, and PU injected for comfort, so you get a soft and cushioned fit.
There are mesh panels for breathability, and the materials are moisture-wicking.
---
Index Table: Top Rated High Impact Sports Bras
---
---