Ahh… the strapless bra. Women with a fuller bosom know that the typical strapless bra could sub for that chainsaw-toting, double-edged-knife wielding maniac in a horror film. Yes, for larger chested women, the strapless bra can be that horrifying!
Whether boa constrictor tight or offering no support at all for your "big girls," strapless bras sometimes seem like they weren't made with your lovely curviness in mind. Well, guess what? The best strapless bra for D cup and larger sizes does exist.
We went looking and came up with some pretty fabulous strapless bras that give chestier women all the support and confidence they need. Check out our list of the top 10.
---
Consider This When Buying a Strapless Bra
The ultimate best piece of advice when buying strapless bras (especially for larger bust sizes) is getting the size right, so before you order that gorgeous looking-bra take a close look at these tips for sizing.

Know Your Measurements – Your exact measurement, not your regular bra size, should be the guide you use to find a bra that actually fits. Compare your numbers with each brand's and size chart, as these tend to be very different.
Go down a Size – For a snug fit, it's a good idea to go down a band size (not the cup size!) Strapless bras need all the help they can get, and by going a little smaller, you won't be uncomfortable; just more sure the bra will stay in place.
Order Two Sizes – We all know bra shopping online can be very tricky. So, once you decide on a size to buy, also order the one next in line to it. The one that doesn't fit can always be returned.
---
What Am I Looking for in a Strapless Bra for D Cup?
As you shop for the best strapless bra for D cup and over, bear in mind all things that probably made you wary of wearing them. That way, you will know what you DON'T want and exactly what you should be looking for;

You Want a Supportive Band – Something has to take up the job of those missing straps. You can go with a slightly smaller band size, as we suggested above. If this results in unsightly back fat rolls, you can smooth those out by simply going with a wider band.
You Want a Wide Enough Band – For larger breasts to get maximum support from a strapless bra, the band must be wider. The band's width from thin to bustier-style really depends on how busy you are. It won't take away from the sexy look or feel, bump up your confidence to know everything is secure and up to where it should be!
You Want a Bra That Doesn't Show –  When the top of the bra cup leaves visible lines and ridges under your clothes, you're left constantly tugging and pulling at your bra, hoping no one sees the ridges or you trying to fix them. If you tend to wear lined cups and have this problem, solve it by switching to unlined cups instead.
---
Features of a Good Strapless D Cup Bra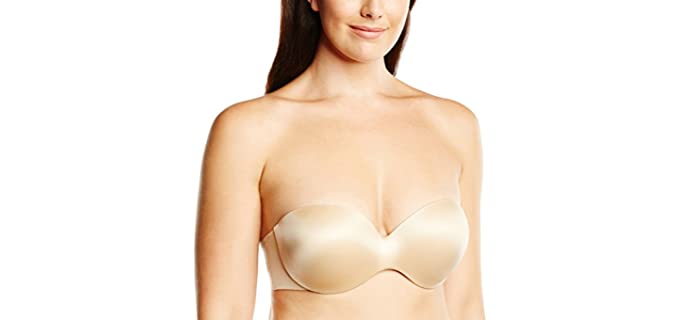 Materials – Most bras consist of materials such as Nylon, cotton and polyester, with elastane, spandex and lycra for stretchability.
Design – The Strapless D-Cup bra is available in strapless designs or versatile adjustable strap designs where you can detach the straps.
Closure – Most Strapless bras will have a hook and eyelet closer, while some models maybe pull on or have a zip closure.
Options – Strapless bras are available in regular and plus-size options, as well as many colors and prints depending on the brand and model of the bra.
---
Reviews: Best Strapless Bra for D Cup
Looking for the best strapless bras in D cup and larger sizes, well then you are at the right place;
---
1
The Body of the bra consists of nylon, while the cups and the straps have spandex and polyesters,
The bra has an easy and customizable hook and eyelet closure design.
The bra will smooth all your trouble sports and create a slimming effect.
It is breathable and lightweight, with multiway straps to create a strapless design.
The bra is also available in D, and Double D sized cups.
---
2
This bra consist of 35% Polyurethane, 31% Polyester, 25% Nylon, and 9% Elastane.
The design is smooth, supportive, and seamless for less friction and irritation.
It is a French-style embroiderer, floral lace bra that is feminine and elegant.
The bra is available in larger cup sizes and has a strapless design.
---
3
Here we have a durable 91% Nylon and 9% Spandex.
The bra has a convenient and customizable fit hook and eyelet closure design.
The fabric used is smooth and seamless for less friction and irritation.
This is a strapless design with availability in larger cup sizes.
The bra has stabilizing cups for larger breasts and full coverage.
The straps are comfortable and wider.
---
4
This is a Nylon and spandex bra durable and very high quality.
The bra offers maximum comfortable support and a longline style with a strapless top.
The bra is available in plus and standard sizes and larger cup sizes.
You can also select a few neutral color options available in this bra model.
---
5
A comfortable and soft polyester bra with a strapless design.
The bra has an easy-to-use hook and eyelet closure at the back that can be adjusted.
The cups are lined for your comfort and come in larger sizes, such as D and DD.
However, these bras may only be hand washed and should never be placed in a washing machine, such as with most bras.
---
6
A Polyamide and Spandex bra for stretch and durability.
The bra is a strapless design with availability in d and DD cup sizes, as needed.
There are also a few neutral colors available from which you can select.
The bra has detachable straps for more convenient uses.
The side panels are very soft and will prevent buckling.
---
7
A comfortable bandeau design strapless bra for everyday use.
The larger size options are perfect for D sized cups and offer much comfort and variety.
There are neutral colors available, and the bra has an easy pull on and off the design.
Furthermore, it is polyamide and elastane for stretchability and durability with four colors.
You can also machine wash these bras easily.
---
8
The Maidenform strapless bra offers full coverage in a strapless design.
The bra does come ins d and DD cups sizes and size options.
It is available in more feminine and neutral colors for your own personal preference.
The bra has Nylon and elastane fabrics in construction and is quite durable.
The straps are detachable and multifunctional.
---
9
A top brand that makes some excellent quality bras and underwear.
The Calvin Klein bra is elastane and Polyester, with breathable mesh.
It comes in DD cup sizes and is strapless,
There is also an adjustable hook and eyelet closure that allows you a custom fit.
---
10
You get lightweight and comfortable bandeau style strapless bras in a set of three.
They are available in large sizes for D cup sizes.
The bras are soft and seamless for superior comfort and less friction.
They are available in two different multi-colored sets of three.
The bras consist of durable and stretchable materials.
---
Index Table: Top Rated Strapless D Cup Bras
---
---