When shopping for a bra, the two most important characteristics are comfort and support. From there, the rest is up to the preference of the person wearing it!
Since bra shopping for a larger bust size can be a bit difficult, thanks to the thousands of choices you have out there, we've narrowed it down to the ten best bras for large breasts on our list below.
---
Consider Before Choosing the Best Bra
Before you select a bra, here are a few things to consider
Use – Are you in need of a sports bra, minimizer bra, nursing bra, or everyday bra?
Coverage – Do you want to cover (full-coverage or t-shirt bra) or enhance (plunge, push-up, padded or molded)?
Straps – From invisible to convertible, halter to racerback, thick to thin, there are many styles to choose from based on the support and how much skin your top shows. As a rule of thumb, it's best to avoid wearing tops that show portions of your bra. Flaunt your breasts if you like, but keep the bra to yourself!
---
Do I Need a Minimizer Bra?
Many women who have an abundant breast size are afraid that the minimizer bra will flatten them out and eliminate their bust.
This is so far from the truth!
Minimizer bras help give you the proper lift and shape by reducing the appearance of your bust size by up to a cup size. This may be exactly what you need when you have a button-up blouse that is popping open around the bust or a t-shirt that won't show your cleavage.
There are a time and a place for an enhancement bra, and there's a time and place for the best minimizer bra. Have a few of each in your wardrobe to find the right color and bra based on the color and style of the top you're wearing.
---
What about a Strapless Bra for Large Bust?
Finding a strapless bra that can support a larger bust size is difficult, as the strapless bra is not always the ideal design for a larger bust.
However, here are a few tips if you still want to get a strapless bra;
Underwire Support – Always opt for a strapless bra with underwire support for fuller breasts as this provides better support. You can also get a corset-type strapless design bra with boning for support.
Full Cover Cups – Make sure that the bra's cups offer fuller coverage that will cover your breast properly.
Sizes and Fit – Ensure that you get the perfect fit and size in a strapless bra. There should be plus and larger cup sizes available in most strapless bra models.
---
Features of Good Bra for Large Breasts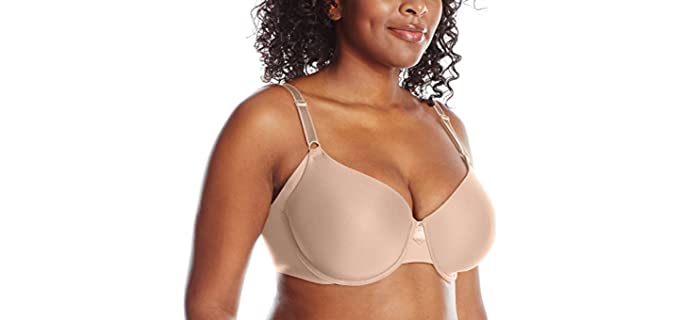 Materials – Most bras consist of Nylon, spandex, Elastane and other materails such as polyamides. Some are also cotton. Mesh and lace are used as decorative details.
Closure Types – Bras have either hook and eyelet closure with two to four rows or a clasp closure type. Some designs pull on only and more stretchable.
Cups and Size Options – Bras for larger breasts are usually available in plus size options or standard options, which will both have availability in larger cup sizes. The cup designs are usually also more stretchable and offer full coverage.
---
Reviews: Best Bras for Large Breasts
The list below revies some of the best available bra brands and models for ladies that have larger cup sizes;
---
1
The Wacoal bra offers fuller coverage cups for larger breasts.
A Nylon and Spandex bra design available in more color options.
The band and sizes are smoother and will minimize bulges.
The cups are seamed for better support and shaping,
This is a full coverage bra with lave cups and a mesh yoke.
---
2
The Wacoal Red Carpet is the perfect strapless bra for ladies with larger breasts.
This is a Nylon and Spandex material bra with a hook and eye closure.
It has a full-busted design, with an underwire for support,
The cups have smooth and seamless fabric for less friction.
There is a silicone strip along the top and bottom edge to keep the bra in place.
---
3
The Elomi Charley bra has a very feminine design and many decorative details in a larger cup size bra.
This bra combines diamond mesh fabric throughout the cups with floral feminine stretch lace on the top.
It is a plunge-style bra that does not push up your breast.
Very feminine and sexy as a distinct piece for those special occasions.
---
4
The Chantelle bra is available in much larger cup sizes and many color options.
This is a knit cup bra that consists of Polyamides and Spandex for stretchability,
It has a hook and eyelet closure for an adjustable fit.
The cups offer more extensive and fuller coverage for bigger breasts.
There is a double-lined mesh band for a smoother look.
The straps are likewise fully adjustable for the perfect fit.
---
5
The Delimara plus-sized bra is specifically available with much larger cup sizes.
Another Polyamide and Spandex bra, with some polyester for softness.
The bra has a supportive underwire and fully adjustable straps.
It is soft and comfortable, allowing your skin to breathe easily.
The fit is ideal for women with DD and larger cup sizes.
---
6
The Elomi Matilda is a larger cup-size plunge bra that does not have a push-up effect.
This is a soft and comfortable Nylon and Polyester bra with a racerback design.
They have a moveable J-hook fastening and flexible back sweep design for easier adjustment.
The Cups are smooth and comfortable, with three sections and side panels for shaping.
You can get this braPlusPlsu sized and regular options, as well as larger cup sizes.
---
7
The Bali Comfort has larger stretch foam cups and a full support lining for larger breasts.
A comfortable Nylon and Spandex bra available in more color options.
The bra offers a full support lining and buckle closure design.
There are a front closure design and a wider band for back smoothing.
The cups are a stretch foam for comfort and flexibility.
---
8
The Playtex 18 Hour Sensational is a breathable and comfortable bra, with plus sizes and larger cup sizes available.
Playtex is a top brand that makes some of the most comfortable and luxurious bras.
This model is a Nylon and Spandex design with a hook and eye closure.
It has a silky smooth design for wearing under T-shirts.
The design is back smoothing and eliminates bulges.
Plus sizes and larger cup sizes are also available.
---
9
The Olga No Side Effects offers full coverage and contoured support for larger breasts.
The Lga bra is Nylon and Spandex.
It has a full Triple hook and eye closure, and front adjustable straps.
The cups offer full coverage with a supportive underwire.
There are also more color options available, as well as larger size sand cup sizes.
---
10
The Glamorise Full-Figure bra is designed for plus-size ladies with larger cup sizes.
The Glamorise Full figure bra is designed for larger women and larger breasts.
It comes in larger sizes as well as larger cup sizes.
You can also select from a few more color options.
The cups are full coverage as well as reinforced at the bottom.
The Breathable open mesh camisole design offers comfort and a secure fit.
---
Index Table: Top Rated Bras for Large Breasts
---
---