No, it's not always easy to find a good bra these days. There are so many cuts, fabrics, and styles to choose from that it's easy to get lost in the sea of choices.
Unfortunately, many women seem to choose a bra based on the way it looks rather than the way it fits, and the result is an unflattering bra that doesn't do its job very well.
We're here to simplify your search by detailing the ten best strapless bras so that you don't have to wade through the sea of choices. We've already done it for you!
Whether you already own a strapless bra or this will be your first time trying one, we have some useful tips for everyone.
---
Consider the Following
Before you select a strapless bra, consider the following:
Occasion – Formal event or casual, everyday use? You might want to add volume with a push-up bra or minimize with a minimizer bra. If you are wearing it for long periods, you must absolutely factor in your selection comfort level.
Neckline – The neckline of your top can make a difference. If it plunges, you don't want your bra making an unwanted appearance.
Fabric Thickness – What is your top (t-shirt, blouse, cardigan, etc.) made of? Are you wearing a formal dress with thicker fabric or an everyday top with thin fabric?
Make sure you choose a bra based on the color of the top or shirt you plan to wear, especially if it is slightly see-through.
---
Strapless Bra Types
Well, you have choices, that's for sure!
Here they are.

Convertible – These can change from a strapless bra to a bra with straps. Usually you can attach the straps in a variety of ways, in case you need a regular fit for one top or a crisscross fit for another.
Push-Up – Just like the regular push-up bra, only without straps. The padding below not only helps you push the breasts up, but also offers them extra support since the straps aren't there to do this for you.
Plunge – If you have a shirt with a plunging neckline and you don't want the bra to be visible, this is the right type of strapless bra for you. It doesn't give you as much volume as a push-up, but it will stay hidden.
Bandeau – These are strapless and cup-less. These strapless bras are more of a band that fits around your torso, which some women use for sports or if they have a B cup size or smaller.
Self-Adhesive – These will adhere to the breasts, and they don't typically have a strap that runs around the torso. Some do, but usually, your body heat is enough to make them stick and still give you the support you need. Appropriate for clothing with a shallow cut in the back and loa w neckline in the front.
---
Features of Good Strapless Bra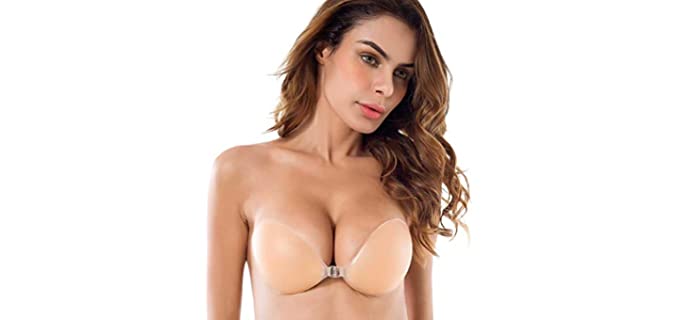 Materials – The Strapless can consist of cotton, polyester, Nylon, Polyamide and in some cases silicone. Spandex and Elastane is used for elasticity and mostly in the back strap or band. Silicone is used on the edges and adhesive effect.
Design – Strapless bras come with or without a backstrap and with or without optional s straps. They come in many styles and designs, such as bandeau, push up, or regular fit.
Options – The strapless bra is available in many color options depending on the brand and model, as well as standar or plsu sized fit options.
---
Reviews: Best Strapless Bras
In the Below Review, we look at some of the best available strapless bra brands and models;
1
From Mitaloo, we have an easy pull-on strapless bra design.
The bra has a pull-on design and self-adhesive mango shape design.
There is a deeper V-Shape plunge design, and the bra is also backless.
The push-up design enhances your breasts and cleavage.
They also come in more color options.
---
2
The Vanity Fair bra is a strapless design for the fuller figure.
The Vanity Fair bra is Nylon and Spandex for stretchability.
It has a hook and eye closure at the back and is completely strapless.
The bra is designed for fuller figures and has a four-way stretch fabric.
There are no poke underwires that are added for your comfort,
The bra also comes in larger cup sizes and sizes.
---
3
From Wacoal, we have a full-busted strapless, underwire support bra.
This a strapless nylon and Spandex bra.
It has a silicone slip on the top and bottom edges to stay in place securely.
The band and sides help to smooth out any bulges.
It is a full-busted design that is also available in larger cup sizes and sizes.
---
4
The Delimara strapless bra has detachable straps so that you can go with or without the straps.
The Polyamide and Spandex bra is completely strapless with silicone strips to keep it in place.
The cups are padded and offer good coverage.
There are detachable straps, so you have the option of using them or going without.
The bra is also available in more color options.
---
5
The Calvin Klein Naked Glamour bra also gives you the option of going with or without straps, with the detachable straps.
This is a bra with detachable straps that you can use or leave as you please.
The design is comfortable and secure and will not slip off.
There are a few neutral color options from which you can choose.
Overall differs in good coverage and many size options.
---
6
The Bali Lilyette has convertible straps and a fully adjustable fit.
This is a nylon and Elastane bra that is very stretchable.
There are a seamless lining and a hook and eyelet closure at the brack.
The straps are detachable and can convert to a crisscross, demi, or strapless design.
You can also customize the fit with the adjustable back stretch straps.
---
7
Fro Niidor, we have a silicone strapless bra that is self-adhesive.
These are silicone extra large nipple covers rather than an actual bra.
The pad and cover most of your breasts, and you are completely strapless and backless.
They come in a nide flesh-like color that is more natural.
The silicone is soft and self-adhesive and will also add some volume to your breasts.
---
8
The Maidenform push up bra is convertible into a full strap or strapless bra.
The Maidenform bra has Polyester Cups with Nylon and Spandex bands and straps.
The flexible fit conforms to your natural shape, and sexy lacewings and center are detailing.
The bra has a push-up fit and is completely strapless.
You can also select from a few more available color selections.
---
9
The Ristake bra is a comfortable and sporty, pull on strapless bra.
This is a more comfortable and stretchable strapless bra design.
The bra is a bandeau design that you pull on and off.
TeTheres light padding in the cups and a wide back band.
The bra is available in neutral color options and consists of breathable and stretchable materails.
---
10
The Iris and Lilly bra from the Amazon brand can be used strapless or with its optional straps.
A Polyamide and Elastane bra that has an underwire for support.
The bra is strapless and optional straps are included.
It is fully machine washable and quick drying.
You can select from the few color choices that are available to you.
---
Index Table: Top Rated Strapless Bras
---
---