There is just something so special and fun about having matching pyjamas as a couple.
So we have decided to look a bit further into some of the best Pajamas for couples.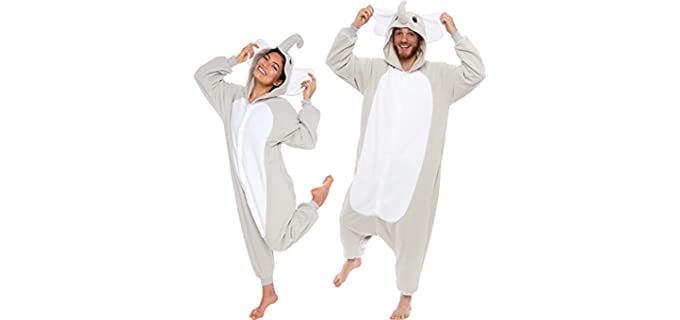 ---
Why Wear Couples Pajamas
Couples' pyjamas can be fun and also a bonding experience for a couple. However, couples' pajamas can eventually grow into so much more.
Here are a few superb reasons why we absolutely love and recommend couples pajamas;
Photoshoots – One of my favorite reasons for couples' pajamas, and why so many people are on the lookout for them, is for a photo shoot. Many couples like doing different types of photoshoots, and many times one of the options chosen may be a bedtime or morning routine setting. For this and many other settings, pajamas that match or complement each other for a couple can make a brilliant photo.
Family Bonding – For bonding with your partner, a pair of couples pajamas is an excellent idea. It says that you are comfortable with each other and also creates something that you can both enjoy. Eventually, as you start a family, it can also extend into a family bonding experience when you get matching pajamas for the kids, grandparents for family fun.
Fun Gift – Matching pajamas is an excellent gift idea for a couple if you are a friend or relative or for one of the partners in the couple to give to the other.
Family Tradition – Couples pyjamas can grow into a family tradition at a later stage. It can also be a Christmas or valentines tradition for you to wear matching Valentine's or Christmassy pajamas. You can pretty much use any holiday for matching up your couple's pajamas.
---
Types of Couples Pyjamas
Onesies – An absolute favorite type of couples pajamas is, of course, the onesie, especially for those cold winters. You could have matching or your favorite characters from shows you both enjoy. Onesies come in a huge variety of styles, characters, and designs, and they are also great for costumes at a dress-up party for a couple.
Pyjama Sets – Certain Pyjama sets come in full sets for couples that are also available in many styles and sets. They are more versatile because you can choose from both summer and winter materials sets, such as flannel sets, satin sets, and cotton sets.
Pyjama Shirts – You could always get printed T-Shirts and wear them as pajama shirts with your favorite pants. Matching T-Shirts can make excellent couples pajamas.
Bottoms – Do not want to match entirely, why not opt for similar pajamas bottoms, long or shorts bottoms that will match with that of your partners.
---
Features of Good Pajamas for Couples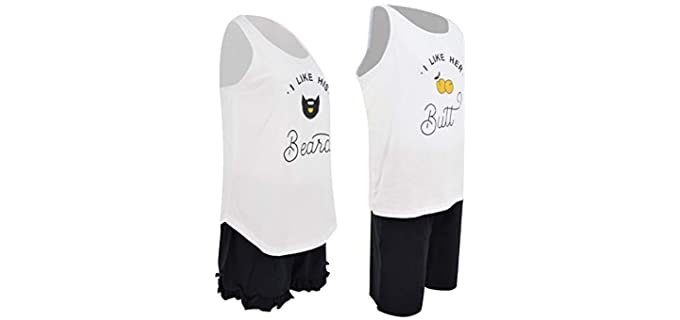 Materials – Pyjamas for couples come in a extensive array of materials options. We suggest and recommend natural fabrics such as cotton, flannel, linen, viscose, silk, and bamboo, and synthetics such as polyester, satin, and fleece.
Closure – Depending on the design there will be a snap or zip closure for most onesies designs. With button or pull-on closures for two-piece sets in the tops and a drawcord or an elastic waistband for the bottoms.
Fit – Always find a comfortable fit that is not skin tight but also not too loose.
Options – Couples pyjamas come in a huge range of matching colors, patterns, designs and prints. They are also available in men's and women's sizes.
---
Reviews: Best Pajamas for Couples
Here are some of our top favorite choices for pyjamas that are ideal for couples to Wear;
---
1
This is a stunning couples pajama set, one of the best I have seen so far.
It is called the Sleeping beauty and Her beats collection, which is even better because it pertains to the Disney classic.
The set includes a Long length bottom for men and shorts for the ladies with a pull-on design and elastic waistband in tartans.
The top is a t-Shirt for men and one for ladies that has a pull-on design with print on it.
The top is a white color that matches the tartan shorts.
There are more color options available and also more sizes.
The Pajamas are of excellent quality and a great gift idea.
---
2
From Unique Baby, we also have an excellent his and hers couples set.
The Set includes Pajamas for him and for her with matching shorts and contrasting prints on the tops.
The ladies set has a sleeveless tank top with a pull-on design and elastic waist shorts.
The men's set has a sleeveless tank top that is also a pull-on fit and a pair of longer-length elastic waist shorts.
Both sets have a white short and black bottom.
The Pajamas consist of natural cotton with spandex for stretchability.
---
3
For a couple with children, I have chosen the Family set from Lazy One.
These are Flapjacks pajamas original onesie sets with a drop seat making it much more convenient for the family.
There are different colors and prints available for every season and occasion.
They are ideal for photo shoots and family outings.
The Pajamas are premium, 100% pure fuzzy feel cotton, and very durable.
You also choose the set in single sizes, so if you do not have children, you can choose for you and your partner only.
---
4
This is the men's set from Café Press.
The Shir features the text " Her Better Half " written in white on a black T-Shirt for him.
There is a short-sleeved pull-on top and a pair of elastic waist shorts.
More color options are available in the tartan design shorts. However, the t-shirt remains in the black color.
The set consists of 100% cotton fabric that is lightweight and breathable.
---
5
This is the ladies' version from CafePress.
This set includes a T-Shirt pull-on top for the ladies, with shorts sleeves, as well as tartan design shorts.
The top has the text "His Better Half" printed on it in white, on the contrasting black color.
There are also more color options available for the shorts, and however similarly, the blacktop remains the same choice.,
These are 100% pure and naturally breathable cotton Pajamas for ladies.
---
6
The Silver Elephant Onesie set comes in size for both men and women.
This is a warm winter onesie in the character of an elephant.
There is a hoodie with elephant ears and a trunk on it, and there is also a tail.
I have chosen this for couples as dress up to a party, or Pajama party, or just for a fun time together.
The Pajamas are a soft 100% polyester fleece material.
---
Index Table: Top Rated Pajamas for Couples
---
---