The best pajamas for Postpartum to cocoon in and nurse in are a necessity that needs to be at the top of your list before becoming a mother.
Postpartum pajamas provide a comfortable lounge and sleeping wear for after your delivery when your body is still tender and bloated, as well as an easy and comfortable fit for breastfeeding.

---
Why You will Need Postpartum Pajamas
You can make regular pajamas work for nursing and postpartum, but believe me, anything to make your life easier during this particular time comes much needed and sought after.
So yes, I would recommend that you choose some good postpartum pajamas that also accommodate nursing.
Two main aspects that I look for in Postpartum Pajamas are flexible and soft materials that can stretch and stretch quite a bit and either a button opening or flap for easy breastfeeding. These and dark colors will be your best friends in postpartum pajamas.
There are three things to consider when choosing postpartum Pajamas that will affect your choice;
Birthing – Your postpartum pajamas will most likely also be used when birthing, or the top at least, and you will need to wear them straight afterward. Keep in mind that you will have a cut below the waist with a C-Section, exactly where your waistband for pajamas will come, so it needs to fit comfortably. Your body will also be bloated, and not to mention maybe overheated and sweaty, so the pajamas need to accommodate for this. Other than that, there will be plenty of bleeding, and you may have an accident, so I usually opt for darker pajamas and make sure that you have two or more sets.
Lounge Wear and Pajamas – Your Postpartum pajamas will become the clothing you are going to be in the whole time the first week or so, and most of the time, for at least the first two months. So, keep them comfortable and weather appropriate.
Nursing – A very important feature of Postpartum Pajamas is how well they accommodate breastfeeding. Many Post-Partum Pajamas sets come with openings or flaps to make breastfeeding easier. However, I have found that button-up designs work just as well.
---
Features of Good Pajamas for Postpartum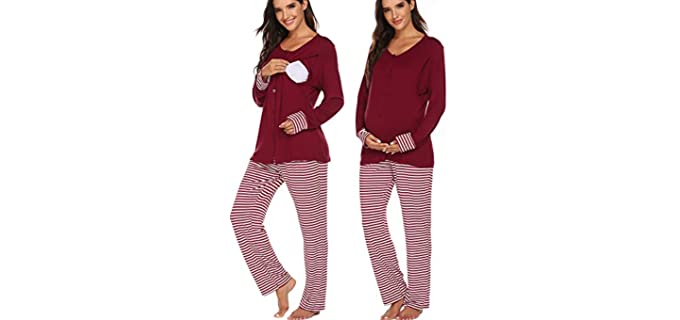 Materials – Look for soft breathable and comfortable materials for post-partum Pajamas. I always opt for more natural materials such as cotton, viscose or bamboo blends, however may polyester styles are just as good.
Design – Postpartum pajamas need to fit loosely and comfortably with a waistband in the bottoms that accommodate the extra weight around the waist, and if you have had a C-Section. A top that allows for easy breastfeeding is advised, so rather go for button-up options in a top.
Fit – Look for bottoms with a loose-fitting waistband for the first couple of weeks postpartum. The top should also have a loose and comfortable fit to accommodate breastfeeding.
Options – Postpartum Pajamas come in many colors and prints, all for your personal preference. You may also be able to select from standard and plus-size options, as most brands in postpartum pajamas cater for larger size options. Generally, I would recommend that you look for dark colors in Postpartum pajamas as there may be plenty of bleeding, and dark colors can hide and wash out little accidents much easier.
---
Reviews: The Best Pajamas for Postpartum
In the below list, you will find some of the most comfortable and suitable pajama sets that are perfect for postpartum wear and breastfeeding;
---
1
The Avidlove Pajamas come in different color s options and are designed for postpartum wear, with a button-up closure for nursing.
The Pajamas are a polyester and cotton blend, with soft viscose and some spandex for stretch.
The set is cozy and comfortable and comes in dark color options.
There is a short-sleeved top and along the bottom.
The top has a button-down design that makes breastfeeding much easier.
---
2
You can use your Ekhouaer pajamas as maternity, delivery, and postpartum nursing pajamas all in one.
These are maternity and postpartum pajamas that accommodate for the changes in your body.
They are stretchable and soft made from comfortable materials.
The V-neck top allows for easy nursing, and the bottom has nd adjustable waist fit.
There are also more colors and plenty of sizes from which you can select.
---
3
Here we have a pajama set designed for labor and delivery and nursing and postpartum, available in more colors and options, with adjustable sizes.
For summertime, we have a lovely short and short sleeve set from Ekouaer.
The set comes in dark color selections and is very versatile for maternity wear and postpartum.
The top has a specialized design for nursing, and the bottom has a very stretchy elastic waistband for your expanding tummy.
The fabric is ultra-soft and very breathable.
---
4
The Postpartum Sleepshirt has a button front for nursing and a comfortable, cool design.
For those very hot summers, a nightdress is the perfect postpartum pajamas.
They have a button-down design for an easy on and off fit and easy breastfeeding.
The nightshirt comes in a few dark color options and many sizes.
The nightshirt is comfortable and breathable for everyday wear.
---
5
The Latuza Postpartum pajamas are ideal for lounging, sleeping, and nursing in.
This is a soft and stretchable viscose pajama for postpartum with feminine details.
The pajamas have a long sleeve maternity wrap top for easy nursing and long pants.
They are available in extended sizes, as well as more color options.
The pajamas are elegant and also appealing to wear to boost your confidence.
---
6
This ultra-soft set of pajamas comes in extended sleeve options and darker colors, with a design ideal for nursing.
The Zexxxy pajama sets come in plenty of colors and prints, as well as many size options.
They are breathable cotton with spandex for stretch.
There is a short-sleeved top with a two-layer ruched design for discreet breastfeeding.
The bottoms are full pants with an elastic band and elastic button extenders for a customizable fit.
---
7
That is a postpartum and maternity set from Kindred Bravely that is soft and comfortable.
It is available in a few color options.
It has a convenient design for nursing and is an easy pull-on and elastic waist bottom.
Consisting of polyester and spandex is breathable and stretchy.
---
8
The Fruit of The Loom Pyjamas set is an easy pull-on design.
It is soft on stretchy for postpartum.
The top is loose fitting and easy to use for nursing.
The [Pajamas consist of polyester, rayon, and spandex.
---
9
This is a postpartum and maternity dress and nightgown all in one.
It is designed to allow for easy nursing.
The dress consists of 955 soft and breathable rayon that is skin-friendly.
There are also more colors available.
---
10
From Ekouaer, we have a maternity and postpartum setting.
It is designed to allow for easy nursing and has an elasticated bottom.
The set comes in more colors and size options.
It has a pull-on closure and soft, comfortable fabric construction.
---
Index Table: Top Rated Pajamas for Postpartum
---
---