If you're in search of a classy pair of sunglasses, but you don't want to spend a small fortune on them, then this is definitely the article for you!
Designer sunglasses may cost you a week's salary; however, purchasing the first pair that crosses your path isn't the best idea, either.
Having a decent pair of sunglasses is just as important as wearing sunscreen: UV protection should be at the top of your priority list as you shop since repeated exposure to UV radiation can lead to a myriad of eye problems later on down the road.
In our guide to the best cheap sunglasses below, we'll present ten excellent options that will help you balance both fashion and function without breaking the bank.
---
Things You Should Consider
Sunglasses aim to protect your eyes from harmful ultraviolet rays. Therefore lens technology is of crucial importance.

Polarized Lenses – When the light is reflected onto a flat surface such as glass, snow, water, or sand, the reflection is so powerful that it may lead to eye irritation and fatigue. In this direction, polarized lenses block the vertical light, providing your eyes with protection from the glare. Polarized lenses are recommended for cycling, water sports, and driving.
Polycarbonate Lenses – They provide decent optical clarity while having excellent impact-resistance. This type of lenses is lightweight, low-bulk, yet more prone to wearing off. The material of the frame is also significant, considering that it has an impact on your comfort while wearing the sunglasses.
Metal – This is the least obtrusive to your visibility while being easy to adjust on your face. Still, I wouldn't recommend it for high-impact activities. Plus, metal sunglasses will get hot when left in a closed car for a while.
Acetate – Includes different variations of plastic, and this is a popular choice in the manufacturing of sunglasses. Plastic sunglasses provide a wider color palette from which you can choose.
The best cheap sunglasses highlighted on our list come in different styles. So, it is up to you to decide which design is most flattering on you.
---
Features of a Good Cheap Sunglasses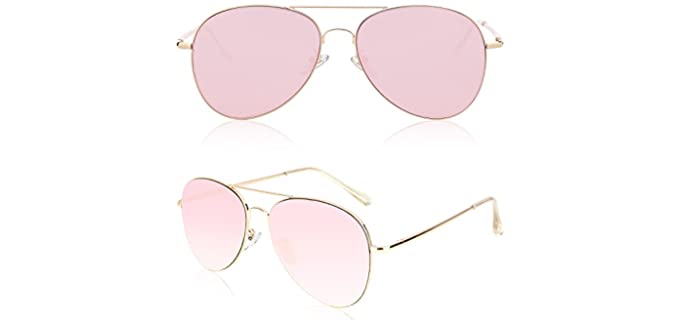 Materials – Most cheap sunglasses may consist of either plastic or composite materails for the frame, or even metal. The lenses may be plastic, glass, composite or polycarbonate. Polycarbonate is a very durable material that is impact resistant and scratch resistant so it is better suited for outdoor and heavy duty use. plastic and carbonate lenses are also durable but not impact resistant.
Design – Sunglasses come in a variety of designs with different shapes, including square, round, cats eye, aviator, and wayfarer shapes, which are the most common. Some shapes suit some facial shapes much better. For a round or oval face, a wayfarer, sure, or cat's eye shape is better suited. For other facial types, round and oval-shaped lenses will work well.
Options – Sunglasses that are more affordable come with lower price tags, as well as different colors for the frames and lenses, and sometimes size options.
---
Reviews: Best Cheap Sunglasses
Here is our top picks of some of the best affordable sunglasses;
---
---
1
The lenses width of the sunglasses is 55MM and there are more options available.
This is a cat's eye design that is ideal for round and oval face shapes.
The sunglasses offer full protection against the sun's harmful UV rays.
They are also available in more color selections, from which you can choose to your heart's content.
---
2
These are polarized sunglasses ideal for outdoor use.
They have glass lenses and a composite frame, which are durable and ideal for all occasions.
The sunglasses have a 100% UV 400 coating for protection.
There are also more lenses and frame colors available from which you can choose for your fashion needs and requirements.
---
3
The Sunglasses have a T90 frame and composite lenses.
The lenses are polarized and coated for UV protection so that you can rest assured that you are fully protected.
They are premium, lightweight, and very flexible in design.
You will also appreciate how durable and comfortable they are.
---
4
These are Rx-able sunglasses that are non-Polarized.
They have a plastic frame and polycarbonate lenses that are very durable.
There is a 100% UV coating for full protection.
Inside you will also get a branded case to keep your sunglasses.
---
5
The sunglasses have very durable and impact-resistant polycarbonate lenses.
They have a UV coating and are Non-Polarized.
The sunglasses come with a lightweight metal frame.
There are more colors available in the lenses.
---
6
The sunglasses have a plastic frame and composite lenses, and this is a more affordable option that is still very durable and high quality.
They are non-polarized with a UV coating for protection that offers full sun protection.
The large lenses are perfect for all face shapes.
They are also available in more color selections for your personal and fashion needs and requirements.
---
7
These rare metal frame sunglasses with plastic non-polarized lenses.
They are a perfect size and shape for any facial type.
The sunglasses are available in many more colors from which you can choose.
They are durable and of excellent quality at an affordable price.
---
8
These sunglasses offer excellent protection and consist of high-quality materials.
They have a plastic frame and polycarbonate lenses that are impact resistant.
The sunglasses are UV coated and non-polarized, so you enjoy full sun protection and comfort.
More colors are likewise available to you so that you can take your pick.
---
9
Here we have TAC polarized sunglasses that offer 100% UV protection, which is more advanced and safer.
They are stylish in design and ultra-lightweight, as well as durable. They are ideal for all occasions and environments.
The lenses are durable polycarbonate, and they are scratch-resistant.
The frame is durable and flexible, so it can be worn for sports activities and outdoors.
---
10
These are mirrored lens sunglasses that have a metal frame and mirror coating on the lenses.
The lenses are UV400 coated for full protection.
They are non-polarized and lightweight.
A perfect all-rounder when it comes to sunglasses, they are fashionable, durable, and offer full protection for everyday use.
---
Index Table: Top Rated Cheap Sunglasses
---
---