There is nothing like the best small aviator sunglasses for smaller faces that are a square, oval, or heart shape, also known as a triangular shape.
This shape is a vintage design that stays in fashion and always gives classic elegance to the wearer.

---
Aviator Sunglasses for Small Faces
The general tip for smaller faces is to wear smaller or medium sunglasses, which help your face look more proportionate.
Large sunglasses, especially Aviator sunglasses, can dominate your facial features and draw attention to the sunglasses rather than you as an individual.
Larger aviator sunglasses on small faces can also look quite odd and incommensurate.
Generally, I recommend Aviator sunglasses for an Oval, square, or heart-shaped (triangular) face, and for smaller faces in these shapes, small lens Aviator styles.
---
Fitting Aviator Sunglasses Properly
The Fit of Your Aviator sunglasses will depend on their use, whether casual or functional use. For a smaller face, ideally, you will need smaller shaped aviator sunglasses.
Here are some tips on fitting your aviator sunglasses for every use and style;

Casual Use – If you like the calm command style of aviator sunglasses to wear in casual settings, they should fit your face shape. Heart, square and oval faces are the best shapes for aviator sunglasses. They need to be the right size, not too large to draw attention, and not too small to look strange or intimidating. They should fit snugly and not slip down your nose easily. The temple arms should also not scrape or irritate your ears. They need to stay in place when your head is up, down, or moved from side to side.
Practical Use – Aviator sunglasses are the best option for individuals who work outdoors in a supervisor or law enforcement occupation, as they exude authority and competence. The lightweight and durable construction also makes them an excellent choice for anyone who plays hard outdoors in the hot sun. Being active, you want a comfortable, snug fit on your nose and around your ears that will not slip off easily with movement.
Frame Measurements – The frame is usually measured in millimeters, including the lens, nose bridge, and temple arms. You will need to opt for smaller measurements for a small face and look at lens measurements of around 40 to 52 mm. Also, make sure that the nose bridge measurements will fit you properly.
Fit – Your aviator sunglasses need to fit snug but comfortable and properly. Most of your eyebrows need to be covered by the lenses, and your eyelashes should never brush the lenses when you blink. The nose pads must sit snug but never dig into your skin and leave dents afterward.
By following these tips, you should be able to get the best fit and size of aviator sunglasses for your smaller face shape.
---
Features of a Good Pair of Small Aviator Sunglasses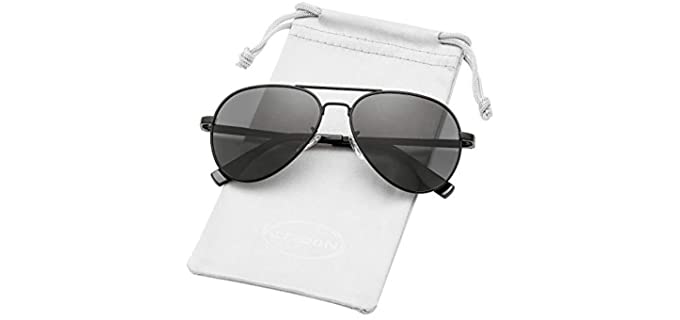 Materials – Generally Aviator sunglasses will have a metal frame and glass lenses. Today however Aviator sunglasses come in a variety of color options. They can have plastic, metal or other frame materials, with glass, polycarbonate or other material lenses.
Design – The Aviator sunglasses design is something we are all familiar with, but with the aviators we are looking at in this article, the design will be much smaller to suit smaller face shapes.
Options – The listed Aviator sunglasses are all available in more lens and frame color options. Then there are also size options for smaller aviator sunglasses that are between 48mm and 52mm for the lenses.
---
Hallmarks of the Aviator Sunglasses
The Aviator sunglasses are well known for their large reflective lenses, although today they are available in many lenses and frame styles.
However, most Aviator sunglasses, whether small or large, will have the following prominent characteristics;

Large Lenses – Apart from the smaller styles, an aviator sunglass model usually boasts lenses that are at least three times larger than your eye sockets.
Metal Frames – The iconic Aviator style always features a metal frame that is thin and has a double or triple bridge.
Cable or Bayonet Earpiece Temple – Mot Aviator sunglasses have a cable or bayonet design earpiece style temple that will hook behind your ears.
Convex Lenses – Besides being large the lenses are a convex shape that covers the entire eye area.
Teardrop Nose Pads – The Nose pads will be a teardrop shape that curves along the inside of the nose, they are also usually adjustable.
---
Reviews: The Best Small Aviator Sunglasses
Below are our top favorite Aviator sunglasses that are smaller in size and lens size;
---
1
lens sizes and color
From Maui Jim, we have the smaller-sized baby Beach Aviator sunglasses.
They have a titanium frame and composite lenses, which is an extremely good design and quality material if you are looking for something durable and premium quality.
The lens is polarized and offers full UV protection, which is ideal.
There are many more frames and lens color options available in this specific range from Maui Jim.
---
2
The Pro Acme Sunglasses are Aviator sunglasses that are small to medium size.
They have a metal frame and plastic lenses that are polarized and have a mirror coating.
The sunglasses are suitable for adults and juniors.
They are also available in more color options and sizes.
---
3
From Gleyemore, we have small polarized Aviator sunglasses that are of excellent quality and very fashionable.
They have polycarbonate lenses and a metal frame that is durable and offers excellent impact resistance.
The lenses likewise have a mirror coating, which is a classic Aviator signature marking.
The sunglasses consist of premium quality materials and are available in more colors and sizes for small and medium faces.
---
4
This is another addition from Pro-Acme in Aviation sunglasses for children and adults.
They are smaller in size and are polarized.
The lenses are plastic, and the frame is full metal. The plastic lenses are generally more durable and shatter-resistant than glass lenses which are the more classic option.
The sunglasses offer excellent UV protection and do come in more options.
---
5
The Kursan Aviator sunglasses have a metal frame and composite lenses; this is more classic and modern in style with the more durable composite lenses than glass lenses.
They also come with a mirror coating on the lenses, which is likewise classic to most aviator-style sunglasses.
The sunglasses offer UV 400 full 100% protection against UVA and UVB rays.
They come in fashionable colors and lens size options.
---
6
the KastKing Kenai is an Aviator sunglasses with a smaller design.
They have a metal frame and Tri-Acetate Cellulose lenses.
There is a UV protection coating, and they are polarized, so you are getting 100% full UVA and UVB protection against the sun's harmful rays.
The lenses are also glare-resistant and will protect your eyes from flying objects with the TAC design.
They are available in more colors and size options so that you can get a perfect size and fit as needed.
---
7
The Aviator sunglasses have a small lens and are fully polarized.
They have a metal frame and composite lenses that are durable and quality.
The frame is of excellent quality and durable metal.
The design is perfect for smaller facial shapes.
More colors are likewise available.
---
8
The Coasion Aviator sunglass is polarized and smaller in size.
They have a metal frame with composite lenses and a mirror and polarized coating.
The size of the lenses is smaller than regular for smaller faces.
More colors in the lenses and frames are available.
---
9
Rau-ban is a top brand that also makes some excellent aviator sunglasses.
This style is a medium to small design ideal for smaller face shapes.
The frame is a durable metal, and the lenses are plastic with a mirrored coating.
They are also available in more lens and frame color options.
---
10
From Costa Del Mar, we have the Loreto Aviator sunglasses that are smaller in size.
They have a metal frame and plastic lens, which is durable and classic to this style.
The sunglasses are polarized and offer excellent UV protection.
The lenses are small to medium in size, ideal for ladies and smaller faces.
There are also many more colors from which you can choose.
---
11
The Luenx Aviator sunglasses are small in style for ladies and smaller faces.
They are a metal frame and plastic lens design that is fully polarized.
They have a mirror coating that is available in more colors and ideal for high glare situations.
The frame also has an anti-oxidant coating for allergy solutions.
---
12
The Pro Acme Aviator sunglasses are smaller than the regular oversized designs.
They have a metal frame and small plastic lenses.
The lenses are polarized and have a mirror coating.
There are sizes available for adults and juniors.
They are also available in ore color options.
---
Index Table: Top Rated Small Aviator Sunglasses
---
---