You know when you plant yourself in front of the sunglass section at a store for 30 minutes and starting trying on every pair within reach, only to laugh profusely at yourself when you look in the mirror?
We've all been there. What looks great sitting on the sunglasses rack looks goofy and awkward on your face, and the reason is simple: they don't complement your facial features.
Those of you with wide foreheads, rounded chins, and full cheeks may want to pay attention because below on our list, we highlight the best sunglasses for round faces.
Find out which styles will help you complement your bone structure and profile.
---
Choosing the Best Sunglasses for a Round Shaped Face
What sunglasses will suit your face best? This is an age-old question that many of us are wondering about.
The shape of your face will impact how good or bad a pair of sunglasses will look on your face.
Certain designs and shapes in sunglasses work better for certain face shapes.
In this article, we specifically look at sunglasses that compliment a Round facial shape.
So what exactly constitutes a Round face?
A round face has soft, contoured, and more feminine features, with the face's width and height roughly the same in size and shape.
---
The Best Types of Sunglasses for a Round Face Shape
Square Sunglasses – Square Sunglasses or rectangular sunglasses with wider frames than your face adds more balance to a round face. Ray-Ban Wayfarers are one of these shape options that are ideal for a round face.
Cats Eye Shape Sunglasses – Cat-Eye sunglasses have an unswept frame that works well with almost any facial shape. This style gives a more lifting effect on your face and makes it seem more contoured. The design will work well for a round face. Just make sure to choose more angular lines than rounder shapes.
Browline Sunglasses – Browline Sunglasses has a frame with fewer angles but a more useful silhouette that adds balance and creates an illusion of length to the face. It also has a slimming effect on your face.
Aviator Sunglasses – Aviator Sunglasses are ideal for round and oval faces as they help to balance out the facial shape and have more feminine contours.
Oversized Sunglasses – Oversized Sunglasses are generally advised for round and oval faces, make sure that they do not have a round or oval-shaped frame.
---
Features of Sunglasses for Round Faces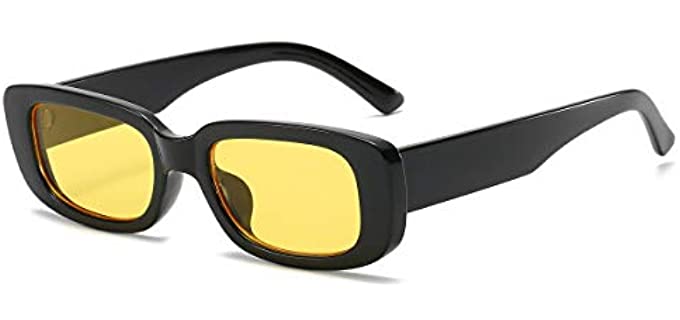 Materials – Sunglasses usually consist of either plastic, composite, polycarbonate or metal materials for the frame, and plastic, glass or polycarbonate materails for the lenses with a Uv coating.
Shape – Shapes ideal for round faces are rectangular, aviator, cat-eye, square shapes, or anything with angular lines.
Protection – Most lense will; provide UVA and UVB protection with a 100% UV protection coating. Lenses will be either polarized or non-polarized.
Colors – As you will see, most sunglass models offer different color options in both the frame and the lenses.
---
Reviews: Best Sunglasses for Round Faces
Here are some of our top choices in sunglasses that are ideal for round faces;
---
1
The Ray-Ban New Wayfarer is a stunning design that is ideal for round face shapes.
This model comes in a few different frame and lens color options.
The frame and lenses ate plastic with a Uv protection coating.
You can also select from a 52, 55, or larger 58 mm lens size option in this specific model.
---
2
These rectangular sunglasses by Maui Jim will help you balance and flatter your round face shape, and their cool blue and black coloring make them perfect for those with cool skin tones, blue eyes, or black hair.
The nylon frames are both durable and lightweight, featuring non-slip nose pads, a high-gloss finish, and most importantly, the lenses are polarized to offer the highest level of protection to your eyes.
If you like the shape but not the color of the pair above, have a look at the Maui Rose and Bronze frames by Maui Jim!
---
3
Meow! Kate Spades cat-eye sunglasses are elegant, classy and give you a modern/vintage look to help you beautifully frame your eyes and your face.
The dark, rich tortoise pattern will complement those with warm skin tones, green or hazel eyes, and with various tones of blond or brown hair.
These are some of the best sunglasses for round faces where a few daring angles make your face pop. A stunning contrast!
---
4
If you have a round face and you love aviator sunglasses, try this pair by Ralph Lauren.
The brown color featured will do wonders for those with warm skin tones and green or hazel eyes, and it's hard to go wrong with the iconic aviator shape.
If you're not fond of this color, the sunglasses come in two other color combinations so that you can find the right one for your coloring.
---
5
Another excellent brand when it comes to sunglasses is Aokley, and I have selected their Cross Hair model for round faces.
They have a plastic frame and plastic lenses as well as metal in the front frame.
There are different lens and frame color options available for your perusal.
The lenses are non-polarized iridium with a Uv protection coating.
The lenses are 61mm in size, quite large, and have a 15mm bridge.
---
6
Another stunning addition from Ray-Ban is their rectangular Lens Wayfarer range for round face shapes.
The lenses offer 100% Uv protection and are coated with a UV 100% Protective film.
There is a rectangular-shaped lens that is also polarized and a lightweight acetate-crafted frame.
The case and cleaning cloth are included for your convenience.
---
7
The Feisedy Smaller Catseye-shaped glasses are for daring at heart.
This fun and bold shape are ideal for rounder faces and oval face shapes and are one of the best women's sunglasses for small faces.
The frame and lenses are plastic, and the lenses ate non-polarized with a Uv protection coating.
There are many color options available from which you can choose as well.
The lenses will protect you against UVA and UVB radiation.
---
8
Get the Party started in these "The Party Sunglasses" from Louis Vuitton.
Something a bit more expensive and high-end, but truly worth it for a rounder face shape.
The frame is metal, and there is a gradient polarized lens.
The lenses also have a mirror coating and offer excellent Uv protection.
There are decorative metal studs and monogram mirror effects as well on the lenses.
---
9
The Natural and earthy look of these Treehut Bamboo sunglasses is quite fashionable today.
The shape and design perfectly flatter a rounder face shape as well as oval face shapes.
The glasses have bamboo and plastic in the frame as well as polarized, rectangular-shaped plastic lenses.
There are many frames and lens color options that you can select from as you like.
They are fashionable and ideal for outdoor wear and summer days on the beach.
---
10
Under Armour Sunglasses have a Square design and come in many frames and lens color options you can select.
Under Armour brings you their UA Force range that has a sporty and outdoor appeal and strength.
They are titanium with a Polycarbonate lens and plastic frame, as well as the lense being Non-Polarized.
The Armoursight lens technology is 10 stronger than a similar polycarbonate lens and gives a 20% clearer and undistorted view.
The Three grip point fit ensures that they stay in place no matter what.
---
Index Table: Top Rated Sunglasses for Round Faces
---
---