If you love the classic John Lennon Style small round metal sunglasses, then this article is just for you.
They are a vintage style with so many quirks and versatile styles available today and should not be missed.;
However, keeping in mind that most round-shaped sunglasses do suit some facial shapes better than others, and they are a style that also suits some personalities better than others.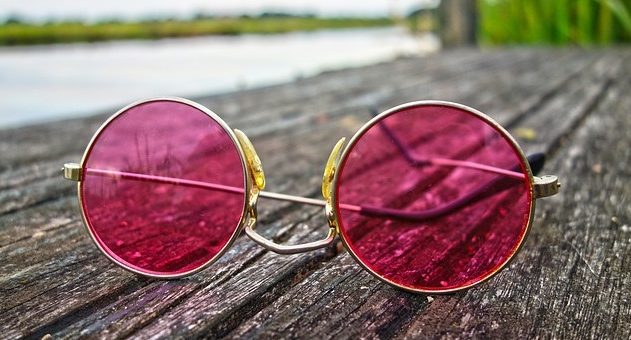 ---
History Behind Round Sunglasses
But before we get into the fun styles and designs of small round metal sunglasses, let us first take a peek into where they actually originate from;
The round metal sunglasses have been around since the early 1900s when manufacturers first started mass producing sunglasses for everyone.
This trend was sold by Jersey Entrepreneur Sam Foster as inexpensive sunglasses on boardwalks at beaches, and so the trend soon became fashionable.
However, it was not until some movie stars and musicians such as John Lennon, Bette Davis, and Buster Keaton started wearing this design that they exploded into popularity.
In the 1940's a variety of frame styles emerged, and so did new frame and lens shapes and styles, so the metal frame round sunglasses kind of fell out of fashion.
But over the years, they have become a more vintage design to followers of this particular style, and they do pop up every now and again as fashion changes.
---
Types of Metal Frame Small Round Sunglasses
There are a few different styles of round sunglasses available today;
Panto Sunglasses – These are still round with a slightly off-round shape like a combination of round and oval. They actually suit most facial shapes, unlike the completely round shape.
Oversized Round Sunglasses – The Oversized Round sunglasses are glamorous and dramatic, however not suitable for smaller facial shapes.
Small Round Sunglasses – The shape we will be looking at in this article. This shape is ideal for smaller faces and more reminiscent of the original style f round metal sunglasses.
Metal Frames – The Metal frame small round sunglasses are the original style. The metal frame can be silver or gold or painted options available today.
Clubmaster Frames – Clubmaster frames are a vintage-inspired design frame that has returned in 2021. The design has round lenses and is set in frames that are slightly thicker at the top than the bottom of the frame.
Keyhole Bridges – the Nose bridges on most round metal sunglasses may be updated. This new bridge design has short pads that sit on each side of the nose to make them more comfortable.
The Small Round Metal Frame sunglasses design works very well for small to medium face shapes in men and women. Ideally, they were first created for men, but today they are also worn by many women. The smaller, more fine, and petite structure of these sunglasses work for ladies and gents that are smaller and more petite in stature.
They are ideal for almost all facial shapes except a round facial shape. Square, heart Shaped, Oval-Shaped, and even rectangular facial shapes can wear small round metal frame sunglasses.
What I love about this style today is the fact that the lenses come in so many fun and colorful, as well as more conservative color options from which you can choose.
The Thin Metal frame is fine and elegant and is usually quite durable. Metal frames also come in a variety of colors besides just the regular gold or silver colors.
---
Features of Good Small Round Metal Sunglasses
Materials – Small round meta sunglasses come with a metal frame that can consist of a variety of meals such as stainless steel. The lenses may be glass, plastic or polycarbonate in material.
Design – The design will be either completely round small lenses or a slightly round to oval lens and a thin metal frame.
Fit – The fit of small round metal sunglasses, like any other sunglasses, should be snug but comfortable, as not o slip of or to squeeze.
Options – Options available will usually be more frame and lens colors, as well as sizes, which are all dependent on the specific brand and model of sunglasses.
---
Reviews: Best Small Round Metal Sunglasses
---
1
The HTMS sunglasses feature the old vintage-style round lenses with a thin metal frame.
The lenses are composite in material, and the frame is a durable, thinner metal.
The sunglasses are a 50mm size that is small to medium in size.
The lenses are polarized and UV 400 protecting.
The sunglasses are also available in many more fun colors.
---
2
The Pro Acme sunglasses also offer this unique style for men and women in their John Lennon Model.
This is the perfect pair of round lenses thin metal frame sunglasses, exactly like the classics.
They have plastic lenses, and more color options are available.
The frame is a thin but durable metal.
The shape is very small, at only 45mm.
---
3
This is another model from Pro Acme in the vintage classic retro round metal sunglasses.
These actually have crystal glass lenses such as the originals and a full metal frame.
The lenses are polarized and have a mirror coating.
The sunglasses have a small to medium 50mm shape size.
---
4
These are also classic John Lennon-style sunglasses from Cgid.
They have round lenses that are polycarbonate, and the frame is a thin metal.
The sunglasses are polarized and have a mirror coating.
They are a very small 45mm size and offer UV 400 protection.
---
5
From Sojos, we have small round metal sunglasses that are a vintage retro style.
They have a stainless-steel frame that is extremely durable and of good quality.
The lenses ate polarized and mirrored for glare protection.
They are a 51 mm size which is perfect for small to medium face shapes.
The sunglasses are lightweight and available in more color options.
---
6
From WearMe, we have reflective round metal sunglasses.
The sunglasses have a metal frame and plastic lenses.
The lenses are polarized with a reflective coating.
They are small to medium size at around 51 mm.
---
Index Table: Top Rated Small Round Metal Sunglasses
---
---