Sunglasses are not just a fashionable accessory, but they are also the thing that makes it easier to go out on a sunny day, regardless if you are on the road or the beach.
The right sunglasses will also protect you against UV light, which can cause damage to your eyes, both in the short term and long term – which is why you need to be especially careful how you pick them.
If you are looking for the best sunglasses to protect your eyesight, this guide will definitely help your aid. It will provide tips on choosing sunglasses, what types you can find, and which ones are the most popular choices.
---
Things to Consider When Buying Sunglasses
There are a few factors you always need to consider when looking for the perfect pair of sunglasses:

100% Protection – They need to offer 100% protection from UV rays (there is usually a sticker or a tag saying how much protection they offer).
Size Matters – The bigger, the better. If they provide more coverage, then the sun won't get to damage your eyes.
With that being said, not all of you can wear large glasses because it depends on your face's shape and size, so choose something that will complete your look rather than detract from it.
Darker Doesn't Mean Better – Dark lenses may look cool, but they may not necessarily block more UV rays than lighter sunglasses.
Color Does Not Matter – You can get glasses in shades of green, amber, or gray, and they may protect better than black sunglasses.
Polarization Doesn't Matter – While they may look cool, they do not necessarily cut the UV lights. They only cut the sun's glare and may only make water/road activities easier.
Cost Should Not Be a Factor – Glasses should not cost a small fortune. You can get a less expensive pair of glasses that blocks UV rays much better than a designer pair.
Your eyes can be under better protection by simply choosing the right pair of glasses.
---
Choosing the Style
Indeed, while we stress a lot over the lenses, we also need to consider the frames that go with them. After all, we will be wearing them on our faces for an entire day – and the face is the first thing that comes into vision (obviously).
Here are the styles of glasses you can choose from:

Aviator – These glasses have large lenses in a dark metal frame. The lenses are either reflective or smoked.
Browline – Very thick top frames that go right across the brow and thin (or none) lower rims.
Retro Square – Boxy-shaped glasses with thick frames. Also known as the "nerdy" types of glasses.
Round – Also known as the "John Lennon" look. While the lenses are always round, frames may vary (from thick to thin or metal to plastic).
Sport – These sunglasses have thin, sleek lenses tapering at the temples. They were made to block UV rays from all sides and enhance your visibility during your 'adventures.'
Cat Eye – Characterized by the retro frames and the upswept angles. They give off a feminine vibe and a feline look, just like the name implies.
The best sunglasses need to protect your eyes, but they obviously have to look good as well.
---
Features of Good Sunglasses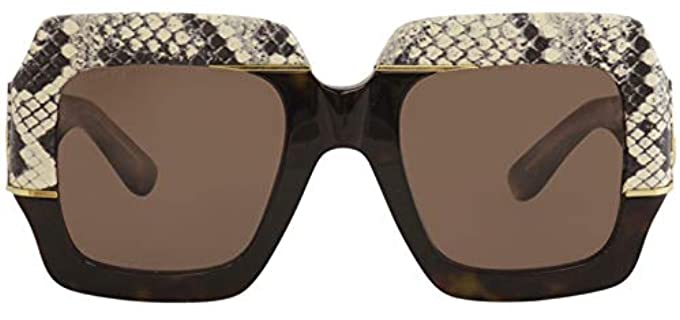 Materials – the Frame may consist of metal, plastic or carbon and nylon material's. Fr the lenses crystal, glass, plastic or polycarbonates may be used.
Design – Sunglasses may have a polarized or non-polarized design with a Uv protection coating. They come in many different shapes, such as aviator styles, square, round, and wayfarer styles.
Options – You can choose from size options in most sunglasses models and brands. They also usually offer more colors in the frames and lenses.
---
How To Find the Right Sunglasses
---
Reviews: Best Sunglasses
In this extensive review we look at some of the top brands and models of sunglasses for every fashion and style requirement;
---
1
Ray-ban is a top brand in sunglasses, and their Aviator design sunglasses are a favorite among many.
They have a full metal frame and an aviator design.
The lenses are crystal with a UV protection coating.
The sunglasses are polarized and very durable.
They come in a few more lenses and frame color options.
---
2
Another addition from ray-Ban is their Round Frame sunglasses.
They are non-polarized sunglasses with a round design.
The lenses and frame are both plastics.
The sunglasses offer excellent 100% full UV protection.
They are also available in more color options.
---
3
From Oakley, another top brand, we have Iridium polarized sunglasses.
The lenses and the frame consist of durable plastic.
The sunglasses are iridium polarized and UV coated for protection.
They are very durable and come in a few color options.
A microbag is included for cleaning and storage.
---
4
Oakley Running sunglasses are ideal for running and other sports.
The sunglasses have a durable plastic frame.
The lenses are a Plutonite plastic design that offers 100% UV protection and are very lightweight.
The high-definition optics provide optimal clarity and even enhance water clarity for fishing.
Furthermore, they are designed to be durable and very lightweight.
---
5
The Ray-ban Wayfarer Sunglasses are their most sought-after shapes and designs in sunglasses.
The Wayfarer design is ideal for all face shapes and types.
The frame is plastic, and the lenses are glass with a UV protection coating.
They are Non-Polarized and a unisex design.
The sunglasses are very durable and available in more size options.
---
6
Under Armour Sports sunglasses are resistant to oils and slat water so that you can enjoy anything outdoors.
The frame is durable plastic, and the lensed a UV coated Polycarbonate.
The lenses are treated to resist saltwater and oils and stay clear.
Polarized lenses also eliminate glare to be used in the brightest conditions.
These sunglasses similarly meet ANSI Z97 safety standards as safety eyewear.
---
7
Dita is a top brand with their most sought-after square sunglasses, the Mach-Six.
The Sunglasses are titanium/acetate with composite lenses and a Metal Frame.
They come in a black and matte brown color.
The lenses are non-polarized and coated for UV protection.
They are elegant and fashionable, as well as a very high-quality brand.
---
8
The Gucci Havana is very popular in this range, with square lenses and snakeskin décor on the frame.
The frame is durable plastic, and the lenses are composite.
The lenses ate not polarized, but UV coated for UV protection.
The Sunglasses are brown in color with a snakeskin design top.
They are very sought after and from a top brand.
---
9
These are some gorgeous round lensed sunglasses from a top brand, Bvlgari.
These are metal frame sunglasses with round lenses.
The lenses ate glass and non-polarized.
The glasses offer full UV protection.
They are a fashionable design with round lenses.
---
10
With a shape that will fit any face type, gorgeous and light are the Prada pale Butterfly sunglasses.
These are composite frame sunglasses with anti-reflective design lenses.
They are covered with a UV protection coating.
The lenses are non-polarized and durable material.
They are a stunning butterfly design in a pale Havana Brown color.
---
Index Table: Top Rated Sunglasses
---
---