Most Aviator style sunglasses do have either dark or reflective, also known as mirrored lenses. This is the original vintage style that we all know so well. However, today, the lenses come in so many other options.
In this article, we will look at the small mirrored aviator sunglasses style in more depth.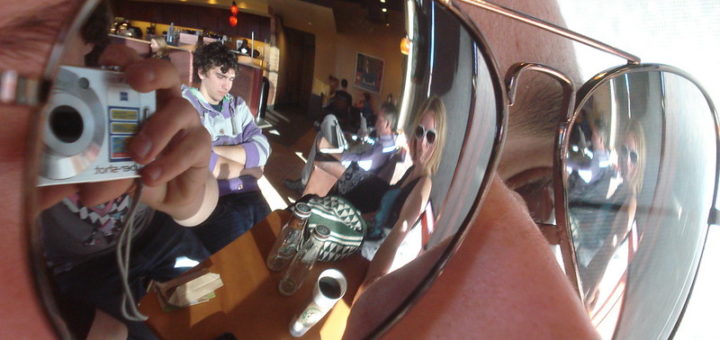 ---
What Are Mirrored Sunglasses
Mirrored sunglasses are sunglasses with a reflective optical coating on them, which is called a mirror coating or flash coating.
The mirrored lenses typically give the wearer a tinted brown or greyish vision, and the mirrored coat will decrease the amount of light that passes roughly the tinted lenses by a further 10% -60%.
This type of lens coating is ideally suited for conditions where there is plenty of sand, snow, or water and in higher altitude areas.
The Mirrored sunglasses have a one-way mirror reflection, and the color of the lenses is dependent on the actual tint, so it is available in a variety of colors,
The popularity of the mirrored sunglasses, especially the aviator design, gave them the nickname of "Cop Shades."
Two styles are predominant in sunglasses with mirrored lenses, and they are the Aviator styles and the wraparound sunglasses with plastic frames.
There are however, some pros and cons to having mirrored lenses on your small aviator sunglasses;
Advantages of Mirrored Sunglasses – The Primary reason why people wear mirrored sunglasses is that they help to deter glare. This is ideal for driving and outdoor sports where you may experience more glare for water, sand, or snow. Mirrored sunglasses are stylish and give off multiple colors that protect your eyes from ultraviolet rays. Mirrored sunglasses also fully conceal your eyes if that is what you are going for.
Disadvantages of Mirrored Sunglasses – Mirrored sunglasses are more durable than other lens types. Still, they scratch easily, so you will need to fully protect them against scratches and be very careful when cleaning them. Mirrored sunglasses are pricier than other lense type sunglasses but are so much more worth it.
---
Mirrored Aviators for Small Faces
Mirrored Aviator sunglasses for small facial shapes are ideal as long as you opt for smaller designs rather than the oversized aviator sunglasses styles.
Make sure that your Aviator sunglasses do not touch your face but only fully cover your eyes and lie on your forehead and cheeks.
Your eyes need to be properly centered on the lenses. Otherwise, they are too bit for you. Your aviators must also fit snug and comfortably on the bridge of your nose. In some models, you can adjust this area.
Generally, if you have a smaller face, you will wear smaller sunglasses to look proportionate, as oversized sunglasses can dominate our facial features.
---
Features of Good Small Mirrored Aviator Sunglasses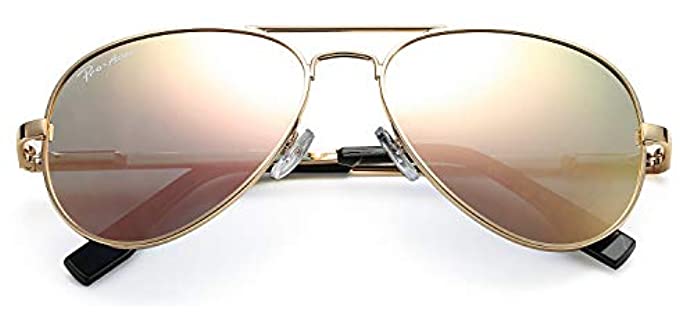 Materials – Aviator sunglasses originally have glass lens and a metal frame, however you do get models with plastic frames, and plastic or carbonate lenses today. The lenses may be mirrored or polarized, in the case of this article they will be mirrored, or reflective.
Design – The Aviator design is a classic shape and design. In this article, we look at the mirrored lens options. Most of the original aviator sunglasses came with glass lenses that have a mirrored coating and a metal frame that is quite thin. However, today's newer models offer a bit more variety, especially when it comes to colors.
Fit – The sunglasses should fit snug and comfortable on the bridge of your nose and behind your ears. They need to cover your eyes completely and rest on your cheeks. If they cover more than this, then they are really too big for your face, and you should opt for a small or medium size. You can check the measurements when you purchase sunglasses. Opt for something between 40mm and 52mm for a small to medium face.
Options – There will be some lense and frame color options available reliant on the model and brand, as well as size options.
---
Reviews: Best Small Mirrored Aviator Sunglasses
---
1
From Cgid, we have small mirrored lens aviator sunglasses that are stylish and fashionable.
They are a composite lens that is polarized with a mirrored coating.
The frame is a durable metal, and they are smaller in size.
There are size and color options available to you.
---
2
From Gqueen, we have a classic military style pair of aviator sunglasses that are slightly smaller for smaller faces, with mirrored lenses.
The frame is metal, and the lenses are composite.
They are fully polarized and have a mirrored finish.
The sunglasses offer UV400 full protection.
They are available in many color options and come in a small t medium size.
---
3
Ray-ban is one of the most well know sunglasses brands.
They also have some excellent aviator designs, such as this mirrored model.
The frame is durable metals, and the lenses are glass as the classic intended.
The lenses are non-polarized and have a mirrored coating.
---
4
The Pro Ace small mirrored aviator sunglasses are an excellent quality brand.
The sunglasses have a metal frame and plastic lenses that are polarized.
The lenses have a full mirror coating available in more colors in this range.
They are small design aviator sunglasses ideal for smaller face shapes.
---
5
The Azorb polarized aviator sunglasses have a metal frame and mirrored lenses.
The metal frame and mirrored lens colors are available in more color varieties.
The sunglasses have a smaller design for small faces and offer a comfortable fit.
They are polarized and offer excellent UV protection and anti-glare properties.
---
6
The Luenx Aviator sunglasses for ladies are small n shape and more feminine.
They have a metal frame and plastic lenses with a mirror coating.
The aviator sunglasses are polarized and UV 400 rated.
They are also available in more color options from which you can choose as your personal preference.
The size and shape are perfect for a small to medium facial shape and size.
Aviator sunglasses also work well on square, oval, and heart-shaped faces.
---
[/super_product]
Index Table: Top Rated Small Mirrored Aviator Sunglasses
---
---