Flat-top sunglasses are a fashionable design that many of us love.
The design is defined by the straight-line top of the sunglasses, which usually has various shapes towards the bottom.
The best Large Flat top sunglasses can offer excellent sun protection, as well as make a solid fashion statement for the bold at heart.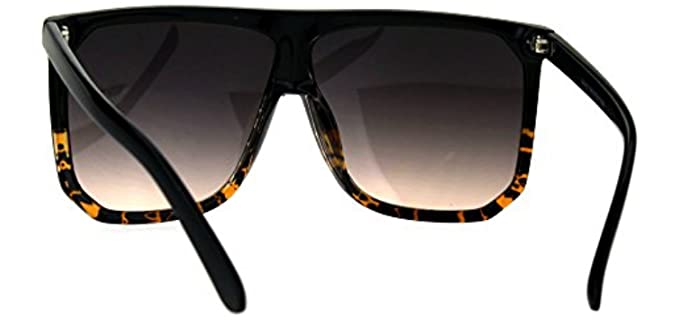 ---
What Exactly are Flat Top Sunglasses
the Flat Top shaped sunglasses is a more retro design for individuals who like this fashion style.
The sunglasses can be almost any shape, size, or design, but their flat top line defines them on your brow.
The straight flat line at the top of the sunglasses gives them their name "Flat Top Sunglasses," other than that, they predominantly have an aviator or wayfarer shape to them, among other shapes.
This design is just a new fashion that is taking the world by storm for those who want to achieve a more retroactive kind of image or fashion approach.
---
Choosing Flat Top Sunglasses for Your Face Shape
When it comes to buying sunglasses in general, you need to consider your face shape. Keep in mind that a large pair of sunglasses may not be the best option for a small face as your face will seem disproportionate with the large flat-top sunglasses.
Large Flat Top Sunglasses come in a variety of shapes and designs and here are how you can match them with your face type;
Round Face Shapes – A round facial shape has quite noticeable curves and less defined angles or lines. It is best to avoid sunglasses with curved features for a round face shape. Use sharp angular lines to elongate your face and make it look thinner and a bit sharper. Rectangular, square, Wrap, and Shield-shaped sunglasses with a flat top work well for round faces.
Square Shaped Faces – A square-shaped face is characterized by the fact that it is generally the same length and width across your face. The forehead is usually broad, and the jawline much stronger. Round and Oval-shaped sunglasses give curves and softness to this very angular face shape. Aviator, Butterfly, and round or oval-shaped sunglasses with a flat top are a great choice for a rectangular face shape.
Heart Shaped Faces – The heart-shaped face, or Triangular face shape, is the widest at the temples and very narrow and sharp at the chin. A good sunglasses shape for heart-shaped faces is one with a wide lower edge and no straight lines at the top. So for this facial shape, I would stay clear of very straight lines, flat-top sunglasses and rather opt for something with a bit of a curve at the top. Shield, Butterfly, Rimless, and Aviator styles work well for heart-shaped faces.
Diamond Face Shapes – Diamond-shaped faces have a narrow jawline and forehead with wider cheekbones that are more defined. This face shape is quite angular, so softer lines are recommended. Oval, Round, and Rimless Sunglasses are your best bet, and you can opt for a flat top larger sunglasses option in turn.
Oblong and Rectangular Face Shapes – Rectangular or oblong face shapes ate long and narrow with very few angles or curves. In this case, a large oversized pair of sunglasses is your best bet. Wayfarer, wrap, shield, square and rectangular styles that are large with a flat top will be an excellent choice.
Oval Shaped Faces – Oval faces are the easiest as practically every shape available works for them. The oval shape is soft and round with a more narrow forehead and jaw but still just enough angles. You can use basically any shape of sunglasses with an oval face, and even large Flat top sunglasses are perfect for oval faces.
---
Features of a Good Large Flat Top Sunglasses
Design – The Flat Top sunglasses range has a distinguished flat top design by your brow. There are different shapes available such as square, round, wayfarer or aviator shapes, although mostly square.
Materials – Materials used for the lens can be carbonate, plastic or glass. The frame may be plastic, polycarbonate, nylon, or metal. The materials will depend on the brand and the model. Many models may be polarized or non-polarized. Some come with anti-glare technology or a mirror-type lens.
Options – The options available to you in most of the brands and models in our review section are the lenses' colors and the frame. There are also lenses size options available in some brands and models.
---
Reviews: The Best Large Flat Top Sunglasses
Here are our top choices in the Flat Top sunglasses range;
---
1
These are large square and oversized sunglasses with a flat top.
The design is exactly what you are looking for in a proper pair of flat-top sunglasses.
The frame is composite, and the lenses are also composite and Non-Polarized.
The lenses offer full UV protection with a coating.
There are also more colors and options available in this range.
---
2
The Ray-Ban Boyfriend design has a slightly rounded flat top that caters to all facial shapes for this design.
It has a plastic frame and a full glass lens.
The lenses are non-polarized and have a UV protective coating.
Rayban is a top brand, and this is one of their favorite flat-top models that also offer more extensive coverage.
---
3
From Saint Laurent, we have large flat-top sunglasses for the ladies.
The lenses are composite, while the frame is durable plastic.
They are non-polarized and have anti-reflective technology.
These are large 58 mm-sized glasses that offer full coverage.
---
4
The Feisedy sunglasses have a flat top and shield design.
They are oversized for maximum coverage.
The sunglasses consist of Composite for the frame and have resin lenses.
They are non-polarized and offer full UV protection with a UV 400 HD lens.
---
5
Givenchy is also a well-known fashion brand that makes some killer sunglasses.
This is their flat-top model for ladies.
The frame and lens are both plastics, and the lenses are non-polarized.
They offer excellent UV protection and broad coverage as they have large 5-0cm frames.
---
6
From Pastl, we have Oversized flat top sunglasses for men and women.
They offer UV 400 full 100% UVA and UVB protection.
The lenses are gradient, and the frame is plastic.
They are non-polarized and large in size.
---
Index Table: Top Rated Large Flat Top Sunglasses
---
---