There are new sunglasses trends almost every season, but generally, it may be better to stick to the tried and tested classics, and that is what retro sunglasses are all about.
The best small retro sunglasses are designed to fit a smaller face and to take their cues and styles from vintage classics that have worked so well over the years.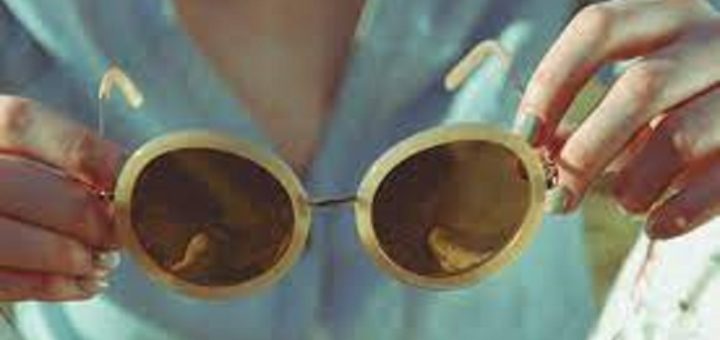 ---
What Defines Retro Sunglasses
So what exactly defines sunglasses as Retro in the first place. Well, retro is basically just another term used for Vintage, which has a bit more freedom to use fashionable styles that are introduced today and in the earlier years in turn.
The retro style is a style that imitates and derives from certain lifestyles, trends, art forms, and historical past, which may all include music, fashion, attitudes.
Much of the retro style is vintage-inspired, including sunglasses such as the round hippie style, the aviator and the wayfarer styles, as well as the tortoiseshell color that became so popular.
---
Retro Sunglasses According to Era
To understand retro sunglasses, let us look a bit further into the different stages and eras and what was predominate styles in those years up to today;
The 60's Styles – In this time, the combination frame styles with strong plastic brows, metal rims, and filigree detailing was predominant in men, while the cat's eye shape was a favorite among women. Wild and funky frames and studded décor were the way to go. Today many popular film stars, just as many popular film stars and icons in the 60's love these retro styles.
The 50's Styles – This is when all the real good stuff started coming out. S7unglasses became a must-have fashion accessory for everyone, and the more iconic styles started to hit the streets. This is where the very popular Wayfarer style started emerging, along with chunky and rectangular silhouette sunglasses and loads of plastics.
The 40's Styles – After World War 2 General Douglas McArthur became an accidental fashion icon with his pair of Aviators as he won the Pacific. This functional piece of eyewear is a predominant style even today. This age holds some top favorites such as the Aviators, metal frames, and the tortoiseshell color frames. The circular rims with a low temple placement were likewise a top favorite.
The 30's Style – In the '20s and 30's most sunglasses were very small in shape and lens and appeared quite minuscule to today's standards. At this time, metal frames were more predominant as they were more affordable than plastic during the great depression.
The 20's Styles – Eyewear makers started to look at sunglasses as a more fashionable item that just functional from the twenties onwards. You can still see some of these simplistic designs worn today. One favorite is the round wireframes which became a huge favorite, especially among hippies and similar retro styles. The horn-rimmed frames also became quite popular and were later replaced with plastic and tortoiseshell designs and colors.
So as you can see, much of the favorite styles from the '70s, '80s, '90s, and today are derivative of these eras and still a hit today.
---
Features of Good Small Retro Sunglasses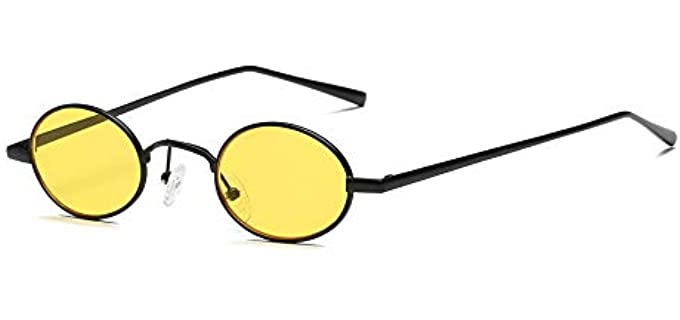 Styles – Retro Sunglasses include styles over the years that are vintage, up to today's more fashionable iconic designs. These designs include the aviator, round hippie sunglasses, wayfarer stylers, the Tortoise shell color, oversized styles, and even decorated and studded styles that are more in fashion today.
Materials – Retro sunglasses come in all sorts of materials and construction. The frame can consist of plastic, carbonate or polycarbonate, nylon, or metal. For the lens, carbonate, glass, or plastic can be used. The lenses may also be polarized or non-polarized depending on the specific brand and model.
Options – Most brands and models in small retro sunglasses come in different color options for the lens and frame. Some may also have lens size options and different fit options for men and women.
---
Reviews: The Best Small Retro Sunglasses
Here are some of our favorite retro design sunglasses that are smaller in shape and design;
---
1
The Ray-Ban Original Wayfarers are as retro as you can get with a smaller design.
They have an acetate frame and glass lenses as the original classics.
They are fully 100% UV protection against UVA and UVB rays.
The sunglasses are polarized and have a very durable frame.
---
2
The Sojos sunglasses are a small round retro design with a double bridge.
They offer UV 400 protection with an anti-glare coating.
They consist of a metal frame and composite lenses, which are more durable.
The unique style is a 20's retro vintage style, and there are also more colors available.
The silicone nose pads make them much more comfortable to wear.
---
3
The Dollger rectangular sunglasses for women are also a favorite retro style.
They have a plastic frame and polycarbonate lenses.
There is a UV protection coating, and the square design is more protective.
There are also more colors from which you can select.
---
4
The Livio retro sunglasses are a small narrow cat-eye design for ladies.
They have a resin frame and anti-reflective lenses that are non-polarized, with a mirror coating.
The frame is durable, and high quality and the lenses offer full UV 400 protection.
The design is very lightweight and comfortable to wear.
---
5
Here we have square retro aviator sunglasses that are slightly smaller.
They have a metal frame and glass lenses, just like the original aviator sunglasses.
The lenses are not polarized, and they have a scratch-resistant coating.
The size is small to medium, ideal for smaller faces.
---
6
The Feisedy Vintage small round sunglasses come in fun candy colors.
They have a metal frame and resin lens with a UV protection coating, and they are quite durable.
The lenses are small and round with a more vintage style.
This style is ideal for hipsters and comes in so many fun and exciting color options.
They offer full UV 400 protection so that you are safe against UVA and UVB rays.
---
Index Table: Top Rated Small Retro Sunglasses
---
---