Sunglasses that perform poorly and do not give proper clarity when driving can place you in danger and make your driving skills less effective.
The best sunglasses for driving can help keep you safe and comfortable on the road.
There are different factors to consider when choosing sunglasses to drive with, as they need to perform at peak, with extra features, which we will further take a look into.
---
Things to Take Into Consideration
Before you select a pair of sunglasses, here are a few things to consider.
Polarized – The best sunglasses for driving are those that contain polarized lenses. The special filter used in the lenses will block the intense light reflected from flat surfaces (such as water or snow-covered areas), which reduces the amount of glare.
Arm – Avoid sunglasses that block too much of your peripheral vision. Usually, those with thick arms will limit your line of sight, but if you happen to like this style of sunglasses, then find a pair that has side lenses on the arms so you can see through them.
---
Lens Color for Driving Sunglasses
It's important to consider the lens color as you shop since it can make a big difference in how you see (or don't see) what you're doing.
Stick to black, brown, or amber color lenses since they won't alter your surroundings' colors. Light colors, such as green, blue, and pink, should not be used when you're driving. They might make it hard for you to distinguish certain colors of stoplights, etc.
Yellow should also be avoided during the daylight hours, but feel free to use them when it gets dark because they will help you see more clearly if you drive at night!
---
Comfort and Fit
Ideally, it's best to have a pair of sunglasses for driving only and have another pair on hand that you switch to once you're parked in the car (or motorcycle…or scooter).
You may end up wearing sunglasses for a good portion of the day, but you still want them to be comfortable even if you aren't.
Any sunglasses with nose rests should be adjustable so you can increase or decrease the amount of pressure they apply on your nose.
Sunglasses without nose rests, such as number two on our list, should rest comfortably on your nose as-is.
---
Features of Good Sunglasses for Driving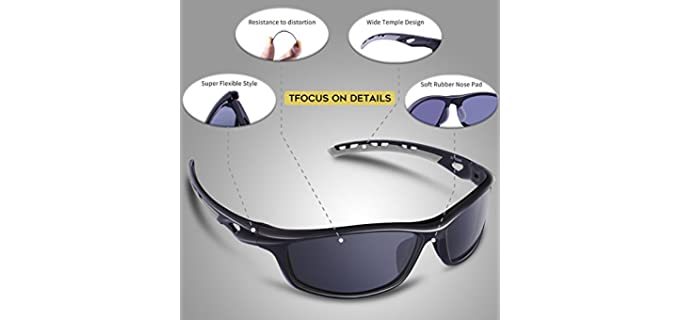 Materials – For the lenses, glass, crystal, plastic, nylon and polycarbonate is used. The lenses may be polarized or unpolarized and come with or without a mirror coating. Lenses are usually UV protectant coated. The frame is a lightweight metal, nylon, plastic polycarbonate, or carbonate material.
Shape – Lense come in different shapes such as square, aviator, wayfarer, cat's eye, round and oval, as well as different sizes.
Options – You will be able to select from various colors in both the lenses and frames in most models. Some sunglasses also give you the option of selecting a size.
---
Reviews: The Best Driving Sunglasses
In this list, we show you some of the best available sunglasses for driving with, that also comes in quite a variety;
---
1
This model from Ray-Ban is a Classic Rectangular shape flattering to any facial shape and features, with a non-Polarized lens for excellent Uv protection while driving.
The frame and lenses are Nylon, which is lightweight and durable.
The lense is non-polarized, as well as UV coated for 100% Uv protection.
The sure frame design flatters most facial shapes and features perfectly.
There are also more colors available in the lens and frame.
---
2
The Ray-Ban Wayfarer model compliments almost any face shape and has mirror-coated anti-glare lenses, ideal for driving.
The lens shape is available in different size options and consists of Crystal materials.
There are a plastic frame and mirror coating on the lenses.
You get a free eyewear kit with the purchase of these sunglasses.
there are also more color options available, from which you can choose.
---
3
The Maui Jim Sunglasses are fully polarized, making them perfect for driving.
The lense is composite, while the frame is a Grilamid Nylon and Polycarbonate.
The lenses are also fully polarized, making them ideal for driving.
The lens likewise does not just shield against UV rays but also protects you from glare.
Furthermore, you can choose from a few available color options.
---
4
From Ray-Ban, we have a lightweight, non-polarized pair of sunglasses that are ideal for driving.
The frame is durable nylon that is also more lightweight.
For the lenses, Glass is used, which is non-polarized and has a UV coating.
The lenses are scratch and shatter-resistant for your safety and durability.
There are more color options available in the lens and frame design.
---
5
The Oakley Holbrook offers good clarity and high-definition optics, which is perfect for driving.
The lens with non-polarized Iridium and a UV protective coating.
The frame is also plastic and stress resistant with a durable design.
The lens offers higher clarity and protection against UV rays.
there are similarly more color options available in the lenses and frames.
---
6
The Ray-Ban Classic Driving Glasses are lightweight, with a very stylish design.
There are a metal frame and 58 mm aviator style lenses.
The lens is polarized and coated for Uv protection,
They are a unisex design, so ideal for both men and women.
You can also get more color options in this specific model.
---
7
This is a tough sports model sunglasses from RIVBOS that is also ideal for driving with.
The frame is a tough and durable plastic that offers a snug fit.
For the lenses, Tri-Acetate Cellulose is used, with a Mirror coating, and they are polarized.
You can likewise select from more color options in both the lens and frame.
The lenses are a wide width that offers more coverage and full UV protection.
---
8
The Sungait Classic are very lightweight sunglasses with polarized lenses, ideal for driving.
The Frame is a lightweight alloy metal that is very durable.
Composite material is used with a 100% UV400 protection coating that is also polarized for the lenses.
The lenses are rectangular in shape and fit most face shapes ideally.
There are also a few more colors available from which you can select.
---
9
The Photochromic sunglasses from YIMI have an AntiGlare design and are ideal for driving in all weather conditions and even at night.
The frame is completely metal, and the lenses are photochromatic and fully polarized.
There is an AntiGlare technology that is ideal for driving, as well as 100% UV400 protection.
The sunglasses are very lightweight and comfortable and similarly quite durable.
They are ideal for driving, running, fishing, and other outdoor sports.
---
10
The Torege Sports sunglasses are lightweight and polarized for driving.
The lens consists of Composite materials, and there is a Polycarbonate frame.
The lens is scratch and shatter-resistant, with a UV coating, and also polarized.
There are more color options available in this range for your perusal.
The frame is soft and very durable.
---
Index Table: Top Rated Sunglasses for Driving
---
---