When it comes to good sunglasses, the question we all face at some or another stage is whether to opt for polarized or unpolarized sunglasses.
While each has its own unique properties, polarized sunglasses offer better protection, in general, and are your most sought after.
This article will look at some of the great benefits of best-polarized sunglasses and the available options.
---
Polarized vs. Non-Polarized
Polarized Lenses – Will block the intense light that has been reflected from flat surfaces, such as pavement or water. They were made through vertical polarization, whereas the light reflected on flat surfaces by the sun is horizontally polarized.
Non-Polarized Lenses – Do have dark shades that reduce light intensity, but they cannot counter the effects done by horizontal polarization. Therefore, the direction from which the light is coming is not considered.
---
Some Uses for Polarized Sunglasses
Here are a few scenarios where Polarized sunglasses come in handy most of all;
Where You'll Use Them – Depending on your activity, the shape of the frame and the lenses' curve can make a big difference in how they protect your eyes.
Fishing – Wrap-around frames and lenses are ideal for fishing. They will block out the light and prevent water and other debris from splashing up under your glasses.
Running/Cycling – For both running and cycling, think about getting half rim glasses. These help you see more of your surroundings as you look down since there is no bottom rim to block your view.
Flying – Polarized lenses are ideal for both drivers and pilots. They help reduce the amount of glare that reflects off various objects that you may pass or look down upon (road glare, bodies of water, snow, etc.)
Sports – For outdoor sports, the polarized lenses' color can make a big difference as you play. If you play baseball, soccer, golf, or any other sport where the ball is white, you'll be able to track it more easily if the lenses are tinted blue.
Price – You can spend $20 or $200 on a pair of sunglasses. Before you choose, think back on your previous pair. How long did they last? Did you buy an expensive pair that you broke immediately, or did you get lucky with an inexpensive pair that lasted for years? It may be time to take your sunglasses to the next level by purchasing a pair of prescription lenses, which might make the cost increase, or you might want to spend a bit less since you've dropped, cracked, or sat on your nicer pairs. That has all broken!
---
Choosing Polarized Sunglasses for Your Face Shape
You know how it goes. You stare at the rows and rows before you and pick up the cute pairs to try them on.
They were cute on the rack, but why aren't they cute on your face?
Finding the right pair of sunglasses for your shape face can make all the difference, so once you've determined yours, your sunglass buying experience will be completely different.
Check it out.
Oval Shape – Oh, yeah! You have an, which means you can go for some square, Aviator or oversized sunglasses.
Heart Shape – You'd look great in something sporty, square or retro cat-eye.
Round – To contrast your features, stick with the squares or rectangles, but don't be afraid to try on some cat-eye sunglasses!
Square – Round is your friend. Circular, aviator, or rimless glasses would help you rock your eyes and your face shape.
---
Features of Good Polarized Sunglasses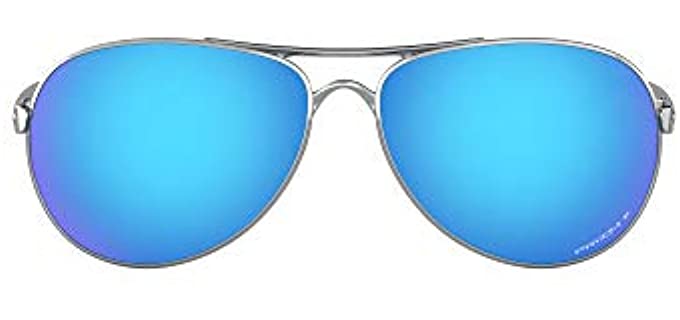 Lenses – For the lenses Glass, Plastic, Carbonite and Polycarbonate materials may be used. The lens is coated with a UV protection coating and is polarized.
Frame – The frame can be metal, rubber, plastic, Nylon, or polycarbonate and is constructed to fit comfortably. The nose pads are usually adjustable and have a non-slip design.
Design – Different shapes and designs are available, including the Aviator design, square, round, oval, or cat-eye shapes, and many more.
Options – Most brands and models offer you a variety of color options in the lenses and frames, and sometimes size options.
---
Reviews: Best Polarized Sunglasses
Below are our top favorite choices in a variety of Polarized Sunglasses;
---
1
A stunning Meta frame design, Aviator Sunglasses from Ray-ban for men.
The Frame is metal and polycarbonate.
The lenses are fully polarized and a width of 55 millimeters.
There is a UV protective coating, and the lenses are glass.
You can choose from various color options in the lenses and the frames in this aviator shape.
---
2
Ideal for most face shapes is the Holbrook Polarized sunglasses in square shape.
Oakley is a very well-trusted and quality brand that does not disappoint.
Their sunglasses have a square design with a comfortable, lightweight frame.
The frame and lenses are available in more color selections.
The lenses are polarized and Uv protective.
---
3
The Maui Jim Sunglasses in Cat Eye shape are flattering and have full polarized lenses.
The Design will flatter a range of facial features beautifully.
The frames are lightweight and durable nylon, with comfortable non-slip nose pads,
The sunglasses have a smooth high gloss finish, and the lenses are color-infused,
The lenses have technology that effectively eliminates 99.9% glare and blocks out 100% UV rays.
---
4
The Maui Jim Sugar Beach Sunglasses are polarized and feature shatter and scratch-resistant lenses.
The Frame consists of Nylon and Polycarbonate materials, and the lenses are composite.
The lenses are polarized and have a UV protective coating; they are likewise scratch and shatter-resistant.
The frames are very lightweight and comfortable with an injected nylon construction.
You can also select from more color options that are available.
---
5
The Ray-Ban Justin sunglasses have an ideal rectangular shape and fully polarized lenses.
The Rectangular shape design of these sunglasses makes them ideal for almost all face shapes and types.
The lenses are polarized and offer 100% UV protection.
The sunglasses consist of a Nylon frame and Nylon lenses.
They are a unisex design for both men and women.
---
6
The Ray-Ban Classic Sunglasses feature a polarized Glass lens and the classic metal frame.
The Lenses are glass, and the frame is metal.
The lenses are 100% UV protective coated and are polarized.
There are multiple size options available to choose from, as well as more lens and frame colors.
The sunglasses are unisex with a fit for men and women.
---
7
The Under Armour Igniter sunglasses have an Oval shape and polarized lenses.
the lenses are Polycarbonate, and the frame is plastic; there are also more colors available.
The lens is polarized and offers excellent protection against harmful UVA/B/C rays.
The Co-Molded rubber nose pads and temple arms allow for a non-slip comfortable, and snug fit.
The Ultra Light Armourfusion technology frame is built to be extremely durable.
---
8
This model from Oakley features a classic design with polarized lenses that offer excellent Uv protection.
The Plutonite lenses are 100% UV protected, polarized, as filters blue light up to 400mm.
The frame is a lightweight alloy that is also quite durable.
The three-point fit offers comfort and performance, holding the sunglasses in perfect alignment.
The nose pads are fully adjustable and hassle-free in design.
---
9
These Oakley models are fully polarized sunglasses, available in a huge range of frame and lens color options.
The frame and lenses consist of lightweight and durable plastic.
The lenses are polarized and offer 100% UV protection.
They have a 59mm lens width, ideal for men, and a 12mm bridge.
Furthermore, there are plenty of color options to choose from in the frame and lens colors.
---
10
Fin from RIVBOS has a sunglass that is designed specifically for driving, with a polarized lens.
The Frame has a rubber and plastic design for a more secure fit.
The lense is Polycarbonate and polarized with a mirror coating.
The TAC polarized and Mirror coated lens offers full UVA and UVB protection.
You can also choose from a few available color options in this model.
---
Index Table: Top Rated Polarized Sunglasses
---
---