Fashion can be a major challenge when you are pregnant, even if you are the trendiest mom.
Finding something that fits comfortably and that also looks good when you have a huge baby bump is quite a task at hand.
So why not opt for the best dresses for pregnancy. A dress is such an underrated, comfortable, and stylish outfit that looks so flattering with your baby bump.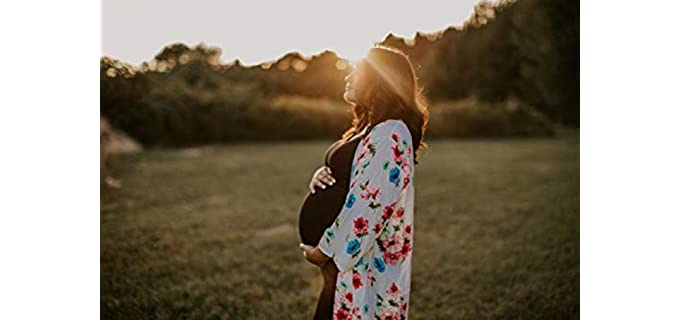 ---
Best Maternity Dress Styles
Maternity style dresses are most likely your best option for a pregnancy dress, or you can always opt for a loose-fit dress in a larger size.
There are a few dress styles that are also available in maternity fit options that are excellent to use during pregnancy;
Tunic Dresses – Tunic dresses are generally a very loose fit and can be worn with tights or pants underneath. They are comfortable and offer enough room for your growing belly.
Sweater Dresses Stretchy sweater dresses are comfortable and accommodating for wintertime, paired with warm leggings and tall boots for a fashionable and warm outfit.
Floral Printed Dresses – Floral printed and patterned dresses take the attention off your belly and can also help to improve your mood. They are feminine, fashionable, and most floral maternity dresses are very comfortable.
Mid Length Dresses – I would not really recommend a mini dress during pregnancy, however, if you are looking for something a bit shorter, the mid-length dress is an excellent option.
Maxi Dress – The loose-flowing and long maxi dress is fashionable and designed to take you through each stage of your pregnancy. Maxi dresses are so comfortable and versatile and come in many styles and prints.
Body-Con Dresses – If you are more daring, a fitted and stretchy body con dress will really show off your curves and baby bump. Keep in mind that you may need a size or two larger or a maternity option.
---
Dressing Tips for Pregnant Women
If you want to dress well and comfortable during your pregnancy, here are a few helpful tips to follow;
Comfort is Key – Do not wear something uncomfortable during this time, you are placing your body through unnecessary stress, and it will not look good if you do not feel good.
You can Layer – Layering long loose tops over each other can look very fashionable with a pair of leggings or skinny jeans, well maternity skinny jeans in that case. A soft camisole with a tunic layered over can be fashionable and flattering.
Invest in Some Jeans – Invest in a pair or two of good maternity jeans during your pregnancy, and afterward, I guarantee you will be using them for a while, and they will not go wasted. Jeans are a staple, and they can be very comfortable during your pregnancy.
Patterns and Stripes – Who said you could not wear patterns and stripes when pregnant. Dresses with all-over prints or stripes look fashionable and appealing. However, stay clear of dresses with too many negative spaces in between prints.
Play with Color – You do not have to be stuck with dark, gloomy colors unless it's your thing. You can go with any color dress that suits your skin tone and personality!
---
Features of a Good Dress for Pregnancy
Materials – Dresses for pregnancy need to be lightweight, comfortable and breathable. For this reason, I recommended that you look for soft and light materials such as cotton, viscose, bamboo rayons, and soft polyesters.
Design – Dresses for pregnancy are designed with ore fabric in the waist and hip area to accommodate a growing tummy. They are usually a loose fit, mostly baby doll or fit and flare designs, which are extremely flattering for pregnant women.
Closure – Most dresses for pregnancy are easy to pull-on designs; however, some of the more fitted and formal styles may have a zip or button closure that is easy to reach and close.
Fit – The fit should be comfortable and have enough fabric in the waist and hips to accommodate your baby bump. Ensure that you get the right size, and even opt for a size up, which is always ideal.
Options – Dresses for pregnancy may come in many lovely styles, prints and colors. They are also usually available in plus sizes, as well as standard size options.
---
Reviews: Best Dresses for Pregnancy
Our extensive list contains some of the best available dresses that are comfortable and gorgeous to wear during pregnancy;
---
1
The mother bee maternity dress comes in lovely floral and solid colors and has a long maxi length.
This is a full maternity dress in a maxi length.
The dress comes in solid color selections, as well as more floral prints,
It consists of polyester and spandex that are soft, light, and flexible.
The length is a full maxi length, and it has ¾ design sleeves for those in-between days.
---
2
The Lui & Qu dress for pregnancy has a more formal fit and comes in solid and floral print options.
This is a slightly more formal and tight-fitting maternity dress for pregnancy.
The dress comes in a range of floral prints and solid color options.
It consists of rayon and spandex and is fully machine washable.
There are ruched sides that are elastic.
The dress is a tight fit but very elastic and comfortable.
---
3
A casual and comfortable knee-length pregnancy dress from BBHopping.
A comfortable ¾ sleeve fit and flare dress for pregnancy.
The dress is available in solid colors and striped prints, as well as more sizes.
It is a maternity design dress with a crew neck and can be worn during and after pregnancy.
The dress consists of cotton and spandex and is machine washable.
---
4
The Hello Miz dress is designed for pregnancy and nursing, with an elegant lace style.
Something for a formal or casual occasion is the lace maternity dress option.
It is elegant and feminine and will boost your confidence.
It is a maternity-style dress that has a V-neck and mini length.
The materials are very soft and stretchy with fine lace overlays.
There are standard and plus-size options available.
---
5
From Mother Bee, we have a casual and comfortable faux wrap dress for pregnancy.
A comfortable and soft Rayon and spandex dress for summer wear.
The dress has a hi-low fit and a faux wrap design.
There is a tie closure, and the dress has a V-neck design.
You can get it in more solid and printed color options, as well as plus and standard sizes.
---
6
The Tinhyhi pregnancy dress has shorter sleeves and a Jersey Flare design.
A comfortable cotton material dress that is stretchable and breathable.
The classical design and empire waistline are perfect for pregnancy.
It is practical and durable during and after pregnancy.
There are a few solid colors available and more size options.
---
Index Table: Top Rated Dresses for Pregnancy
---
---