If you are blessed with broad shoulders and do not know what dresses look flattering, you are at the right place.
In this article, we will look at the best Dresses for Broad shoulders that will flatter your frame and have you looking feminine and fashionable in no time.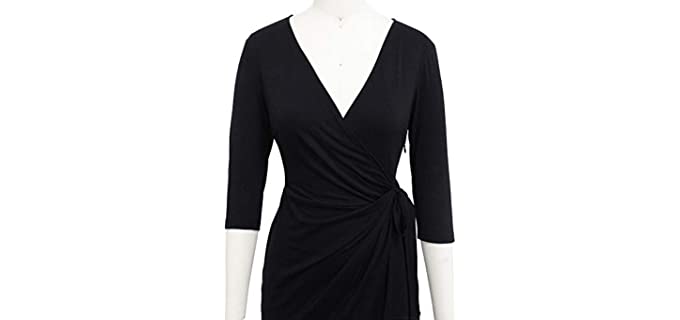 ---
Broad Shoulders are Really Not That Bad
Most ladies with broad shoulders fit either into the inverted triangle body shape or the rectangular body shape.
The inverted triangle has broad shoulders and an upper body, with narrower hips and lower body. The rectangular shape has shoulders that are just as broad as their hips.
When you think about women with broad shoulders, what first comes to mind are those gorgeous Olympic swimmers, athletes, and many supermodels.
These supermodels are "walking Hangers," usually with long legs and gorgeous broad shoulders, so many fashionable outfits are designed for this body shape.
Thanks to your broad shoulders, you may be able to pull off many more looks and outfits than ladies with narrow shoulders.
However, we all want to achieve a more balanced and proportionate look, and just because you can pull off a variety of looks does also not mean that everything will ideally suit you, particularly when it comes to dresses.
One thing I enjoy is looking at celebrities and public figures that have a similar body shape to mine, in this case, broad shoulders, and get inspiration from their dress styles and what they wear.
---
How to Wear Dresses When You Have Broad Shoulders
Firstly, there are two elements to look at when choosing a dress for broad shoulders.
The Neckline plays an important role with broad shoulders. A V-Neck, Scoop Neck, Halter Neck, and One Shoulder design is ideal.
Secondly, the straps or sleeves of the dress are also important. Thin straps are not ideal, rather thicker straps and sleeves, sleeveless or longer sleeved dresses. Also, avoid structured and padded shoulder styles for broad shoulders.
Here are a few dress types that are ideal for broad shoulders;
Wrap Dresses – Wrap dresses are universally flattering for all shapes. They usually have V-Neckline and a flattering fit that creates curves. To balance your shape, a midi or longer length is ideal.
A-Line Dresses – The A-Line Dress creates an hourglass-like figure and flatters broad shoulders. It has a more balancing effect and should be chosen in a midi length.
Fit and Flare Dresses – Fit, and Flare Dresses are ideal for broad shoulders and have more volume in the skirt, fit properly over broad shoulders, and narrow your waist. The necklines are often also V-Neck or low key, which is ideal for broad shoulders.
---
Features of Good Dresses for Broad Shoulders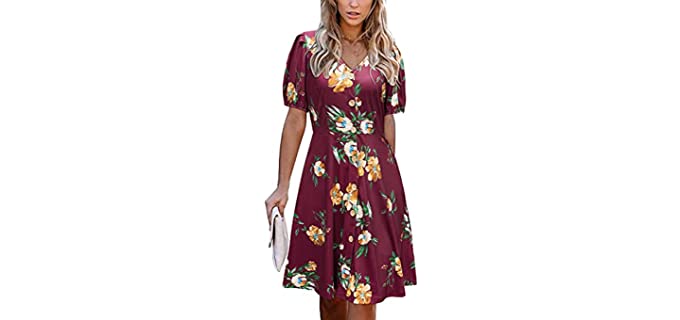 Materials – Dresses for Broad Shoulders can come in a variety of materials including cotton, polyester rayon, viscose or bamboo. Most of these materials are soft and breathable.
Neck Line – Look for a neckline that is either a V-Neck, Scoop Neck, One-Shoulder, or Halterneck design. The Top should be fitted and comfortable and not loose or baggy.
Dress Bottom – A Fit and Flare Dress design looks stunning for broad shoulders. Also, a wrap-style dress and sheath-type dress or A-Line Cut. Always look for a dress with a more fitted top and a flaring bottom.
Options – The dresses that are in our review section are available in more colors and prints, as well as plus and regular size options, which all depend on the specific brand and model.
---
Reviews: The Best Dresses for a Broad Shoulders
Below is our list of the top favorite dresses that are ideal for ladies with broader shoulders;
---
1
The MSBasic Wrap dress has the perfect design for ladies with broad shoulders.
It has a Deeper V-Neck to enhance cleavage and draw away attention from our shoulders.
The wrap style flatters and creates curves and is universally ideal for all body shapes.
The dress is available in many colors, print, and size options from which you can easily choose.
---
2
The Auselily long sleeve dress is a plain maxi dress that dresses down your broad shoulders with a length and long sleeves.
This is a maxi-length dress ideal for cooler weather and will flatter your figure and curves.
It comes with pockets and super soft materials, which are convenient and comfortable.
The dress is available in plus and regular sizes as well as more color sand printed options.
---
3
From BTFBM, we have a casual crew neck style bodycon dress for broad shoulders that is flattering and very feminine.
The Crewneck is ideal for broad shoulders, and the body con fit will flatter your curves.
The dress is stretchable and consists of polyester and rayon, which are durable and very soft materails.
It is available in more solid and striped colors as well as plenty of size options.
---
4
The Nautica sleeveless dress is fun and casual.
The deep V-Neckline will play down your brad shoulders and show a bit of cleave.
The dress has a nautical style and a midi length, making it the perfect style for beach and casual wear.
It is available in a few colors and size options from which you can choose as you need.
The dress is sleeveless and has a pull-on closure.
It is also fully machine washable, which is a great convenience to you.
---
5
The Berydress is a classic ¾ sleeve dress for ladies with broader shoulders and those cooler days when you need some extra coverage.
It consists of cotton and polyester and has a zip closure.
The dress is available in many more colors as well as size options.
It is a midi length and has a flattering wrap design.
---
6
The Kirundo dress is a hit for 2021 in summer dresses.
This is a shorter mini-dress style with shorts sleeves and ruffles to distract attention from your shoulders.
It is available in printed color options and more sizes.
The dress is 100% pure polyester and very soft and comfortable to wear.
It has a button closure and a comfortable fit with pleats.
---
Index Table: Top Rated Dresses for Broad Shoulders
---
---