There is nothing worse than finding the cutest, and the perfect dress, only to have it fit everywhere, perfectly, except for over your bust.
If you know the feeling, then this article is just for you.
There is hope, and there are some stunning dress styles and types for wearing dresses.
So, if you want the best dresses for a large bust, then do not miss out on this;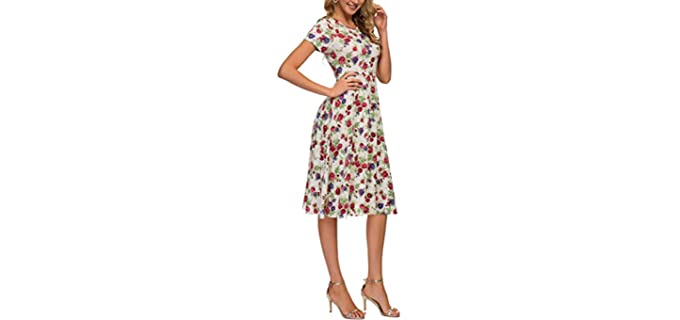 ---
How to Dress if You are Busty
If you are a more busty girl that would like to flatter and enhance your unique and gorgeous shape, here are a few tips that you can follow;
Identify The Characteristics of Your Body First – Do You have Full or narrow arms, broad or narrow shoulders, a defined waistline, an hourglass, or more rectangular-shaped figure. All these aspects will also affect the choices of what you can and cannot wear to create a more balanced silhouette.
Find a Top That Flatter Your Bustline – This counts for the top area of your dress as well as for actual tops. Look for a V-neckline or a U-neckline, as these are the most flattering for larger breasts. Wider straps, short sleeves, or three-quarter sleeves are more ideal. Stay clear of thin and spaghetti straps. A Halter Neck style also looks gorgeous. Avoid very stretchy clingy fits and fabrics. They display absolutely everything and will look tacky.
Layer your Outfit or Dress – You can easily layer an outfit or dress in the right jacket or sweater. This helps to flatter your bust and makes your waistline look more defined. Wear a longer top or dress with a hip or shorter-length jacket or sweater. You can button up your sweater or jacket halfway to nip your waist.
Skirts and Dresses – A dress or Skirt with an A-Line Cut, Fit, and Flare Design or a rap design is extremely flattering and creates an hourglass shape and silhouette. These are the styles you should opt for. Keep in mind to get a fit that will also accommodate your larger bust.
Accessories – Choose some layered slim chains for a more exotic appeal and wear medium-length chains. Avoid very long necklaces and choker chains. They will only size up your bust line.
Bras – Invest ins a proper well-fitting bra that provides support, as well as contours, and lifts your breasts so that they look soft and proportionate. Avoid overly push-up bra styles, padded bras, and no-support sports bras.
---
Neckline for Large Bust
Another aspect to look for in your dress styles are the necklines, and these have a direct impact on how larger breast ill look and fit into a dress;
The V-Neck – A V-Neckline is the most flattering for a larger bust, similar to a boat and scoop neck. It does play down the size of your breast and also makes them appear much more perky and contoured.
Halter Necks – If you have large or flabby arms, please avoid a halter neck at all costs. Other than that, the Halter Neck is perfect for larger breasts, it even provides some support and draws attention to your arms and shoulders rather than your breasts.
The Scoop Neck – The scoop neck similar to the V-Neckline is feminine and sexy for a bigger bust. A lower scoop line can make your breast appear smaller, while a high scoop line actually makes a smaller breast look larger.
The Boat Neck – The Boat Neckline is a classic that is always in fashion and rightfully so. It flatters small and large breasts and is much more sophisticated than around the neck.
Avoid a High Round Neck – High Round necks have the ability to create volume or the illusion of volume for ladies with small breasts, but they will make large breasts look double their size, so try to avoid them.
---
Features of Good Dresses for a Large Bust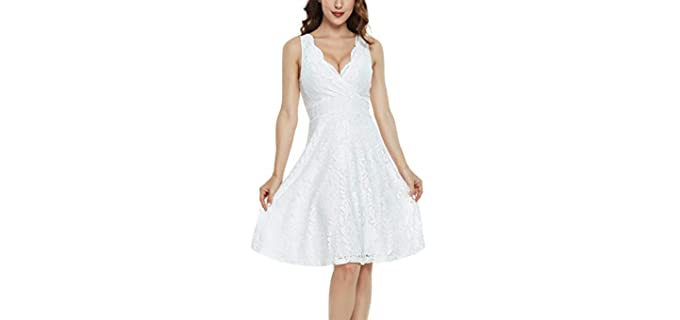 Materials – Dresses come in many materials and fabric types, from crisp and stretchy cottons, to viscose, rayon, polyester, velvets and flowy chiffons.
Neckline – Choose either a V-Neck; Boat Neck, Halter Neck, or Wide Straps Dress if you have a Large Bust.
Support – Look for a Dress that is supportive of larger breasts and that will not squeeze down or increase the volume of your breasts.
Fit – Make sure that you get a dress that fits over your breasts comfortably as well as the rest of your body. This may be tricky, and you may need to look at a few plus-size options.
Options – Colors should be available in most dress brands and maybe some prints. Look for more solid colors in the top area and print only at the bottom if you want to minimize the look of your breasts. Also, opt for the right size. Plus and standard sizes should be available.
---
Reviews: The Best Dresses for a Large Bust
Here are some of our top favorite dress styles that will flatter larger breasts;
---
1
The Grace Karin dress is a vintage 50's and 60's style dress that is sleeveless with a V-Neck design and shorter length.
This style of dress is ideal for all body shapes, and the V-Neck neckline is perfect for a larger bust.
The fit is ideal, and the A-line silhouette is flattering and feminine.
The dress is likewise available in a black color option only, but more sizes.
---
2
The Dokotoo spring dress is ideal for summer and spring weather.
It has a deeper V-Neck neckline that is perfect to fit and flatter larger breasts, as well as show a bit of cleavage.
The dress is a long sleeve design and has a floral print.
It is a mini length. It is available in more color options.
---
3
From Miss Molly, we have a floral lace dress for more formal occasions.
The dress is a fit and flared design that suits all body shapes and types.
The V-Neck is ideal for larger breasts, and the length is a knee-length.
You can get this dress in more colors and size options.
---
4
The Oxiuly casual dress has a design and fits perfectly for the bustier lady.
It is available in plus and standard sizes s well as many more solid colors and prints.
The V-neck flatters a larger chest, and the flare design is very feminine.
It is the ideal mid-length summer dress.
---
5
The Veljie Vintage dress has a scoop neck and a flared skirt.
This is the perfect party dress with a scoop neck to flatter larger breasts.
The dress is available in more solid and printed color options as well as more sizes.
It is perfect for more formal occasions and consists of comfortable materails, with zip closure.
---
6
From Longwu, we have an elegant short-sleeved dress that has a pencil fit which is a professional design for work and similar occasions.
The Neckline and fit are perfect for larger breasts.
The conservative and professional design makes this the perfect dress for work or formal excursions.
The dress comes in more colors and prints and also has a belt.
---
Index Table: Top Rated Dress for a Large Bust
---
---