The prom represents one of the most important days of your life, so it goes without saying that choosing your prom dress shouldn't be taken lightly. It would help if you made an impression so that your classmates will still remember you even after the 20-year reunion.
If you are looking for the best dress to compliment your figure and your tastes, which is also fashionable, this guide will offer you a couple of useful ideas. You will also discover some tips on choosing the best prom dresses.
---
Things to Consider When Picking the Dress
Dresses look different on every woman, depending on their body type. If you want to make sure the dress complements your best features, you need to know your body type.

Apple – Your midsection and bust are larger than your hips.
Pear – Your hips and thighs are the largest parts of your body.
Strawberry – Your top is heavier than the rest of your body, with larger shoulders.
Hourglass – Relatively small waist and well-balanced bust and hips.
Straight – Your hips, waist and bust are relatively the same width.
Each of these different bodies will require a different kind of dress. It would be best if you learned how to choose them.
---
Tips for Buying Dresses
As already mentioned, when you buy your dress, you need to pay attention to your body type. Each dress was designed to complement your best features, which is why you need to choose smart.

A-Line Dress – A dress that fits around your waist and then fans out into a triangle shape. Perfect for everybody's size, especially pear and hourglass.
Trapeze – Like the A-line dress, it starts at the shoulder instead of the waist. Perfect for apple-shaped body types.
Mermaid – Fits snuggly on your body until just below your hips or above your knees, where it starts to fan out. It is perfect for hourglass and pair types and looks good on straight forms.
Sheath – These dresses tie around the waist but flow on the rest of your body. Perfect for pear-shaped and hourglass shapes.
Shift – Like the sheath dress, it simply falls from the shoulder without being tied in the middle. Perfect for apple or straight body types.
Drop-Waist – Waistline starts near your upper hips, lengthening your torso. Perfect for apple and straight shapes.
Looking through the best prom dresses, you will also need to choose the length depending on your legs' form. For example, if you have long, lean-looking legs, you may want to emphasize them by wearing a short, knee-level dress.
---
Features of a Good Prom Dress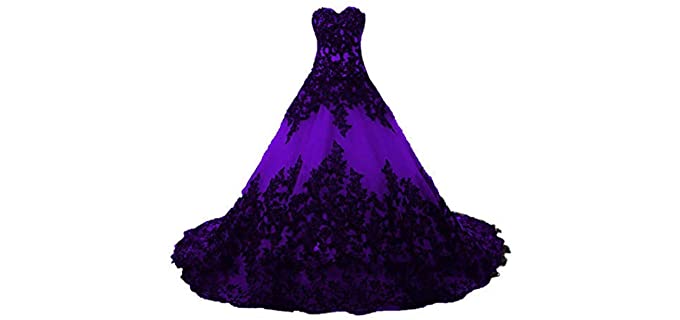 Materials – A good prom dress can consist of materials such as cotton, polyester. Fabric may include velvets, stains and silks, mesh, and chiffon designs,, which are all ideal for prom dresses.
Design – Prom dresses can come in mid, mini or maxi length designs with different cuts. You can choose from strappy, sleeveless, strapless, or sleeved dress options.
Closure – Prom dresses will usually have either a zip or button closure, and some corset models will close with hook and eyelet or ribbons.
Fit – The fit depends on the style you choose, where you may have a fit and flare design, a loose design, or a bodycon fit design.
Options – There are many color, print and size options available in most prom dress styles and models.
---
How To Find The Perfect Prom Dress
Finding the best prom dress isn't that easy. Here is a short video that will help you find the perfect prom dress.
---
Reviews: Best Prom Dresses
In our list, we have some of the gorgeous prom Dresses that will make your night something to remember;
---
1
This is a gorgeous dress to wear to your prom.
There are flowing and soft materials and Chiffons in the skirt.
The top is sleeveless with lovely embroidery details,
The dress is also available in many more colors.
---
2
This is a 100% polyester dress that is soft and comfortable.
It has a zip closure and a long cold shoulder design.
The glittery mesh fabrics are soft and stretchable.
There are an elegant cowl neckline and tummy flattering side ruches.
---
3
This is a polyester and spandex dress, that will flex and stretch with you, allowing you to dance the night away, in a breathtaking dress.
The dress will accentuate all body types beautifully.
It has an off-shoulder design and maxi length.
Easy to slip on and off and unlined.
---
4
A comfortable 100% Polyester prom dress that will have heads turning.
The dress has a zip closure and cowl neckline.
There are glittery mesh materials and a side ruched design.
The flattering design will give you a feminine silhouette.
---
5
Nothing looks better than a long elegant prom dress, which is sure to make your night even more special.
This design is perfect for all body shapes and sizes.
The materials are soft and flowing.
There are also many more colors available.
---
6
A 100% polyester prom dress with an elegant and feminine style and comfortable design.
The dress is elegant and feminine with an overstretch.
It is available in plus size options and ore colors.
The cold shoulder design is fashionable, and there is a center back zip closure.
---
7
A soft and feminine design maxi dress for prom that offers comfort and requisite style and elegance.
It consists of 100% polyester with a concealed zipper and loose flowing fit.
There are more colors available and plenty of sizes.
---
8
A gorgeous gown for prom, if you truly want to make a huge statement that evening.
Make a statement in this number, available in many colors.
The dress has a drawstring closure and consists of tulle and satin.
It is lightweight and flattering in design, that will never let you down.
---
9
Light pastel colored prom dresses that are ideal for your special evening and that will surely turn some heads.
They have a maxi length and sweetheart neck design.
The dress is strapless and has beaded and crystal embroidery on the bodice.
Available in more sizes and colors.
---
10
This prom dress is available in more colors and larger sizes.
It is a longer length maxi design with a more sleek and flared design.
The bodice is decorated with beads and sequins.
It has a 1920' s style, which is perfect for your special night out to prom.
---
Index Table: Top Rated Prom Dresses
---
---