Dresses can be so comfortable and wonderful to wear, especially in the summertime. Sometimes, it's hard to find dresses that suit you, especially if you have an apple-shaped body with a bigger stomach than your hips.
Luckily there are a lot of fantastic dresses out there that flatter rounder body types. These dresses help to create a sleeker, more feminine silhouette.
If you're feeling stuck for ideas, read on for our reviews on the best dresses for apple-shaped bodies.
---
How to Choose a Dress for Your Body Shape
If you have a rounder body or and larger stomach and bust, you should consider the overall shape and silhouette that a dress offers as you try them on.
Here are a few things to consider in terms of fit.
Length -In general, knee-length dresses and skirts are flattering on most body types. Women with more petite figures and shorter legs look great in dresses that sit just above the knee area. Maxi should end either halfway down the shin or a few inches lower or skim the floor.
Fabric – Don't choose dresses that are overly clingy through the midline. Heavier, natural fabrics like cotton blends and linen will be flattering and offer maximum comfort.
Details -Try to step away from pleats, buttons, and other details that draw the attention towards the waistline. Stripes should be on the vertical or diagonal.
---
Best Dress Designs for Apple Shape Figures
Some dresses can work wonders to accentuate your shape, but everyone will be a little bit different when it comes to shaping. Some have narrower shoulders, and some women will have longer, thinner legs.
The rules below are just guidelines. Choose something you love, and you are comfortable in, and you will shine from the inside out!
Bust Support – Wrap and halter style dresses can work well to lift the bust and separate it from around the stomach, offering a more feminine and sexy silhouette.
A-Line – A-line dresses to create a sleek, smooth look that is generally flattering on most figures; this is the style of the classic retro pin-up look that works for most occasions.
V-Neck – V-necks are very flattering and can work wonders for drawing attention away from a thick middle and towards a fabulous bust. They also tend to elongate the torso, accentuating a beautiful neckline and face.
Empire Waist – An empire waistline creates a divide between the breasts and the stomach, which can accentuate apple-shaped bodies as they tend to look round throughout the torso.
---
Features of a Good Dress for an Apple Shape Figure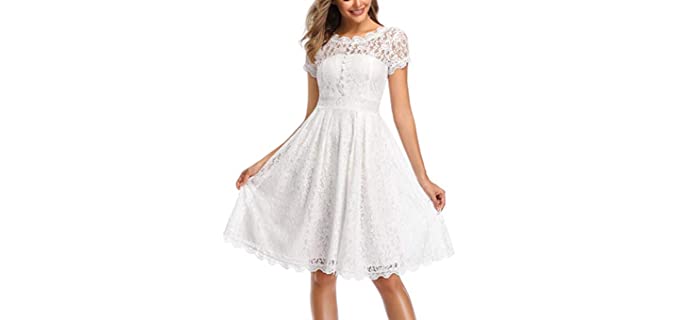 Materials – Dresses come in a large variety of materails such as Rayon, Coton and polyester with additionl spandex for stretcability. For an Apple Figure more soft and flowing materails sucg as Rayon and Viscose are advised.
Design – A design that flares at the bottom create more interest on a small upper frame and ideal for an Apple shape. Almost anything that will not further accentuate your midsection. Shaped fits like fit and flare, V-Necks aEmpireire waist designs are all ideal for apple shape figures.
Colors and Prints – As you will see, I have chosen different models that come in many solid colors and print options from which you can select. Ideally, I would go for a solid darker color if you are plus size apple-shaped lady.
---
Reviews: The Best Dresses for Apple Shape
Here are the most sought-after dresses for apple-shaped women.
---
1
The Viishow dress is an empire design dress that is ideal for apple shape figures.
consistsist of a lightweight and airy rayon and psnadex materails.
The dress comes in many size options and even plus-sized options.
However, you can only handwash this dress to keep it in proper shape.
---
2
This is an absolutely stunning gown that's perfect for parties and evening outings in any season. The empire waist will flatter rounder figures and add length to more on the petite side.
The dress is 100% nylon so that it won't wrinkle, making it perfect for travel, day, evening, and pretty much any occasion that you want to enjoy the class.
Beautiful lace detail on the back and plunging sweetheart neckline are fantastically flattering on most body types. Add a belt of your choice to create your own unique style.
This dress reveals just enough to offer a glimpse of your wonderful figure but offers enough coverage to keep you comfortable. It comes in four practical and elegant colors.
---
3
If you've been looking for the perfect floral dress for spring and summer, this is a beautiful choice. The V-neck will call attention to your beautiful bust, while the high back makes it easy to wear with a bra or even a shaper.
The color combinations offered with this dress are so vibrant and unique, you're sure to stand out at the party. The color blocking between a halter top and skirt is amazingly flattering, which is why this makes our list of best dresses for an apple shape.
This dress will make you and everyone in the room smile while being completely flattering those with a fuller figure. It's great for summer parties, an evening stroll on the beach, or a tropical vacation.
If you're looking for something elegant and feminine on warm sunny days, this might be a perfect choice.
---
4
The Ingear dress is actually a lightweight swimsuit cover up that can double up as a casual dress.
consistsist mainly of Rayon materails and spandex for stretchability.
The light, airy material makes the dress ideal for summer, and it is soft against your curves.
You will enjoy the simplicity and flowing texture of this dress with an Apple shaped figure.
---
5
This is a fabulously flattering dress that works on almost any body type.
You can wear this fun and sexy dress almost anywhere from a day to night and from a rock and roll show to church. It's a classic, it's a stunner, and it will undoubtedly look and feel fabulous on.
The A-line flare on this beautiful 1950s retro halter dress is both feminine and fun, accentuating all of your best assets.
The cute medium-width ribbon type belt does a great job of minimizing the waist—try mixing and matching belts to change the look.
This dress comes in a fantastic range of colors and patterns, from florals to skills to polka dots.
The side-closing zipper accentuates your curves. It's great for busty women as the halter offers extra support up top.
Since it's cotton, the OTEN is perfectly comfortable for all-season wear.
---
6
From Owin we have the Retro design Lace Dress for an apple figure type.
This is a cotton, nylon, and spandex dress with a zipper closure and a more fitted design.
Tmaterialsuls are breathable and lightweight as well as quite durable.
The dress will be ideal as a cocktail dress and for more formal settings.
---
7
Something ideal for fall and springtime with a ¾ sleeve type and longer length.
The knit dress consists of lightweight rayon, Nylon, and spandex fr stretch.
There are a few colors from which you can select.
The dress has flared at the bottom and slightly fitted top to even out an apple shape figure.
---
8
The Lark and Ro Drehavehasflaredare bottom and a mini length that will flatter and even or pear-shaped curves.
There are short sleeves and a rounded neck with a stylish twist front.
The dress also comes in more colors from which you can select.
It consists of durable and lightweight Polyester and elastane materails.
---
9
A gorgeous cotton dress that is comfortable, soft, and breathable for occasions.
The dress comes in a few color options from which you can select, in solid colors mostly.
It has short sleeves and a below-the-knee length that flares out at the bottom.
This shape is ideal for creating a more hourglass figure appeal.
---
10
The Spaghetti Strap dress is ideal for warmer summers and all occasions.
It consists of modal stretchy and lightweight materails that is super soft and comfortable.
This is a basic slip camisole dress that can be paired with a light jacket or lace overthrow.
The dress comes in a few neutral color selections.
---
Summary Table: Top Dresses for Apple Shape Figures
---
---