Whether you attend church regularly or need to attend church for special occasions, it is important to understand proper attire and also for you to feel comfortable and at your best.
When it comes to the best dresses for church, there are no actual rules but more of a general understanding, and that is to dress respectfully and for you to feel good and comfortable.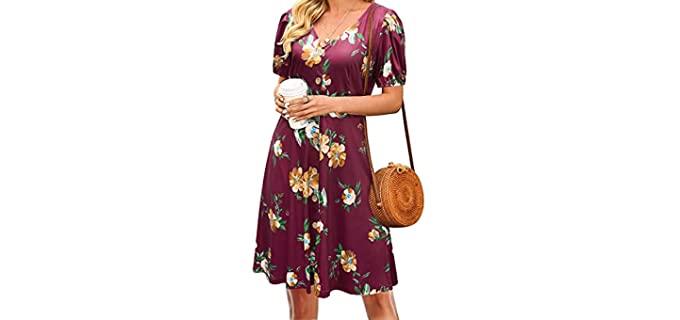 ---
What the Bible Say About Dressing for Church
When it comes to dressing for church, especially for women, and if you are going to go to church on a more regular basis, it is important to know what the bible says about how we should dress to church, so I have included a few verses from the bible as a basic guideline.
Keep in mind that the main aim is the intention of your heart and the attitude with which you go to church than what you are wearing, as there are absolutely no rules of what should and should not be worn, only respect and love for others.
1 Timothy 2:9 – "Likewise also that women should adorn themselves in respectable apparel, with modesty and self-control, not with braided hair and gold or pearls or costly attire," This is not to say that you should not wear jewelry or braid your hair, but rather that you should be modest and respectable.
Proverbs 31:25 – "Strength and dignity are her clothing, and she laughs at the time to come."
1 Corinthians 6:19-20 – "Or do you not know that your body is a temple of the Holy Spirit within you, whom you have from God? You are not your own, for you were bought with a price. So glorify God in your body."
As you can see, the main aim is to dress modestly and respectfully in what you consider to be your best and suitable attire for church. God sees your heart and your good intention. But you need to have respect for other church members and consider them in turn.
---
How to Dress for Church
Now, let us see what types of dresses and how you can enhance your attire for the church;
Dresses to Wear – Generally, I would say any comfortable dress you feel good in is acceptable, it does not have to be overly formal, but I would also not wear a very casual dress such as a beach dress to church. Look for a dress that is just below or on the knee in length or longer, look for a more closed neckline that does not show too much cleavage, and try a looser fit than a full curve showing body conditioning dress. You can wear solid or printed dresses that are more colorful.
Enhance Your Dress with Some Jewellery – You can add some jewelry to your attire. Try suitable jewelry that enhances the appearance of your dress, such as earrings, a necklace, and maybe a bracelet. A ring or two is acceptable but try not to overdo it.
Scarves and Shawls – You can add a shrug, shawl, or scarf to your outfit, especially with dresses that have open shoulders or arms, for warmth and decoration.
What To Avoid – Avoid dresses that are very short and revealing. Colors and prints are acceptable. Just try to avoid obnoxious slogans and prints on your dresses.
---
Features of Good Dress for Church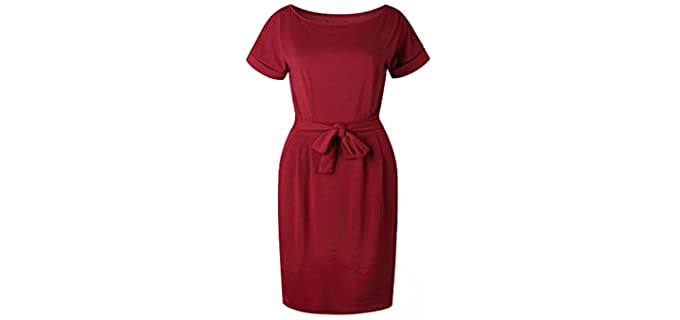 Style – I would opt for a more modest dress style for church that is something that you are comfortable in, but also look good, and feel-good in.
Length – Try to avoid wearing very short or mini dresses to church as this is not appropriate. Rather opt for a mid-length dress or longer-length dress.
Neckline – This is another aspect to consider. Rather opt for a more modest neckline and wear a beautiful piece of jewelry than wearing something that shows too much cleavage.
Colors and Prints – You can opt for any colors and prints as long as they are suitable. Most dresses for Church do offer availability in more colors and prints, as well as size options.
Fit – Choose a dress that fits comfortably and properly without looking saggy or being overly tight. A good tailored fit looks good and feels comfortable.
---
Reviews: The Best Dresses for Church
Here are some lovely examples of dresses that are ideal for wearing to church;
---
1
The Viishow dress has shorts sleeves and an empire design.
This is a long-length maxi dress that has an empire waist and pockets for carrying small items in.
The dress has floral prints and comes in many more color options.
It is also available in plus and standard sizes for you.
---
2
From Calvin Klein, we have a ruffle hem sheath style dress.
This dress has an ore sophisticated and professional look if this is your style.
It is available in ore solid color options.
The dress is a polyester and spandex blend with some stretch to it.
There is also a zip closure at the back as it is a more tailored fit.
---
3
From Laishen, we have a V-Neck Short Sleeve casual dress.
This dress is ideal for more casual churches or for ladies who do not like overdressing.
It has short sleeves and a V-neck line that is not too low.
The dress comes with a lovely floral print, and more color options are readily available.
The Dress is a very suitable knee length.
---
4
From Milumia, we have a Button up Split floral dress for church.
The dress has a button closure and is fully machine washable.
It consists of soft and stretchable rayon and has a V-neck that is not too low.
There are shorts sleeves and half sleeve options.
The dress is a regular comfortable fit and comes in plenty of size options.
---
5
Here we have another more casual dress style.
This is a t-shirt dress that has a floral print and flared skirt.
It is polyester spandex that is soft and stretchable.
The dress is machine washable and has a pull-on closure.
It is available in more colors with floral prints.
There are also plenty of sizes available.
---
6
The Pretty garden Dress is a belted, more sophisticated, and professional style dress with pockets.
It comes in more solid colors as well as printed options and consists of polyester and spandex.
The dress has shorts sleeves and a rather fitted fit.
There is a belt, and it is a midi-length dress that is quite appropriate.
The Crewneck will likewise not show much cleavage.
---
Index Table: Top Rated Dresses for Church
---
---