It is summer and time for a beach trip to enjoy the sunshine and the sea, and what is not better to wear than your favorite beach dress and a pair of flip-flops.
Beach dresses are a summer staple for the beach, and they are light and breathable and available in so many fun styles and colors.
In our article today, we will look at some of the best beach dresses that will have you heading to the beach in no time.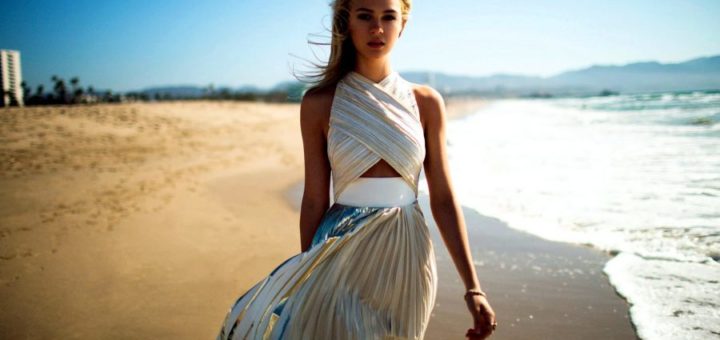 ---
Benefits of Having a Good Beach Dress
A good beach dress is an absolute must-have that has so many benefits, not just for wearing to the beach, but just for casual wear those hot summer months;
Easy on and Off – A beach dress usually has an easy pull-on and off design that you can slip on quickly and head to the beach. You can also stash it in your bag, as they are usually light and compact.
Wear Over Your Bathing Suit – Rather than wearing a beach cover-up, why not opt for a suitable beach dress that can serve as a dress and beach cover-up all in one. The beach dress is stylish and versatile enough for wearing as a cover-up and a beach dress.
Ideal for On and Off the Beach – With the beach dress, it is suitable for wearing on the beach and off. You can wear it to go and have a quick lunch or visit the store after you had a day on the beach or before heading to the beach. The style and options are so versatile, and you can even pack it in as extra clothing after a day at the beach.
Sun Protection – The beach dress also offers some coverage to protect you against the sun's harmful rays, depending on the ct. However, I recommend that you always use sunscreen and protective wear, such as a hat and sunglasses, to the beach.
Beach Party – There is nothing more suitable and flattering to wear to a beach party than your favorite beach dress, which is perfect and fashionable in so many ways.
---
What to Look for In a Good Beach Dress
Length of the Beach Dress – I would generally stay clear of maxi length dresses for the beach, as they may be a tripping hazard during beach activities, and the hem may get wet. Short or medium-length beach dresses are the perfect fit and style.
Fit of the Dress – There are so many styles of beach dresses, some with short sleeves, some with strappy or halter necks, and sleeveless options. Of course, the more coverage, the more sun protection you have, and coverage can be hot, so instead, opt for an open strappy style and a good sunscreen. Look for a comfortable fit that will not cling to your, keeping in mind sweat and humidity, with fresh and breathable materials.
Colors and Prints – You can really play around with prints and colors when it comes to beach dresses, the more colorful, the better. Or maybe you are a bit more conservative, and then there is nothing wrong with a plain and elegant, solid print.
---
Features of a Good Beach Dress
Materials – The Beach dress is a comfortable, cool and breezy dress consisting of lightweight and breathable materials. Materials such as cotton, viscose, rayon, and some polyesters are ideal for keeping you cool and comfortable in your beach dress.
Design – Most beach dresses come in floral and printed options that are colorful and light, and some come in more solid options. As they are summer dresses, they will have short sleeves, strappy sleeves, a halter neck, or be a sleeveless design. Most beach dresses are short or medium in length, although you do get some long length designs. Still, I do not recommend them for beachwear.
Closure – Beach dresses are more likely to pull on closure designs; however you may find some with zipping or other forms of closures in your more fitted styles.
Fit – A beach dress should have a loose and comfortable fit that allows you to enjoy activities on the beach without restriction. They usually come in more A-Line, fit and flare and flowing styles that are looser and accommodate movement.
Options – As you will see from our picks in beach dresses, there are plenty of colors, prints, and even sizes available in most of the brands and models.
---
Reviews: Best Beach Dresses
Below are some of our top choices in colorful and light beach dresses for everyday wear;
---
1
The Shakumy Summer Beach and party dress are comfortable and very colorful.
The dress has a wrap closure for easy on and off and more versatile wear.
It consists of polyester and spandex with a soft and comfortable feel.
The colors and prints available are ideal for summer, and there are many to choose from.
The length is longer but not a full maxi length.
---
2
From Ekouaer, we have a beach swimsuit cover-up and dress all in one piece.
This dress can be used as a dress or swimsuit cover-up in one versatile design.
There are more solid colors available for your perusal.
The dress is fashionable with a deep-V-Neck and consists of light rayon and spandex materials.
You can easily match it with your swimsuit and any other clothing items for the beach.
---
3
The Zesica Beach Dress is a maxi length split hem design, available in many prints and colors.
The Dress consists of soft polyester and cotton.
It has a tie closure design and a long length.
The dress comes in floral boho prints and many color options.
There are also plus and standard sizes available.
---
4
A more stylish and formal type beach dress from Ecowish.
The Mini Swing dress has strappy sleeves and a deep V-neck design.
It comes in solid colors and prints for your perusal.
It is ideal for on and off the beachwear.
It can be hand or machine-washed.
---
5
The Milumia Vintage print Kimono dress has a lovely boho design.
This is a boho-style dress with a loose flowy fit.
The dress is available in more colors and prints, as well as plenty of size options.
It consists of polyester and spandex for stretch.
You can also machine wash and hang the dress to dry.
---
6
A cool and comfortable swing fit dress for the beach, available in tie-dye colors, from Romwe.
This is a tunic-style slip-on dress for the beach.
It comes in many different tie-dye color options that are bright and colorful.
The dress consists of polyester and spandex for stretch.
The sizes are standard, and there is a size chart to help you get the perfect fit.
---
Index Table: Top Rated Dresses for Beach Wear
---
---