If you are looking for the best way to train your waist, then you have come to the right place.
This article is all about the best corsets for waist training. Here you will find the top picks corsets for waist training and an in-depth review of the top trainers.
Let's get started.
---
Waist Trainers and Corsets
There are different aspects to look at when it comes to waist shaping corsets;
Waist Trainer corsets – The Waist Training corset is a basic corset design with a steel-boned frame with a structural mid-layer, a more appealing outer layer, and a comfortable inner layer. The outer layer is designed to look good as a garment for wearing on certain occasions or daily, while the middle layer and the inner layer provide a shaping and waist-cinching effect. Corsets are worn as part of clothing on the outside of a garment.
Waist Cinchers – A waist concern is usually an underbust design that you wear underneath your clothes around your waist to flatten and shape your tummy. This does not form part of an outfit but is rather an undergarment that shapes and cinches your waist and back to give you a smoother silhouette for wearing underneath your clothes. The main difference between the two is that corsets are made using steel boning, while clinchers are made using bendable plastic boning.
Over or Under-Bust – A corset or waist trainer may have an underbust or overbust design, which means that the one sits just underneath your breast, and the other covers your breasts.
---
Features of Good Corsets for Waist Training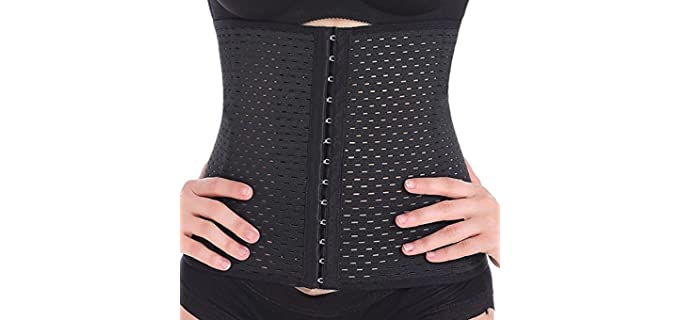 Materials – Most corsets and waist shapes consist of cotton, polyester, and spandex materials; some may be latex. Steel is used in the design as the bones for the structure of the corset.
Design – A waist shaping corset may have a steel-boned frame with around 18 to 26 steel bones for structure in the mid-layers. The outside layer is usually a polyester or lace that looks good, and the interior a soft cotton or polyester layer to keep you comfortable.
Closure – Most corset waist trainers have a hook and eyelet closure with mostly three rows for adjustability, although some have a busk or zip closure.
---
Reviews: The Best Corsets for Waist Training
Here are our top favorite choices in Corsets designs and brands for waist training;
---
1
The Salome Waist trainer Corset comes in a nude or black color design.
It consists of Powernet material that produces light compression.
The interior has a light cotton lining to reduce sweat and keep you comfortable.
There are a few size options available, as well as two neutral colors.
They are excellent for everyday use.
| Rating Category | Weight % | Score |
| --- | --- | --- |
| Comfort | 25% | 95 |
| Material | 20% | 95 |
| Closure | 15% | 95 |
| Design | 20% | 90 |
| Budget | 20% | 95 |
| Total Score | 100% | 94 |
---
2
From Luv Secret Lingerie, we have a heavy-duty steel-boned corset to train your waist.
colors
The Corset has a durable busk closure design.
There is a heavy-duty double steel boned corset design for the perfect hourglass figure.
It has a comfortable cotton interior and a corset exterior.
The longer torso design offers better shaping and comfort.
| Rating Category | Weight % | Score |
| --- | --- | --- |
| Comfort | 25% | 95 |
| Material | 20% | 95 |
| Closure | 15% | 95 |
| Design | 20% | 90 |
| Budget | 20% | 90 |
| Total Score | 100% | 93 |
---
3
The Orchard Corset is the perfect waist trainer for women that also looks stunning.
It has 16 flat and spiral steel bones for a moderate to extreme curve silhouette.
There is a waist tape for enhanced waist training and cinching.
The corset is available in standard and plus-sized options.
It has a beautiful and feminine design and heavy-duty construction.
---
4
The ShaperX Corset has an Underbust design and is an excellent silhouette body shaping device.
This is an underbust corset and shaper all-in-one design.
It has a heavy-duty 26 double steel boned corset and waist shaper design for cinch and slimming.
The shaper consists of high-quality cotton for the interior and a more durable middle and outer layer.
It comes in a classic black color option and is available in more sizes.
---
5
The Yianna is a waist trainer and sporty design corset to slim your waist and give a perfect silhouette.
The Corset and waist training consist of 100% latex that is comfortable and flexible.
It has a hook and eyelet closure system that can be adjusted for size.
The corset trainer is available in many color options to suit your needs.
It has an updated three-layer fabric design for smooth and high compression.
---
6
The Everbellus, breathable latex corset, comes in a black or white color option.
The corset consists of polyester and elastane with latex for stretchability and comfort.
It is a more breathable and lightweight design that will not cause overheating.
There is a three hook and eyelet closure system for adjustable fitting.
The corset also comes in a black or white solid color option.
---
7
The Playgirl Level 4 is a shaper and trainer and a feminine corset design all in one.
The corset has 26 high-density steel bone details and a busk closure.
It also has 4 layers of cloth for extra strength and durability.
The design will flatten your waist and improve your posture.
There are also more colors available.
---
8
The Charmian Double Heavy Spiral steel boned corset is an underbust waist shaper design.
The corset consists of polyester and spandex for stretchability.
It has a neat busk closure and is available in a black or white color option.
The corset design looks stunning as an outfit and doubles up as a waist shaper and trainer.
It is also ideal to use for costume parties and formal events.
---
9
The Eleady is a body shaper vest and an underbust corset all in one design.
The corset has a convenient zip closure design.
The U-Type anti-droop breast design pushes up your breasts and supports them.
There is effective and firm control of the back and armpit flab, and your waist will be perfectly flattened and shaped.
The design likewise looks more natural and sleek underneath most garments.
---
10
Here we have a stunning overbust design corset and shaper with a lace-up closure.
The Corset has a hook and eye closure and lace-up front design closure.
It is an overbust corset that looks stunning and feminine with shaping effects.
There are plenty of colors and designs available from which you can choose,
The beautiful piece is boned for support and a high-quality design.
---
Index Table: Top Rated Corsets for Waist Training
---
---