Engagement photos are very sentimental and capture some of the best moments of your life that you will want to treasure forever.
What to wear for these engagement pictures could be quite tricky because many aspects are affecting your choices.
For the most part, a dress is the most suitable and feminine attire that always looks exceptionally good on engagement photos.
So in this article, we will go into the finer details of the best dresses for engagement pictures.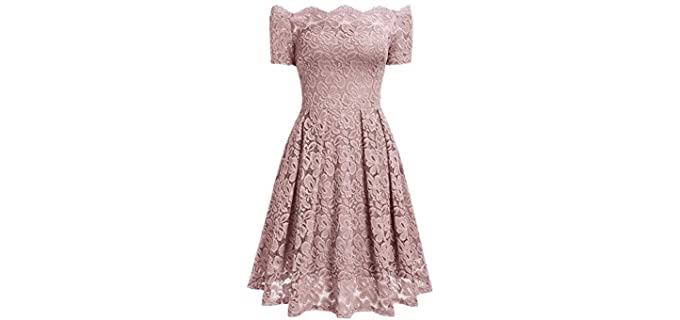 ---
Why Wear a Special Dress for Your Engagement Pictures
Your engagement is a fun and slightly less formal percussor to your wedding, and the photos are an important opportunity to enable you to capture your relationship with your husband to be during one of the most special times.
You are most likely also going to be using some of these photos as part of your wedding décor, on Facebook or social media, or a "save the date" for your wedding day program, or even on invitations.
That it is why it is so important that you dress your best for your engagement photos, almost just as you would for your wedding.
All in all, considering the many outfit choices that you have, I can promise you you will end up with a semi-formal to casual dress that will look the best for your honeymoon photos, so to make it easier, why not consider a dress initially as it is such as versatile and feminine clothing item, that you can do so much with, and find in so many lovely fashionable styles.
---
What Dresses to Choose
So here I want to give you a few tips not just on the dress, but the entire look, and how to complement each other in the foto session;
Wear a Dress That is "You" – Make sure that the dress you choose is your own fashion style and personality. You will not feel confident or look good n anything else. Feeling confident and being comfortable in what you wear is most important.
Consider the Weather – in summer, it's easy to throw on a nice summer frock, but with cooler leather, you may need to add a good jacket or opts for a longer-length long sleeve dress that is a bit warmer.
Colors and Textures – Create visual interest by adding a piece with some texture, or some jewelry, try not to add too many overpowering accessories. Stick to the main color with a few prints or solid and light colors. Lighter and bolder colors show well on photos rather than dark and overly printed and colorful styles. Neutral colors and pastels are the best choices, and they also help you fit well into your foto environment.
Create a Theme – You can create a theme for your photoshoot and find a dress and accessories that match the theme. This is always an excellent idea. Who, knows maybe you can use the same theme for your wedding.
Matching Outfits – I would not go for exact matches with my partner, but try to wear colors and textures that complement the outfit of your partner and make sure that the overall theme matches in each other's attire.
---
Features of Good Dresses for Engagement Pictures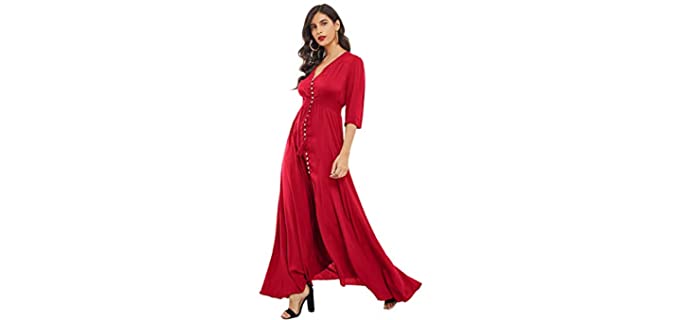 Materials – Stick to materials that will not wrinkle easily, that are comfortable and flowing, such as viscose, cotton, polyester and chiffons.
Neckline – Look for a neckline that is flattering for your figure, a V-Neck is the most suitable for all body types or a rounded neckline.
Sleeve Length – depending on how you feel about your arms and what the weather is like, any sleeve length is suitable, from a strappy summer dress to quarter or longer sleeves.
Dress Length – Choose a mid to longer length dress that creates length and fits appropriately.
Colors and Patterns – Opt for dresses in more neutral colors that are not to bold in print ad color so that you stand out too much.
Fit – Make sure the dress fits comfortably, look for your appropriate size.
---
Reviews: The Best Dresses for Engagement Pictures
Here are some stunning dress ideas that are ideal for your engagement pictures;
---
1
The Missmay Vintage Floral dress is ideal for summer or spring photo sessions for engagement pictures.
The Dress is very stretchable, consisting f nylon and spandex.
You can also use it afterward for parties and other occasions.
The dress has a retro design and comfortable fit.
It is available in bold and neutral colors in solids and has a lace cover.
The design is a fit and flare that flatters most body shapes.
---
2
The Milumia dress is a button-up V-Neck dress that has a maxi length and semi-boho style.
The dress is available in solid color options, and it is machine washable.
The dress is rayon material that is soft and comfortable.
You can choose to form a half sleeve, or short sleeve fit with this design.
The maxi length is flattering and slimming.
---
3
The Viishow dress is perfect for colder weather conditions and for ladies that are an inverted triangle shape or have broad shoulders.
The Top of the dress is a solid color, and the bottom has a more flowy design and floral prints.
The dress is available in many more color options in similar patterns.
It consists of soft rayon and spandex materials for stretch.
There are also plus and standard size options available to you.
---
4
The R and M Richards Dress is a two-piece lace dress with a Georgette Jacket.
This dress has a more formal style and is available in neutral solid color options.
It has a georgette jacket for coverage for cool weather or special effects as an accessory during your offshoot.
The dress has a midi length.
Ota ls has a stain and rhinestone belt closure.
---
5
From Pretty Garden, we have a more casual boho-style dress with small prints.
There are more colors available, though they are all quite neutral.
The dress is polyester and cotton with an elastic closure design and waist.
It has short loose sleeves and a very loose and flowy fit.
---
6
The S.L Fashions Sequin Lace Fit and Flare Dress are more formal in style and ideal for engagement pictures.
It has a midi length and open sleeves.
The dress is nylon, rayon, and polyester,
It has a pull-on closure and sequins as decoration.
The sleeves are a sheer cap design, and the skirt is A-line in shape.
---
Index Table: Top Rated Dresses for Engagement Pictures
---
---