After all the fuss of finding a dress for your actual wedding, you may have forgotten that the honeymoon still lies ahead, and you need to plan and to entice an appropriate wardrobe for that in turn, and above everything else.
Well, when it comes to the best dresses for your honeymoon, then we have you covered with all sorts of styles and designs that are ideal.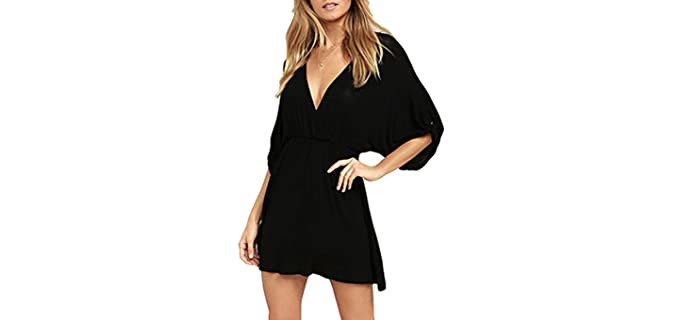 ---
Picking a Dress for Your Honeymoon
You may need more than one dress for your honeymoon, and there are a few things to consider before you make your choices;
The Weather – Generally most people visit a warm tropical area for the honeymoon to enjoying some sun and sea, and in this case, it is easy to find nice floral dresses for the beach and even a dress or two for an evening out. On the other hand, when you visit colder areas with snow for maybe a ski trip, or a cottage n a cool forest, if that is your thing, then dresses will not be the most suitable, although you may need a warmer style dress for an evening out or more formal occasions.
A Dress for Every Occasion – There will be different aspects to your honeymoon; in warmer weather, you may need a casual dress for day trips, a dress for the beach or pool side, and a dress for an evening out. In colder conditions, you may need a dress for trips out or for an evening out that is warm and still looks elegant.
Accessories and Jackets – Make sure that you have matching jewelry, scarves, and other accessories that go with your choice of dresses and other clothing items. Find styles that a versatile and easy to mix and match so that you do not need to take along too many things. Get a good jacket, shawl, or sweater for cooler weather, and a warm jacket or coat if you are going to a cold area. Also, keep in mind shoes that are comfortable for daily wear and shoes that are more appropriate for more formal stings.
---
Some Dress Styles for Your Honeymoon
Here are a few dress styles that you can wear to your Honeymoon;

Kimono Dresses – Kimono dresses are ideal for wearing to a warm area where there is a beach or lake. It can be worn as a beach cover-up and doubles up and a comfortable casual dress.
The Maxi Dress – The Maxi dress with long or short sleeves is an ideal all-weather type of dress for more formal occasions and for trips around town.
Short Halter Neck Dress – This design can work well as a casual everyday wear a dress or in a more formal style for an evening out. Pair it with a shawl or light sweater for when it gets cool.
T-Shirt Dress – The T-Shirt dress is fun and casual for all occasions and excursions except for formal occasions.
Fit, and Flare Dress – A neat and elegant fit and flare dress is perfect and versatile for an evening out, it is more formal and flatters any body shape.
---
Features of Good Dresses for a Honeymoon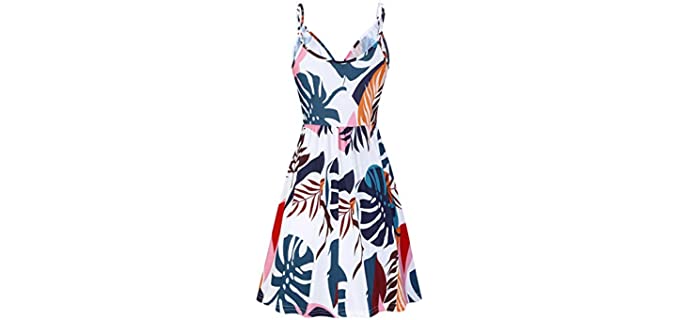 Materials – Dresses come in a variety of materials such as cotton, linen, viscose, rayon, polyester and other fabrics.
Colors and Prints – You can choose anything from solid colors in bold or lighter neutrals to printed and colorful floral options. Solid color options are more suitable for formal wear for an evening out and formal occasions, whereas more colorful prints are ideal for daily casual wear and as beachwear.
Fit – Look for a comfortable fit and design that suits your body type.A V-Neckline and fit and flare design dress or wrap style is most suitable for all body types and also quite flattering and feminine.
Occasion – Choose a dress for every occasion, such as for casual excursions, beachwear, if you are at the beach, and for evenings out.
---
Reviews: The Best Dresses for Honeymoons
---
1
The J Kara Cap V-Neck Beaded dress is a formal styled dress for an evening out or special occasion on your honeymoon.
The dress is 11005 polyester and has a pull-on closure.
It should, however on be dry cleaned.
The dress comes in a few neutral solid colors and has a flattering V-Neck.
---
2
The Zesica Dress is a more fun, cool and everyday wear dress for all summer occasions.
The dress is printed and has sleeves, with a shorter length.
The design comes in more colors and size options.
It is a cool, comfortable, and loose fit that easily fits into your suitcase.
---
3
Here we have the perfect strappy beach dress from Style world.
The beach dress has a fun floral print and is ideal for wearing on and off the beach.
It comes in many ore colors and plenty of plus and standard size options.
The dress has side pockets and an elastic waist design.
---
4
The Alex tea dress is perfect for an evening out on your Honeymoon.
It is a more conservative style and ideal for cooler weather.
The dress has a tea length and rosette details.
It is available in a few more color options and sizes.
---
5
The Meenew Kimono dress is the perfect beach wearing an item, especially fr a visit to a beach or island.
It doubles up as a beach cover and a dress all in one, which is perfect if you are visiting and a beach area on your honeymoon.
The elastic waist is draped, and the neckline is a V-shape.
The kimono dress is available in solid color options as well as printed color options.
---
6
From sweaty Rocks, we have a longer length and long sleeve all occasion dress for colder weather.
The dress has a small print and is available in more colors.
It consists of very high-quality soft fabric and chiffon with an elastic waist and neck frill details.
The longer length is ideal for cooler weather conditions, paired with long boots and a pair of tights or leggings for wramth.
---
Index Table: Top Rated Dresses for a Honeymoon
---
---