The bride thinks she has it tough! Pshhh.
The guest has to approach "the dress" decision with even more agony because there are more rules to follow; the bride, on the other hand, can do whatever she wants!
In our guide below, we'll show you some of the best dresses to wear to a wedding and provide you with some useful tips that will help you find the right one for your shape and budget.
---
How Do You Choose?
There are so many things to take into consideration as you shop, but here are the fundamentals:

Theme and Location – Some weddings are casual, and others are very formal, so make sure you know the wedding's theme and location, so you don't arrive overdressed or underdressed.
Flatter Your Figure –  Don't get a dress just because it looks cute on the rack or the manikin. Look for a cut that will flatter your figure and that you'll feel comfortable wearing for the entire day.
Color Whether you know the couple well or barely at all, it's always a good idea to see if they don't want guests to wear a certain color (hey, sometimes couples are picky!).
If there are no color-bans, look for something season-appropriate, which compliments your complexion (hair color, eye color, etc.)
---
What Part of the Wedding Will You Attend?
Your dress choice may be affected if you're only invited to certain parts of the wedding.
You may not be invited to the ceremony, for example, but you will attend the luncheon/dinner. If this were the case, a cocktail dress would work perfectly.
If you're invited to join the couple after the luncheon/dinner, then choose something based on the event and the weather. We'd opt for something comfortable, but that still matches the level of formality that the couple has requested.
---
Second Dress?
If you're attending all of the wedding festivities from start to finish, then you might consider having two dresses for the big day.
One would be appropriate for the ceremony, as always appropriate for the location and wedding theme.
Unless you're going to a super formal affair, we see the second dress being cute, comfortable, and chic. This would be appropriate for after the luncheon/dinner and something that you can wear based on the location (indoors, outdoors, temperatures, etc.)
---
Have Fun With Accessories
Don't forget to have fun with accessories! A pop of color here and a little bling there never hurts.
We know that some of you want to find a dress based on the accessories you already have (that way, you don't have to go out and buy more), but it's best to pick the dress if and when possible first and then head to the accessories.
---
Features of Good Dresses to Wear to a Wedding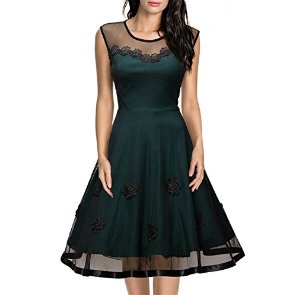 Materials – Most formal dress types for weddings will consist of softer materials such as chiffon and silks or satins, with lace and cut-out details to give a more formal appeal. Polyester and cotton may be used, as well as viscose and rayon, with spandex or elastane for stretch.
Length – Formal dresses for weddings can come in maxi, midi, or mini lengths, which are ideal depending on the style and cut of the dress.
Design – Any fit and design in a formal dress is ideal. The trick here is to get something that suits your body. A fit and flare or A-Line shaped dress are always the best to give you a flattering hourglass shape.
---
Wedding Guest Dress Code
---
Reviews: The Best Dresses to Wear to a Wedding
Looking for the best Dresses to Wear to a Wedding, well then look no further than our very comprehensive list of some of the best available brands and models of Dresses to Wear to a Wedding;
---
1
Here we have a versatile hot and cold weather dress to wear to a wedding from S.L fashions.
The dress consists of 100% soft and breathable polyester.
It has sequined cut-outs for decorative details.
This dress, however, should be dry cleaned only and not washed.
It also comes in more color options as well as more sizes.
The two-piece set includes a sleeveless dress ad a long-sleeved jacket, making it ideal for all weather conditions.
---
2
colors
The Dress is a 95% polyester, and 5% spandex that is soft and durable.
It is a pull-on design made in the USA.
The timeless piece is ideal for weddings and more formal events.
You can machine wash the dress in cold water.
It also comes in more color varieties.
---
3
The Calvin Klein sheath dress is the perfect choice to wear to a wedding and formal event.
The Dress consists of Polyester and spandex for stretchability.
It has a durable zipper closure for your convenience.
You can also get this dress in more sizes and color options available.
It is also a dry clean only dress and should never be washed.
---
4
The VFShow is an off-shoulder bell-sleeved dress for formal wear and weddings.
The dress has an off-shoulder cut and larger bell sleeves to create more interest at the top.
It is available in more color options and sizes.
The dress may be machine washed but in cold water only.
There is a handy zip closure system for your convenience.
---
5
Why not try a more basic design bridesmaid dress to a wedding, such as David's Bridal Chiffon Dress.
The Chiffon dress is soft and flowing with an asymmetrical neckline.
The dress has a maxi length and a side split design.
It is available in plenty of sizes and color options.
The design is very flattering and ideal for weddings.
---
6
I absolutely love the vintage swing dress design of the Grace Karin dress to wear to a wedding.
The fabric used s polyester ad spandex.
The dress has sequin details for decoration and floral inserts.
The zip closure gives it a more fitted design, easy on and off.
The design is an A-Line flare and a vintage 50s and 60s swing.
There are also more color options available.
---
7
The Alicepub dress has a long length and a more formal design for a wedding.
The dress consists of quality chiffon fabric and a comfy pongee lining, and it is also completely handmade.
The more formal design is perfect for weddings, proms, and other formal events.
It has an elegant long maxi length and a V-Neck.
The dress is fully lined and comes with a built-in bra, so no need for a bra.
---
8
An elegant sleeveless, lace, and floral design dress from Merokeety to a wedding.
The dress has an ideal knee-length and crew neck, with a sleeveless top.
It is available in more color and size choices.
The dress consists of cotton and polyester and has a pull on closure.
It is ideal for more formal occasions, as well as weddings.
---
9
The Sheln dress is a short mini length with a sleeveless design.
The dress is available in two color selections for your choice and more sizes.
It has a sleeveless design and flare cut.
The length is just above the knee and very comfortable.
The back is backless and very elegant.
---
10
We have included this gorgeous dress for the larger ladies, which is available in plus-sized fit options, from Ever-Pretty.
The dress consists of 100% polyester that is durable and breathable.
It has a convenient zip closure and a V-Neck design neck.
The dress is flattering in shape for larger ladies and comes in plus-sized fit options.
The dress consists of soft and flowy chiffon that is elegant and formal in appeal.
---
Index Table: Top Rated Dresses to Wear to a Wedding
---
---