When you have a bit of extra cushioning around the midsection, you may not always feel too comfortable or confident in your clothes. Whether from actually drinking beer or any other reason, a beer belly is not always the most appealing part of your body.
The key here is to dress because you look better and feel better in your clothing, and one of the ways is to wear the best jeans for a beer belly.

---
Style Tips for a Beer Belly
When it comes to concealing and wearing your beer belly with pride, here are a few general dressing tips you can follow;
Dark Colors – Darker colors have a slimming effect, and pairing dark-colored shirts with your light-colored jeans will take the attention off your beer belly and make your midsection appear slimmer.
Skip the Baggies – Baggy pants and loose colored clothing can make you look bigger than you are and even make your beer belly stand out more. So skip the loose-fit baggy clothing and opt for more tailored and relaxed fit clothing and jeans.
No Tight Shirts – Skip the baggies, yes, but do not wear shirts that are too tight-fitting as to show every roll of belly fat and every curve. Opt for something a bit roomier in the waist area.
V-Necks – V-neck T-Shirts or collared dress shirts have a way of making you look slimmer and elongates your chest area, which all help with concealing a beer belly.
Prints and Stripes – Prints and stripes in your shirts are tricky. If you have to wear prints, opt for small and more spaced-out prints and stripes. Always select pinstripes and never horizontal stripes.
Jeans – Choose straight leg or bootcut style jeans with a low or mid-rise that have a regular and comfortable fit. Avoid loose and baggy jeans.
---
Choosing the Best Jeans for a Beer Belly
Fit – As far as fit goes for a beer belly, you want snug-fitting jeans. You also get options in tummy control jeans today, and they are an excellent choice.
Rise – A low- or mid-rise pair of jeans is best for a beer belly as you do not want extra pressure on your belly, and it just looks more appealing.
Colors – Darker colors are more slimming. However, I would rather pair a darker color shirt with medium or light color jeans than the other way around.
Cut – Straight leg and bootleg cut jeans are your best options for a beer belly. They are snug but comfortable fit and a happy medium between baggy jeans and a pair of skinny jeans.
---
Features of Good Jeans for a Beer Belly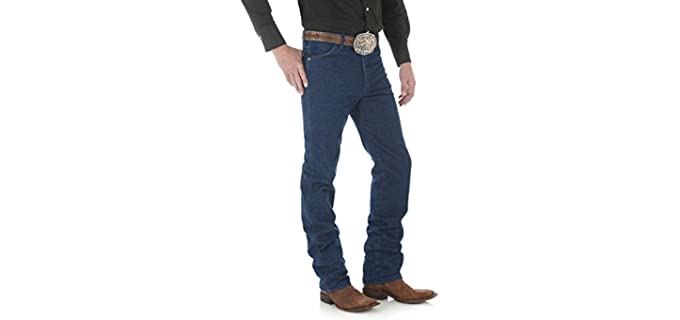 Materials – Jeans mostly come in materials such as either 100% cotton, a cotton and polyester blend, or polyester. They have some elastane or spandex in the blend or the waistband for a stretch and may have metal trimmings and buttons.
Design – Jeans for a beer belly will help conceal and lightly flatten your belly to create a more flattering silhouette. Low Rise and mid-waisted jeans are your best bet, with a shirt that hangs over or that is tucked in. snug cuts such as the straight leg and bootleg cut are also more appealing for individuals trying to hide a beer belly.
Closure – Jeans may have either a zip and button closure or full button closure, and some designs pull on. However, pull-on designs mostly occur in your skinny leg and jegging style jeans, which are not recommended for wearing if you have a beer belly.
Fit – Get a proper fit for your size and body type that is not too loose or too tight. A bootcut, flare leg, or straight leg jean design is most acceptable with a regular fit, rather than a slim or skinny fit design.
Options – Jeans for a beer belly, as with any other jeans, come in various solid colors and blue washes. It would help if you also got standard and plus-sized options, which are all contingent on eth explicit brand and model of the jean.
---
Reviews: Best Jeans for a Beer Belly
Here we have some of our top choices in jeans that are ideal for wearing to ide and accommodate a beer belly;
---
1
Levi's slim-fit jeans are the perfect design for a beer belly.
The jeans are mainly cotton with some elastane for stretchability.
They have a zip closure with a button.
The fit is slim and slimming, and the rise sits just below the waist.
You can machine wash the jeans and dry them.
In the video below, you can see the differences between the 511 Levi's model to the 512.
---
2
Another favorite pair of jeans from Levi's for a beer belly is their 505 range.
These are 100% all-natural cotton jeans available in many washes and solid colors,
They are a wash and dry design that you need to wash and dry inside.
The jeans are a midrise that sits just below the waist with a regular fit.
The regular fit is ideal for a beer belly and very comfortable.
---
3
A stylish and classic fit, five-pocket jeans from Wrangler to hide that beer belly.
Wrangler Authentic remains a top favorite among many men with beer bellies.
They are classic five-pocket-style jeans.
The cut and fit are regular with a more comfortable midrise.
The jeans are available in many solid colors, blue jean washes, and more sizes.
---
4
The Wrangler Comfort Flex technology jeans flex in the waistband to accommodate a beer belly in all its stages.
Anotherr excellent addition from Wrangler is their regular fit Comfort Flex design.
The Comfort Flex technology in the waistband accommodates your beer belly and flexes with your shape and movements.
The jeans have a regular fit and straight legs, with a mid-rise.
They are available in solid colors and jean washes.
---
5
The Enzo stretchable regular fit jean is comfortable and ideal for a beer belly.
Enzo jeans are stretchable and have a straight basic cut making them ideal for a beer belly.
They are available in a few washes s as well as solid color options for your perusal.
The jeans are mostly cotton with some elastane for stretch.
They have five pockets and a zip closure system.
---
6
The Cinch White Label jeans offer a regular fit and a midrise for your beer belly.
The Cinch jeans for men with a beer belly are comfortable and accommodating for this shape.
They are stretchable and consist of 100% cotton.
The jeans have a mid-rise and a relaxed fit throughout the hip and thighs.
They have straight, relaxed legs and a five-pocket styling design.
There are a zip closure and a button for a secure fit.
---
7
The jeans for Levi's are ideal for a beer belly.
They are a roomy fit with a tapered leg and a mid-waist.
They are cotton, polyester, and elastane.
The jeans are available in more washes.
---
8
From Wrangler, we have the cowboy-fit jeans for a beer belly.
They are 100% pure cotton and offer an original fit.
The waist is ideal for a beer belly.
There are also more washes available.
---
9
The Izod Jeans will help to cover a beer belly.
They are 100% cotton and durable.
There is a zip closure, and they are machine washable.
More colors are also available.
---
10
The Amazon Essentials jeans are perfect for covering a beer belly.
They have a mid-waist and a slim fit.
They are cotton and spandex for stretch.
More colors and washes are available to you.
---
Index Table: Top Rated Jeans for a Beer Belly
---
---