Whether you have a voluptuously curvy figure or a stocky, athletic build, you've stumbled upon this article because finding the right jeans for your body type has proven to be a difficult task.
We don't care how big your thighs are, and we want to help you find the right pair of jeans to rock them!
Below, we highlight the best jeans for big thighs and provide you with some useful tips that will help you start to flatter your awesome figure.
Our suggestions are for both men and women, so continue reading to see which pair of jeans will look great on your body!
---
Consider the Following
Before you select a pair of jeans, consider the following Characteristics;
Color – The color, or wash, of the jeans can make a huge difference. As a rule of thumb, darker is better.
Cut – A bootcut, relaxed Fit, Tapered Cut, and straight leg cut is much more flattering to larger thighs and legs. These cuts also provide a more comfortable fit in general.
Design – Jeans may have a mid-rise, regular rise or high rise design. the mid-and-high rise designs help flatten out your tummy and give smoother curves.
---
Jeans for Her
Think about your body shape and height before selecting a pair of jeans that will help flatter your thighs and hips.

Short – If you have short legs and larger thighs, then you might do well with a pair of boyfriend jeans. They have a looser fit and help lengthen your silhouette.
Plus Size – Long, flared jeans or a pair of bootcut jeans will help you achieve the balance you are looking for.
Athletic – The flare would also work well for you, but don't be afraid of a cute pair of skinny jeans if you have a pair of loose-fitting knee-high boots. The open space between your leg and the top of the boot will help create the proportion balance you desire between your thigh and the bottom of your legs.
---
Jeans for Him
Guys, the same goes for you. You need to determine your body type and shape before you go out and select a pair of jeans that will cooperate with your thighs!

Short – You'll definitely do well in jeans of a dark wash.
Plus Size – You need a relaxed, straight fit jean that sits at the waist, not below it.
Athletic – Yep, you can do the skinny jeans, too! Look for a pair with a loose taper or a pair of carrot jeans, which have a loose fit at the top and a narrow taper toward the bottom. A standard taper is also fine.
---
Features of Good jeans for Larger Thighs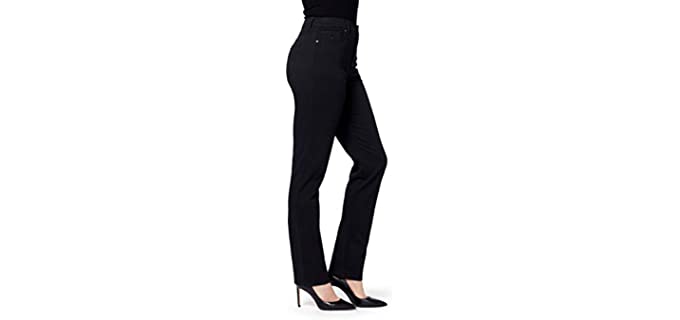 Materials – Most jeans consist of cotton, polyester, and rayon, or a blend of these materials. Elastane or Spandex may be added to give the jeans some flexibility.
Cuts – You can get jeans in a bootleg, skinny, flare, or straight leg cut, as well as different leg sizes and lengths.
Rise – Most jeans have a mid-or low rise, however some options are available in a high rise.
Colors and Washes – jeans for Bigger Thighs come in a variety of solid colors as well as different washes in the classic blue jean color.
---
How to Choose Jeans For Your Body Type
---
Reviews: The Best Jeans for Big Thighs
Here are our top choices in jeans that will flatter and slim larger thighs;
---
1
These are the perfect standard fit jeans, which offer much more room around the thighs.
7 FAM knows how to make a quality pair of jeans for any body type, so it's no wonder why they top our list with a pair of the best jeans for big thighs.
This straight leg jean for men in the Los Angeles Dark wash is great for the athletic build. They feature extra thigh room at the top with a standard taper, yet since your thighs might fill out the top portion, this actually ends up giving you a nice tapered look.
The overall experience in these jeans is a great one. They are stylish enough to wear in certain office settings yet casual so that you can still head out for a night on the town for dinner and drinks.
Excellent fit, quality materials, and worth every penny!
---
2
The Wrangler Authentic for men's offers a regular flexible fitting jean for large thighs.
The jeans consist of cotton and spandex only.
They have a regular fit that is more stretchable and ideal for big thighs.
The materials are quite durable and flexible for men.
The zip fly has heavy-duty hardware that will not break easily.
---
3
The Vibrant jeans offer a high waist design and roomy leg fit for larger thighs.
As we mentioned, a pair of flared jeans is always great for larger thighs, especially women.
What we like about these jeans is not only are they flared but also high-waisted.
This gives you a bit of top control and thigh control; it gives you an overall hourglass shape that makes you look amazing in your curvy body.
As bell-bottom jeans, they cover a portion of the foot and have a long inseam, but give them a try if you have long legs. They just might become your next favorite pair!
---
4
We have the 508 model for gents from Levi's with a wider leg fit and a more comfortable design.
Levi's also makes some great tapered jeans that flatter guys with larger thighs.
The fit is perfect for tall guys or short guys, plus size or athletic build.
Levi's still knows how to make a great pair of jeans, so if you're looking for a great pair but don't want to spend an arm and a leg (pun intended!), give these a try!
---
5
The Levi's Plus-sized Relaxed Fit jeans are ideal for wider thighs and legs.
They are cotton, polyester, and elastane jeans.
The jeans offer a comfortable fit that is stretchable with wider thighs and hips.
There are front slat pockets and coin pockets.
You can also opt for more colors and washes in this jeans model.
---
6
The Gloria Vanderbilt jeans in the classic Amanda have a tapered design, perfect for larger thighs.
The jeans consist of cotton, polyester, and spandex for stretch.
They have tapered legs that are much roomier around the thighs.
The jeans have a high rise, helping to flatten your tummy for a smoother silhouette.
They are versatile in style and come in many colors and washes.
---
7
The Levi's Classic Straight Cut Jean has a more roomy thigh area and a classic design.
They are available in plus size and standard size options and many more colors and washes.
The jeans consist of cotton. Polyester and Elastane for stretchability,
The hip and thighs have an easy, more relaxed fit, and there is a mid-rise waistline.
The jeans are fully machine washable.
---
8
The Levi's Skinny Plus Sized designs are also an excellent option for larger thighs.
The Skinny jeans are quite stretchable and come in standard and plus-sized options.
They are cotton, polyester, and elastane in materials and come in many more washes from which to choose.
The mid-rise sits on the waist and is comfortable and flattering.
The jeans are shaped through the hips and thighs for a better fit on larger thighs and hips.
---
9
The Wrangler Relaxed Fit jeans have a wider leg and thigh design and perfect jeans for men.
The jeans are 100% Pure cotton and very durable.
The legs have a wider and more relaxed fit.
You can choose from quite a few different wash options, as well as black colors.
They have a classic cowboy design and cut that flatters your curves.
---
10
The Lee Extreme Motion design for men moves and flexes with you for a more comfortable and roomy fit.
They consist of cotton, polyester, and elastane for stretchability.
The classic style and modern fit are highly fashionable and authentic, with five-pocket styling.
The jeans have roomy leg and thigh fits and are more flexible.
They are hard-wearing and very durable.
---
11
We have durable and relaxed fit jeans for gents from Wrangler, which are available in plus sizes.
They are 100% pure cotton jeans that are extremely durable and ideal for hard-wearing.
The jeans provide functional comfort and are ideal to use for work purposes.
There are a variety of washes from which you can select available.
The fit is more relaxed and comfortable.
---
12
The Wrangler Authentic is a regular fitting pair of jeans for men available in plus sizes.
The jeans consist of mainly cotton and spandex for a bit of stretch.
The regular fit is very comfortable and non-restricting.
They come in a variety of colors and washes for your perusal.
They are available in plus-size fits and offer excellent durability for long-term wear.
This is one of the best pairs of jeans for guys with a beer belly.
---
Index Table: Top Rated Jeans for Big Thighs
---
---