As vital as the little black dress, black skinny jeans are a "must-have" item for your closet. Whether you don them as part of a casual ensemble or dress them up for a more formal feel – the best thing about your best black skinny jeans is that they will always look great on you.
However, to get that awesome look and feel, they really have to be the best pair of black skinny jeans for you. They should have the most flattering cut. Use the best fabric combination you and comfortable, really BLACK!
Well, we've examined many of what's available out there and put together a list of the top 10 choices for you. Enjoy!

---
Things to Consider Before Buying Those Black Skinny Jeans
We've all heard those words of foreboding in our heads telling us that without proper care, this next pair of jeans will end up like all the rest – damaged, unsightly, unwearable and tucked WAY back in the dark recesses of our closet.
Here are a few tips to extend the life of your jeans.

Keep Washing to a Minimum – Jeans can go for months of everyday wear without needing to be washed (it's true). When washing is necessary, use a machine or preferably hand wash your jeans in cold water.
Be Gentle – Avoid scrubbing your jeans unless there is a pronounced, nasty stain you need to get out.
Use the Power of Steam – The steam from your iron can help to pull odors out of your jeans, giving you more time between washes.
Air Dry – Jeans and clothes dryers do not go together. Air dry your jeans to keep the material looking and feeling its best.
Hang, Don't Fold – For those days when you won't be tucked snuggly into the jeans, hang them up. Choose a well-ventilated area to air out and minimize the need for washing.
---
How Will I Know I've Found a Really Good Pair of Black Skinny Jeans?
It's all in the details. By examining some of the finer points about your selected pair of jeans, you'll know for sure whether you have a true winner or a dud.
The Seams – First of all, the seams should not have any visible loose threads. Look for seams that are tight and neat. By neat, we mean evenly spaced and evenly sized. The color of the seams should also match the color of the denim. Mismatched colors will stand out and won't be the kind of distraction you're trying to achieve.
The Mesh – A tight, fine mesh fabric will give your jeans the look of being high quality and expensive– even if you got them at a bargain price!
The Weight – Seek out denim of a heavier weight, which often correlates to the material's quality. Better quality brands usually list the weight of the fabric on the label. Sure, they feel it takes a while to get used to, but once you break those jeans in, your curves (and wallet) will thank you for it.
No Imperfections – Examine the jeans and be on the lookout for imperfections such as bumps, streaks, and irregular thickness. Those faults may look insignificant at first, but you can expect that once you put the jeans on, they'll really stand out.
Selvedge, Baby! Also, if your pair of jeans are made out of selvage denim (you can tell by the red trim you find on the inside), then "Congratulations!" – they are perhaps some of the best black skinny jeans you can find. The best brands use the selvage method for fabric because it produces jeans of the highest quality.
---
Features of a Good Black Skinny Jean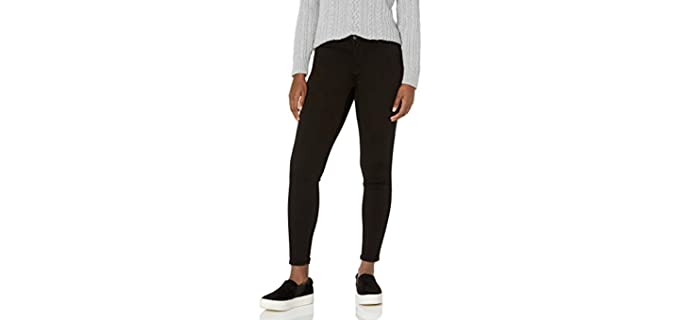 Materials – Jeans consist of mainly pure cotton with stretchable material such as elastane or spandex, or a blend of Polyester and cotton with elastane spandex.
Design – Skinny Jeans have slim-cut legs that fit snugly around your legs, as well as in the hip and thigh area. Differences such as low, high, or mid-cut can be noted between brands and models, and you can also choose from distressed or plain options.
Closure – Skinny Jeans usually have a zip fly and button closure or maybe a pull-on design.
Options – Black skinny jeans will come in different standard and plus sized options for your choice.
---
Reviews: Best Black Skinny Jeans
Here are our top choices in skinny jeans in black color;
---
1
You certainly won't be distressed after purchasing these jeans. They have a great fit, with over three-quarters of reviewers saying they are pleased with how the jeans fit them. Some of that may be due to the 2% spandex added to the fabric's blend. The fabric is soft against your skin, so you won't be itchy or uncomfortable while wearing your new jeans.
These BLUE AGE Women's Destroyed Ripped Distressed Skinny Jeans go on easy, zip close, and hug all the right parts without being too snug. They have real pockets, so you can securely tuck items away in them.
These jeans' details do not take away from their durability and quality. The stressed sections and the rips can hold up to whatever activity you get up to while wearing your new favorite pair of jeans.
---
2
It's no big surprise that the Levi's brand takes two of the top three spots – they're that good!
While these Levi's Women's Mid Rise Skinny Jean has a different fabric blend than the jeans we looked at above, they are just as comfortable and fit most buyers perfectly. Over 80% of customers report that they fit "as expected."
Five-pocket styling and the arcuate stitching shown on the back pockets give these Levi's Women's Mid Rise Skinny Jean the classic look most people love. They go on pretty easily and zip close to holding you snuggly in their smooth contours. Machine wash them when needed (see our care guide at the top of the page) and enjoy knowing you've found a really great pair of black skinny jeans!
---
3
Stunning skinny jeans for ladies from Calvin Klein.
Calvin Klein is a top brand in fashion, and their jeans are some of the best that you will find out there.
The jeans have a skinny fit leg and a slim fit throughout the hips and the thighs.
As you will see, there are plenty of solid colors, and blue jean washes available in this jean model from Calvin Klein.
---
4
The Lee Classic Skinny Jeans are stretchable jeans that consist of cotton, polyester, and spandex.
The jeans have a regular and comfortable fit with a high rise that flattens your tummy and a straight leg.
There are five pockets for your style and convenience requirements, and the jeans come in solid colors and more blue washes.
They have a front zip fly and button closure.
---
5
Another great addition from Lee is their Frenchie Skinny jeans.
The jeans have a skinny fit with five pockets and a zip fly, with button closure.
They consist of cotton, polyester, and spandex for stretch.
There is a solid black color option and two blue washes available in Lee's specific model.
---
6
This is a Hybrid design of skinny jeans that is extremely stretchy and comfortable.
The fabric is blended with plenty of spandex for extra stretch, so the jeans feel almost similar to a pair of tights.
They have a flattering skinny fit and a very stretchable waist.
They can be machine washed and tumble dried, which is a great plus point.
The jeans come in many solid colors, and blue jean washes for you to choose from as you wish.
---
7
From Levi Strauss, we have their gorgeous Signature skinny jeans range.
The skinny jean is an easy pull-on design, so there is no struggle with zips and buttons.
It offers a comfortable skinny fit throughout the hips and thighs.
The jeans have a vintage look and a worn-in faded color.
They are available in solid colors and blue washes you can choose from.
---
8
Goodthreads Skinny jeans are also a fashion must-have.
Their skinny jeans are cotton, polyester, and elastane.
They are machine washable and very durable.
The jeans have a classic five-pocket design and a skinny fit.
---
9
These are cotton, polyester, and elastane jeans from Amazon Essentials, an affordable and quality brand.
The jeans offer a comfortable skinny fit with added stretch and five-pocket styling.
They are available in a black or faded blue color option.
The jeans are machine washable and quick drying.
---
10
From Skirt BL, we have a flattering distressed style of skinny jeans.
The jeans consist of cotton and polyester.
They are a skinny fit with a distressed look and more colors, and washes are available to you.
The jeans are fashionable and durable,
There are likewise plenty of size options available.
---
Index Table: Top Rated Black Skinny Jeans
---
---