Are you dying to slip into a new pair of skinny jeans, and you have no idea what brand to try?
Check out our list below the best skinny jeans for women that will give you a great fit in some gorgeous designs.
We'll give you some tips on what to look for as you shop and compare and contrast the top brands so you can find the right pair for your body type. There are styles and fits for all shapes, sizes, and ages, so look at our suggestions below!
---
Things to Keep in Mind
Before you select a pair of skinny jeans, consider the following:
Budget – You can find pairs for $19.99 and others for $199, so choose your limit and stick to it. Usually, jeans with a higher price tag are made well, but the high price doesn't always mean high quality. Do your research first and look for comments about the fit to help you decide if they're worth the purchase.
Inseam – Have you ever bought a pair of jeans, whether skinny, straight, or flared, and the inseam is crooked on one side? This is called "leg twist," and it happens on jeans. Ensure that the pair you purchase has been made with sanforized (or pre-shrunk) denim or other pre-shrunk fabric. Hold a pair of jeans in the air in front of you to see if the seam is straight on both legs or crooked off to one side. This is a big tip-off that the jeans are poorly made and not worth the purchase.
---
Material, Color and Fit
Although denim is the most common material, you'll find some great cotton skinny jeans and mixed materials that will give you a more versatile look.
When it comes to color, a darker color will always have a more slimming effect, but if you're aiming for a certain style or look, don't be afraid to try some lighter colors like light grey and indigos white to pair with a cute top.
Whether you're looking to slim down or emphasize your curves, there are skinny jeans out there for everyone. Check out number six on our list if you would like to show off your voluptuous figure, number two for a more relaxed fit, or number three for a snug, slim fit that will make you feel ten pounds lighter!
---
Features of Good Skinny Jeans for Women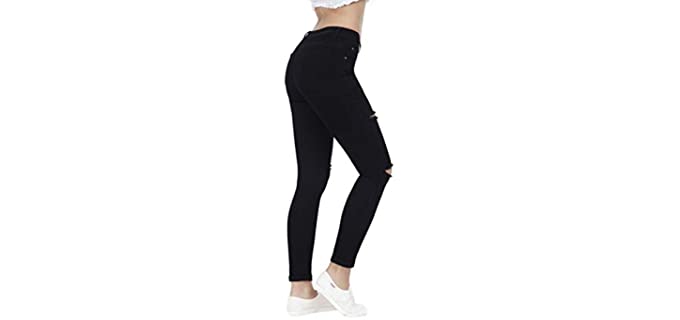 Materials – Skinny jeans usually have a higher spandex and elastane content for added stretchability. Other materials include cotton, polyester, and rayon materials for durability and comfort.
Fit and Design – The skinny fit jean comes in many designs such as the distressed or solid design and low, mid and high rise options.
Colors and Washes – Most skinny jean models offer more solid color options or more washes in the blue color.
---
Reviews: The Best Skinny Jeans for Women
In this list, we show you some of the best available skinny jeans brands and models for women;
---
1
The Lee Slim Fit Skinny Jeans offer a comfortable and relaxed fit, with a Skinny silhouette.
For a more relaxed fit, the Lee Easy-Fit Frenchies will give you plenty of room to move while maintaining your stylish skinny jean look.
The legs and waist aren't restrictive, perfect for those who want the benefit of a skinny jean cut without feeling like a sausage stuffed into a casing.
They have a stiff fit than the previous pair with a low percentage of spandex used, so these would be ideal for anyone who wants a professional, casual look.
There are also more colors and washes available in this range.
---
2
Looking for more distressed style skinny jeans, then the Vibrant Juniors are just for you.
If you're looking for a sexy pair of skinny jeans that you can wear with a pair of high heels or a pair of stylish sneakers, check out Vibrant's high-waisted skinny jeans.
Again, like the first pair, they will help you hide any bulging at the top of the jeans, and the tight, stretchy fit helps them mold to a variety of forms.
Luscious, curvy backsides will look great in these jeans, and so will pretty much any backside that slips into them. They tend to run a bit small in sizing, so you might need to purchase a size up from your normal fit; however, they're definitely great jeans to have in your closet!
---
3
The Mid-Rise Skinny Jeans from Levi's are flattering and will flatten your tummy for an elegant and sleek look.
They consist of Polyester and cotton that is soft and durable.
The jeans have a mid-rise that flattens your tummy and offers a more flattering fit.
There are a belt loop waistband and a zip closure.
More colors and washes are available.
---
4
The Levi's Classic Skinny jean is Stretchable and comes with a mid-rise design.
Classic Cotton, polyester, and Elastane construction.
They have a flattering mid-rise and five-pocket styling.
The jeans offer a slim fit skinny option and are slim throughout the hips and thighs.
There are likewise more colors and washes available.
---
5
Ideal for plus-sized ladies is the Curvify option in 764.
the jeans flatter your curves without squeezing or squashing anything.
They are highly stretchable and have a butt lifting design.
The jeans are available in regular plus size options as well as more color and washes.
they are also very durable and comfortable to wear.
---
6
The Celebrity Pink Infinite Stretch is a stretchable and highly comfortable skinny jeans.
The jeans consist of cotton, rayon, polyester, and spandex for stretch.
They are available in more sizes and wash options.
There are clean back pockets for a smoother finish and a zip closure in front.
The material is super soft and comfortable to wear.
---
7
The Amazon Essentials Skinny jean is high quality and comfortable pair of jeans from this brand.
The jeans have a classic skinny design with a comfortable mid-rise.
They have a proper zip closure that is durable, and there is a button.
The jeans are fully machine washable and very durable.
More colors and washes are also available in this jean model.
---
8
The Skirt DL Jeans are a distressed design option with a skinny fit.
The distressed design is highly fashionable today and great for summer.
The jeans have a mid-rise design and a comfortable and stretchy skinny fit.
They come in a few more colors and washes from which you can select.
There are plenty of size options available so that you can get the perfect fit.
---
9
The Calvin Klein Mid Rise skinny jeans are ideal for all occasions, with a flattering style.
They are cotton and spandex, with light stretchability.
There are a few more color washes available in this range.
The jeans have a mid-rise and a zip closure, with five pockets.
They have updated and fashionable J-Stitch construction.
---
10
We have these stunning distressed skinny jeans available in many washes and size options for the younger lady.
You can choose from different colors and washes and regular plus size options in the jeans.
They are a skinny fit with a mid-waist design for comfort.
There is a zip closure, and the materials are distressed for a grunge style effect.
The jeans consist of mostly cotton and spandex for a slight stretch.
---
Index Table: Top Rated Skinny Jeans for Women
---
---