If you're on the hunt for a great pair of jeans, and you've taken the time to read the first sentence here, then guys, we won't disappoint you with our suggestions below.
We give you a simple, straightforward guide to the best jeans for men that will help you understand how to pick them out based on your body type.
Don't let all the models in the magazine intimidate you. Believe it or not, there are jeans out there for everyone. Just keep reading, so you know what to look for in your perfect pair of jeans.
---
Things to Take into Consideration
Before you select a pair of jeans, here are a few things to consider:
What Do You Need Them For? – Are you shopping for outdoor work jeans, something casual for daily activities, business casual jeans, or something that you'll be traveling in? Comfort and fit are key when it comes to selecting jeans.
For daily activities or average use, get jeans with a classic, relaxed, or straight-leg fit. For more formal occasions, get something a bit more tailored and fitted.
Pre-Shrunk – Jeans that have not been sanforized, or pre-shrunk, are something you should avoid. Why? Because the inseams and outseams (on the pant leg) will twist and turn, making them run up the front and back of your legs rather than the sides of your legs. This is a very annoying and uncomfortable problem. Cheap jeans made of poor quality denim will definitely have this issue.
Color – Dark colors are slimming, light colors are versatile. How do you choose? If you're not interested in taking any fashion risks by choosing something red or bright green, for example, then refer to your hair color and skin tone when it comes to choosing the right color of jeans for you.
---
Finding the Right Fit
Classic – For everyday use, the classic cut gives your legs room to breathe and move. You don't want them too long and baggy at the bottom. Otherwise, they may end up looking like flared jeans.
Slim – These will fit close to your thighs and claves, but they won't hug them like skinny jeans. It is a close fit that works great on guys with average builds. If you have large, athletic thighs, then these might not work for you.
Straight Leg – The pant legs here may feel tighter in the thighs and looser around the calves. Since the leg is basically sewn in a straight line, they might feel tighter on the top and looser on the bottom. This is normal, but if it's too snug, find jeans made from a cotton/spandex mix. This style can be a good choice for guys who need jeans for their beer belly.
Relaxed – The crotch is slightly dropped, and the legs are roomy, yet they sit comfortably and snuggly around your waist.
Skinny – Skinny jeans give you a tight fit, which means that you should look for stretch types of denim that allow you to move around in them. Great for guys with slim, rectangular-shaped frames.
Bootcut – While this is more popular with women's jeans, some men's jeans have a slight flare at the bottom to help those who need to balance out proportions. Does leg day at the gym have your thighs bulging? If your jeans are tight in the thigh, a slight flare may help you create the proper balance between the top and bottom parts of your legs.
---
Colors
The colors, or washes, of jeans, are numerous.
Typically, dark washes are more figure-flattering, but they won't help you much if the jeans' fit is all wrong for your leg shape and height.
Light washes are great for many shapes, sizes, and skin tones, and although they are not as slim, that doesn't mean it makes you look bigger.
If you are used to certain washes, branch out a bit and try something different for a change. That may mean going lighter or darker. Give it a try!
You might even be pleasantly surprised by patterned denim.
---
Tips to Make Them Last
Do you want your jeans to last forever and ever?
Wouldn't that be nice? While they may not outlast you, you can endure their lifetime by using a few simple tricks:
Wash them inside out to help prevent color loss. If you place the jeans right side out with other fabrics of different colors, they can rub on those fabrics. Some dye may end up on the other clothes, which means you've also lost some dye from the jeans. Inside out!
Hang dry your jeans instead of exposing them to high dryer temperatures. If you have the extra time and space, you should definitely hang dry them, and if you hang them outside in the sun, make sure they are still turned inside out so that the sun won't fade them.
---
Features of Good Jeans for Men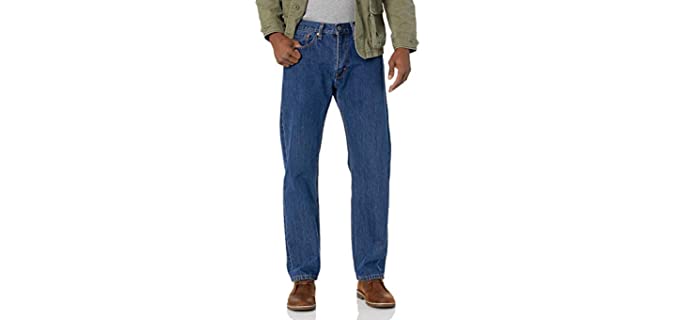 Materials – Jeans consist of mostly cotton, and some with blended polyester rayon, and spandex or elastane for stretchability.
Fit – You can look at a bootcut, Cowboy, Striaght Leg, Skinny or relaxed fit option.
Rise – Most men's jeans will have a mid-rise or sit just under or on the waistline for comfort.
Options – Mens jeans are available in a varity of solid colors, as well as blue denim washes, and many size and fit options.
---
Reviews: The Best Jeans for Men
Below we have listed some of the best available brands and modesl, in jeans for men;
---
1
The Levi's 527 is a slim cut jean for men that sits just below the waist.
The jeans consist of 100% pure cotton.
They have a button closure for a secure fit.
As for the fit, they sit just below the waistline and have a slim fit through the seat and thigh area.
The legs are a bootcut design.
---
2
Lee is a fine quality brand that makes some of the best jeans for men and women, such as this Premium model.
They are pure cotton and spandex jeans with a bit of flex.
Ideal for all occasions with a straight cut leg and premium stretchable fabrics.
The jeans come in a variety of color selections as well as wash options.
You can also machine wash your jeans.
---
3
The Wrangler Authentic offers a comfortable regular fit in a very durable pair of jeans.
Here we have another 100% cotton jeans that are durable and breathable.
They offer a regular comfortable fit and a zip closure.
There are five pockets for style and convenience.
You can select from a few colors and washes in this model.
---
4
The Cowboy Cut Wrangler jeans give you this specific cut for men who like to have a bit of a difference in their jeans.
Another 100% cotton jeans, available in more washes and colors.
It has an original cowboy cut design and is very durable.
There is a zipper closure for a secure fit.
You can fully machine wash these jeans.
---
5
The Diesel Slim Straight leg jeans for men come in a variety of Vintage wash options.
A straight cut design Jean from Diesel.
The jeans have a vintage look that is fashionable and stylish.,
They are also available in more color and wash options from which you can choose.
There is a zip fly with button closure and five pockets for styling.
---
6
We have the slim fit design jeans for men available in many colors and wash options from Amazon essentials.
These are cotton and elastane jeans that are quite stretchable.
They have a zipper closure and a slim fit design that sits just below the waist area.
The jeans are available in more colors and washes.
The legs and thighs are likewise a slimmer and more tailored fit.
---
7
A comfortable regular fit 100% cotton jean from Levi's, for gents.
These are 100$ cotton fiber jeans available in more colors and washes.
The jeans offer a mid-rise design that is at the waist.
They have straight legs and zipper closure with a button.
You can machine wash them and dry them inside out.
---
8
From Cinch we have relaxed fit design jeans, that is available in many color washes, from which you can choose.
The Cinch Jeans are 100% pure cotton, which is durable and breathable.
They come in more color and wash options from which you can choose.
The fit is comfortable and relaxed in the waist, hips, and thighs.
They have a mid-rise design that sits neatly on the waist, as well as straight-cut legs.
---
9
The Levis' jeans for men offers you this stylish and fashionable slim fit option.
A bit more stretchable with cotton and elastane are these durable men's jeans.
They have a slim leg fit and mid-rise that sits below the waist.
Furthermore, the jeans are available in more colors and wash options.
They are machine washable and need to be dried inside out.
---
10
The Volcom Vorta jeans for men features many fashionable trimmings, as well as a woven Volcom label.
The Volcom Jeans are available in many solid color options and a few different wash options.
They have a more modern fit and a button closure design.
There are woven labels and logo buttons for the Volcom brand as decorative details.
There is also stone embroidery on the pockets.
---
Index Table: Top Jeans for Men
---
---