A petite body in itself is hard enough to find fashionable clothing, particularly good-fitting jeans. However, when you are a curvy petite-shaped body, it becomes even more challenging.
So, today I am here to help you choose the best jeans for curvy Petites that will flatter your shape and accommodate for your petite size.
---
What Type of Rise is Best for Curvy Petites
When it comes to a curvy petite type build, you need to consider your jeans' rise.
The rise of a pair of jeans refers to how high the waistband sits on your waist.
There are three different types of rises;
Low Rise Jeans – This rise type is around 7-8 inches and sits just below the navel on your hips. A low rise has the tendency to make your hips look wider and your legs look a bit shorter. Therefore, a low-rise pair of jeans is better suited to tall and slim figured ladies and not the best option for curvy petite women.
Mid Rise Jeans – The mid-rise jean has an 8-9 inch waist and also sits just below your navel or on the navel. Mid-rise jeans are generally the happy medium, go-to style for curvy petite and petite ladies. It keeps your body evenly proportioned and is much more slimming than a low-rise jean style.
High Rise Jeans – The high-rise jean has a 9 to 10-inch waist size and sits above the navel. The high-Rise waist jeans are very slimming as they flatten your tummy and create a smoother silhouette. They hike up your waistline and create length, so they are ideal for short, petite, and curvy girls.
---
Best Jean Fit for Curvy Petites
Next, we need to look at the cut of a jean which is also particularly important when you have a curvy petite shape, and this counts mostly for shorter ladies;
Skinny Cut Jeans – Skinny jeans are a pretty universal jean style in the world of denim jeans. The Skinny jeans pairs well with almost anything and be dressed up or down with heels or sneakers. For a curvy petite figure, opt for a long length skinny jean that offers a snug and comfortable fit.
Flare Leg Jeans – Flare leg jeans are also ideal for Curvy petite Ladies as they create more bulk at the bottom and more length at the top. Flare-leg jeans look good with button-up shirts and sweater-type tops.
Bootcut Jeans – The trusted old favorite Boot Leg style jean is perfect for almost any body type, even petite curvy shapes. Boot cuts are always in fashion, and they go with absolutely any type of top. You can pair them with some chunky shoes or a pair of cowboy boots.
Straight Leg – The straight leg jean has a uniform and straight fit that is slimming and elegant. It is perfect for petite and curvy ladies in a full-length cut. Straight-leg jeans can be pretty boring because there are no curves to them, so you will need to spruce it up with an interesting top or accessories.
---
Features of a Good Jean for Curvy Petites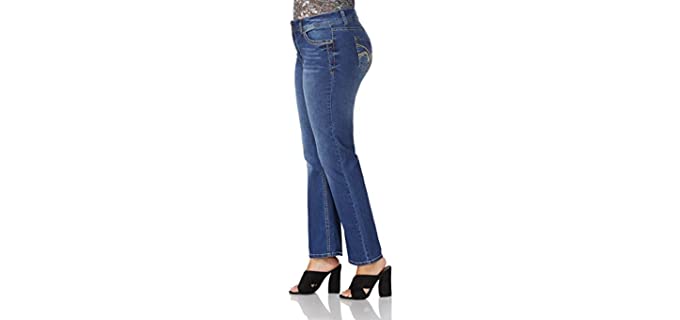 Materials – Jeans for Curvy Petite ladies come in either cotton, polyester, or a blend of cotton and polyester materials. Some elastane or lycra and spandex may be added for a bit of stretch, in the jean themselves or in the waistband. Nevertheless, you also mostly get 100% pure cotton jeans. Metal may be used for trims and closures such as the zip and buttons.
Design – For a Curvy Petite Girl, there are quite a few jeans cut options that are ideal, a bootleg, skinny fit, boyfriend fit, and even flare leg, or straight cut is perfect. However, when it comes to cropped and ankle-length styles, they should preferably be avoided. Make sure your jeans are full length and that they offer your body type a comfortable and flattering fit.
Closure – Jeans may have a zip and button or a button only closure. Some jean models may also offer an easy pull-on and off closure type.
Fit – As for the fit, a mid-waist or high-waisted fit is ideal for a curvy petite body, as it flattens the tummy and creates a much smoother silhouette that creates length. Hip cuts may not be ideal as they can make you look shorter and do absolutely nothing to flatten your tummy.
Options – Jeans for curvy petite women come in various solid colors and blue jean washes. They will be available in standard and petite-sized options to fit you flawlessly.
---
Reviews: Best Jeans for Curvy Petites
Here are our top favorites when it comes to the ideal jeans for curvy and petite ladies;
---
1
The Levi's Classic Bootcut jeans are perfect for curvy petite ladies, and come in lengths and size options.
The bootcut jeans' classic design is perfect for curvy and petite-shaped ladies.
The jeans come in plus and standard size options and choices of leg lengths.
They are also available in solid colors and more blue washes.
The jeans are cotton, polyester, and elastane, with plenty of stretches.
They are machine washable and very durable.
The fit is a mid-rise with a relaxed fit throughout the hips and thighs with a boot cut leg.
---
2
The Signature range from Levi's offers you a shaping jean fit for petite ladies.
This range is also available in different length options and more colors and washes.
They are cotton, polyester, and elastane for comfort.
The jeans are a mid-rise with a tummy-slimming panel and super stretchable.
They offer a skinnier leg fit through the hips and thighs.
---
3
The Gloria Vanderbilt Amanda Classic is a High Rise Tapered Jean that comes in petite sizes.
These jeans are cotton and elastane and very comfortable.
They are only available in petite sizes and black color.
The jeans have a comfortable and tapered fit for petite ladies and enhance your curves.
They are a high rise to flatten your tummy and a long length.
---
4
The Levi's classic cut women's jeans offer you a comfortable mid-rise and skinny fit.
The Classic Mid-rise jeans come in a large array of solid colors and washes you can choose from.
They offer a comfortable and stretchable skinny leg fit.
The jeans are cotton, polyester, and elastane for flex.
They are also available in short, medium, and long lengths.
---
5
The wallflower Juniors range is available in very small size options for petite ladies and different lengths.
From WallFlower, we have super-stretchy jeans for curvy and petite ladies.
They are cotton, polyester, and spandex with zip closure.
The jeans are stretchable and have front scoop pockets.
They have a long bootcut ideal to create length.
However, these jeans are available in junior sizes for petite ladies only.
---
6
NYDJ brings you their Barbara bootcut jeans with a lift and tuck technology for your curves.
The Barbara Boot Cut jeans are ideal for petite and curvy ladies.
They are comfortable fitting and have lift and tuck technology to create a smoother silhouette.
The jeans sort a vintage look and are available in solid colors and more blue washes.
They are available in standard, plus, as well as petite-sized options, which is an advantage.
Furthermore, they are durable cotton and polyester, with elastane for flexibility.
---
Index Table: Top Rated Jeans for Curvy Petite Women
---
---