In this article, we look at the best Jordan Shorts range, which is a top brand and model of basketball shorts that has advanced and developed to include shorts for many other purposes.
As you will see, the range includes a few types of shorts, all from the Jordan range.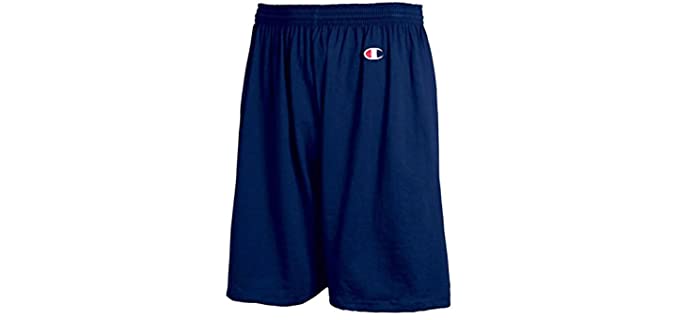 ---
What Are Jordan Shorts
Jordan shorts are a brand model that is created by Nike as part of their Air Jordan Range.
Jordan shorts come in a variety of styles and purposes but are basically based on the basketball Jordan brand shoes.
Jordan shorts are ideal for basketball, gym, leisurewear, and they also make swim shorts.
Nike has different models of Jordan shorts available such as the Air range, Classic, and Jumpman models.
---
Jumpman VS Jordan Shorts
There is a discussion running about how the Jumpman design Shorts actually differs from the Jordan range, as this comes from a similar brand and range.
They are basically two very similar shorts models for Nike in the basketball shorts range.
Jordan Shorts – Jordan shorts are based on the popular Air Jordan Basketball and casual wear shoe range. The Brand Jordan creates many types of sports shoes and athletic apparel , such as their Jordan brand shorts.
Jumpman Shorts – Jumpman is the name of the Brand Jordan logo in general, it falls under the Jordan brand. Thus, the shorts are made by the same company with similar features and purposes. The Jumpman shorts are likewise basketball shorts initially with other models available.
---
Features of Good Jordan Shorts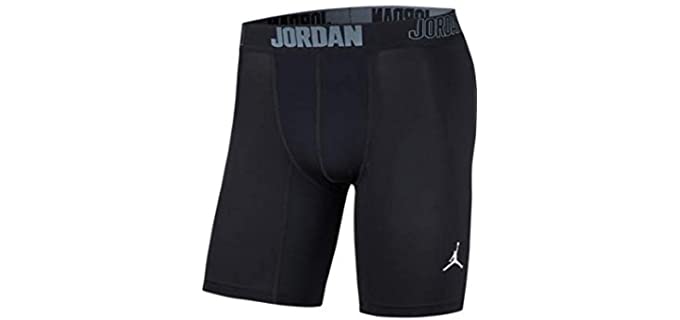 Jordan Dry Fit Air – The Jordan Dry Fit shorts consist of recycled polyester, so they are quite environmentally friendly. Plastic bottles are used, recycled into pellets, larger pellets are shrunk into flakes and then spun into a high-quality yarn which is used in this range of shorts. The shorts are lightweight, comfortable, and wick away moisture. They are usually a above the knee length and ideal for basketball and other sports types.
Jumpman Jordan Shorts – The Jordan Jumpman shorts are Air Printed Mesh Shorts that consist of very soft and unbreathable fabrics. These shorts come in printed and bold colored options with the iconic Jordan graphic. They are generally lined for your comfort and also to help reduce transparency because of they are very light and quick-drying designs.
Jordan Jumpman Classic – This is another model from the popular Jordan Jumpman range. They are the Jordan Jumpman Diamond Shorts, which have taken their initial inspiration from the classic pro kit style that Michael Jordan uses. These shorts consist of an absorbent heavier, and more durable mid-weight French terry material that has tonal ribbing and embroidered graphics for decoration on the shorts.
Jordan Essential for Women – For the Ladies, the Jordan essential range is classic cycle shorts in a short length. They are form-fitting and comfortable, offering optimal comfort and support. The fabric has high stretch capabilities that flex easily with you. They fit snugly and will stand out with the contrasting piping along the seams. The Jordan Essential Bike Shorts offer form-fitting comfort and support. Their high-stretch fabric flexes to fit snugly and stands out with contrast piping along the seams.
---
Reviews: The Best Jordan Shorts
These are some of our favorite Jordan Shorts Models;
---
1
The Nike Jordan Big Boy shorts have an Air Mesh breathable Design.
They are 100% polyester and lightweight.
The closure is an elastic band and drawstring closure system.
The shorts are available in a black and white contrasting color.
There is a Jordan Logo on the left leg.
---
2
The Nike Air Jordan Shorts are one of the most popular models from this specific range.
This model comes in a gorgeous black and olive green color that contrasts to complement each other.
There is an elastic closure which offers a much more comfortable and versatile fit for everyone.
There are more sizes available from which you can easily choose in this specific model.
The Jordan shorts from Nike are Durable and consists of lightweight and breathable materials with moisture-wicking capabilities for your comfort and convenience.
---
3
In this model from the Jordan range, we have the Nike Jordan Jumpman Classic style for men.
The Nike Jordan Jumpman classic is a fleece short that is a bit heavier in weight but also slightly warmer and more durable.
The Jordan Jumpman shorts offer a standard comfortable fit with loose leg gaps and a longer length.
The Jordan shorts have hand pockets for your convenience.
As you will see, there are also printed graphics and the Jordan Jumpman logo printed on the Jordan shorts for decoration.
The fabric used for the Jordan shorts is a knit terry fabric that is brushed on the inside for softness and your comfort.
---
4
The Nike Dri Fit Jordan range is for ladies. They are the Icon model.
The Nike Dri Fit Icon model range is available in plenty of colors so you can choose to your heart's content.
There are also more than enough size options available for you to get the perfect fit.
The Nike Dri-Fit Jordan shorts for ladies are polyester with an elastic closure for a comfortable fit.
The Dru-Fit technology moves sweat away from your skin to the surface of the shorts, where it quickly and easily evaporates into the air, thus keeping you completely dry and comfortable.
The materials are soft and comfortable against the skin with no irritation or friction.
---
5
The Jordan team Practice shorts for gents are ideal for practice, gym, basketball, and even just for leisurewear.
They are available in a few solid color options that are more neutral in nature.
The Jordan shorts have a flexible knit fabric design that is made specially to move with you more comfortably, allowing you much more freedom of movement.
The Jordan Shorts have design elements that are on par with the original Jordan Shimmer shorts design and style.
As for closure, the shorts also have an elastic waistband and a drawstring closure for an adjustable and comfortable fit.
---
6
The Nike Compression shorts from the Nike Jordan range is one of the best designs in its class.
These are actually more cycling and spinning shorts in design or can be worn underneath loose shorts for light compression and friction resistance.
The Jordan Compression shorts have Dri-Fit stretch fabric that will wick away moisture to keep you dry and comfortable.
The Jordan Compression shorts also have strategically placed flat seams that are locked in stitched in order to reduce friction and feel smoother on your skin.
In front there is a contoured pouch design for proper anatomical support for men.
As you can see, you can also choose from a few more available colors in the Jordan Compression shorts.
---
Index Table: Top Rated Jordan Shorts
---
---