If you are someone who has legs for miles and miles, as they say, you can see them as a blessing or an obstacle.
Either way, there are so many flattering ad fashionable styles to dress long legs, especially when it comes to the best shorts for long legs.
So if you want to know a bit more about the right shorts styles for your longer legs, then this article is just for you.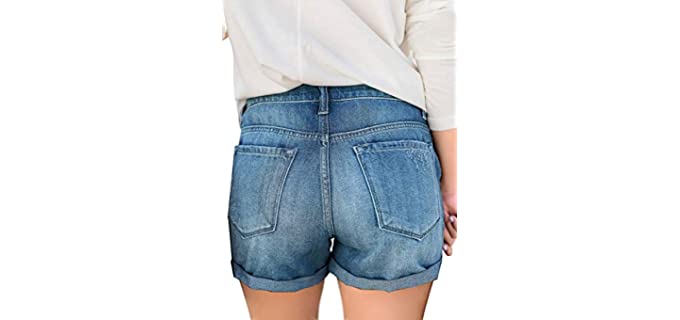 ---
How to Choose the Right Shorts for Your Body
When it comes to shorts for longer legs, one thing is certain, and length really does matter.
The key aspect with length in any pair of shorts is not to have the hemline sit at an area of your legs that you find unflattering. If you do not like your knees, do not wear shorts that sit on or just above the knee. If you do not like your thighs, do not wear shorts with a hemline on the mid or high thigh area.
For Longer legs, the length of your shorts is also of utmost importance.
But before we get into that, we also all have a unique body shape, long legs or not, so let's look at a few of the main body types that you need to consider;
Petite – If you are small in stature or even shorts, a pair of short or mid-thigh length shorts will be ideal. Avoid vertical prints and darker colors that can have a lengthening effect on your legs.
Plus Size – If you are a plus size with longer legs, you will need to consider plus sized shorts options and also look at areas of your body that you want to enhance or play down. If you have larger thighs, opt for a above the knee or mid-thigh type shorts, and if you have a tummy, a high waist or mid waist design shorts will be ideal.
Tall and Skinny – If you are tall and slim with long legs mid-length shorts of around 7 to 8 inches in the inseam are the perfect choices. Shorter shorts also work well. The best feature will be a cuffed or roll up pair of shorts for longer legs.
---
Shorts for Long Legs
Generally, when you have longer legs, any pair of shorts is bound to look much shorter on you. So when choosing shorts, always choose a longer length to achieve the same effect that shorter shorts would.
One feature that I came across that is ideal for flattering longer legs are rolled and ruffled, or more prominent hems in shorts. Somehow, they just work well to balance out longer legs.
Short shorts, mid-thigh shorts, and the even Bermudas are acceptable if they have the right hem style. Also, opt for patterned designs, lighter colors, and horizontal lines rather than vertical ones, as vertical lines are a sure way of increasing the length of your legs.
---
Features of Good Shorts for Long Legs
Materials – Shorts for long legs come in all sorts of materials. These may include cotton, bamboo, viscose an rayon that are more natural, as well as polyester, nylon and other synthetic materials. Elastane and spandex or lycra may be added for stretchability.
Leg Length – Leg length is important when choosing shorts for long legs as the length can really make a difference. You want shorts that break down the length of your legs, so select short shorts or mid-thigh shorts. That does not elongate your legs.
Colors and Prints – Colors and prints are available dependent on the specific brand and model. Printed shorts also create interest to draw attention away from your longer legs.
Fit – Make sure that the shorts fit comfortably, and avoid tight fitting shorts if you have longer legs. Most shorts are available in plus and standard size options depending on the specific brand.
Other features – Shorts with hem detail or a rolled-up hem are also ideal for longer legs.
---
Reviews: The Best Shorts for Long Legs
Here are some excellent choices in shorts for individuals with long legs;
---
1
The Amazon Essentials Chino shorts are the perfect fit for longer legs.
The shorts are cotton with an elastane waistband as well as a zip and button closure.
They are a comfortable design and a mid-thigh length.
There are also more solid color options available, from which you can choose as a preference.
---
2
The Amazon brand Goodthreads shorts for men are ideal for long legs.
They are cotton with an elastane elastic waistband for a comfortable fit.
The shorts likewise have a drawstring closure and are machine washable.
They come in more colors from which you can choose.
---
3
The Luvamia Ripped denim shorts are perfect for long legged ladies.
They have a ripped and distressed design and are short shorts.
The rolled hem is ideal, and the casual style is perfect for summer.
There are also many more colors and washes from which you can choose.
---
4
The Coofandy Gym shorts for men come in a set of two pairs of shorts.
The shorts are nylon and spandex, which is quick drying.
There are also different color variations available from which you can choose as needed.
The design offers a regular comfortable fit with a semi-wide leg opening that is ideal for long legs.
---
5
The democracy Ab Solution shorts are another hit for girls with longer legs.
The shorts come in a few colors, and printed options available, so you can easily choose your favorite.
They are just above the knee and have a roomy leg fit.
They consist of cotton, polyester, and spandex, which are soft, durable, and offer a slight stretch.
There is a button and zip closure, which is easy to use and allows for a more secure fit.
---
6
From Dockers, we have a straight fit Supreme short for long legs in men.
The straight fit is ideal for longer length, along with the length of the shorts.
The shorts are cotton with an elastane waistband and drawstring closure.
The waistband sits just slightly below the waist.
---
Index Table: Top Rated Shorts for Long Legs
---
---