A Flat bum may be hereditary or caused by a variety of lifestyle factors and aging.
This shape may not be very flattering when wearing pants or shorts and may also affect your choices in the size and fit of shorts or pants.
This is why you need the best shorts for a flat bum, to enhance the area and fit properly.

---
Why You May Have a Flat Bum
Did you know that there are actually conditions that can cause a flat bum? Dormant Butt Syndrome is a condition that occurs when the gluteal muscles become too weak and your hip flexors too tight. This can happen from sitting too long, sleeping in a fetal position and repetitive activities, and a lack of exercise.
Despite this, you may actually just be born with a flat bum, and it is not much you can do about it.
Then again, you may also be extremely underweight, which can also cause weight loss in the rear area. Not to mention, age also cause your bum to flatten.
However, with good nutrition and exercise, there may still be a good chance that you can improve the appearance of your butt by strengthening the gluteal muscles and picking up a little weight.
---
How to Dress for a Flat Bum
Before we get to the perfect shorts for a flat bm, here are a few more dressing tips for making your bum look a bit fuller;
Shapeless Tops – Even if you do get the perfect shorts or pants, your top can still accentuate your flatter bum. Tops, sweaters, and jackets that lack shape and fall straight down your back and around your waist are a big no-no. They create a pancake look to your but. Instead, try to choose tops and jackets that have the shape in the center and back to give you the appearance of a rounder and fuller bum.
Butt Boosting Shapewear – You get traditional shapers that flatten and smooth your tummy and thighs, which also helps to make you but appear larger. You also get specialized butt-lifting shapewear that is ideal.
Bum Enhancing Pants and Shorts – Pants and shorts that tend to cinch at the waist tend making your butt look larger. Also, opt for more skin-tight pants and shorts, especially in the butt area. Shorts and pants with pockets and plenty of detail on the back will create some volume.
Accentuate Your Waist – If you want your bum to look bigger, try to make your stomach look smaller. This is particularly useful for older persons or those who have a bit of a tummy. Try wearing high-waisted pants or shorts and tops that make your tummy look slimmer.
Play with Color – Try to wear lighter-colored bottoms as they create the illusion of volume. Large prints on your shirts and pants will also help to create some volume at the bottom.
Wear Heels – For the ladies, you can wear high heels. They shift your posture and tilt your pelvis forward, forcing your booty backward and up, thus making it look curvier. However, heels are not all that good for your feet.
---
Features of good Shorts for a Flat Bum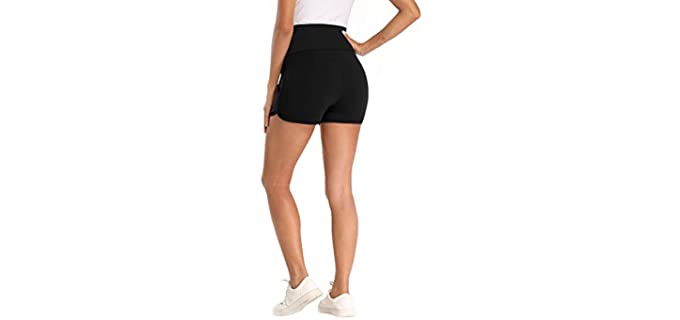 Materials – Materials can include polyester, nylon, cotton and bamboo or viscose. Elastane and spandex may be added for stretchability.
Design – Shorts for a flat bottom come in many lengths and designs, with a general snug and comfortable fit. Some may have more colorful prints or pockets and embellishments on the bottom area. Generally, mid-thigh or shorter shorts are more likely to create volume for your backside as they create more curves in this cut. However, with the right design, longer-length Bermuda or capris shorts will also work.
Closure – The closure can be either a zip, zip and button, button, drawstring, or elastic closure, such as with the athletic short types.
Fit – The fit needs to be comfortable, tailored, or snug, and not loose or baggy or too tight.
Options – Colors, prints, and size options will be available to you depending on the brand and model of shorts.
---
Reviews: Best Shorts for a Flat Bum
Here are our top favorites in shorts that will flatter and enhance a flat bum;
---
1
The Sugar Lips shorts are pleated design shorts that add more interest to enhance your curves.
They are polyester with pleats and a plaid color design that looks fashionable and adds some volume to your backside.
There is a zip closure and talon zip which is more durable and easy to use.
They are more formal styled and feminine for all occasions.
---
2
The Milumia Boho shorts are the perfect style to enhance a flat bum.
They are available in various colors and prints.
The shorts are soft fabric materials with an elastic waistband as a closure.
They are also available in more size options.
---
3
From Cromonscent, we have high-waisted elastic sports shorts.
They are a wide-leg pleated design with pockets.
The closure is a pull-on with an elastic waistband.
The simple design is elegant and ideal for all occasions.
---
4
The Luvamai shorts are ripped classic denim shorts with plenty of back detail to enhance your bottom.
They are available in more colors and washes for your perusal.
The shorts are casual and fun with a ripped style.
---
5
The Augelmir workout shorts are ideal for a flat bum.
They are bum lifting shorts that give you extra curves.
The shorts are machine washable and consist of durable polyester and spandex material.
They are ideal for gym, yoga, and leisurewear.
These shorts will give your bum a nice shape and make it look bigger.
---
6
From Seasum, we have butt lifting tik tok scrunchie legging shorts.
They are ideal for gym and exercise, or just as leisurewear.
The shorts are available in many more colors, prints, and sizes.
They are tummy control and butt-lifting in design, so they actually create curves in all the areas where you need them the most.
The shorts are also fully machine washable, which is very convenient for you.
---
7
These are yoga design shorts.
They have a ruched butt lift design to add volume.
They are available in many solid and printed color options.
They also have a concise fit.
---
8
The Carhartt shorts area cargo design.
The pockets add volume to create the illusion of a bum.
They are available in neutral colors.
The length is mid-thigh.
---
9
From Lee, we have relaxed-fit cargo shorts.
They also have pockets to add volume.
The shorts are a mid-thigh length.
They are available in more neutral colors.
---
10
These are relaxed-fit Bermuda shorts for Lee.
They are available in a few colors and washes.
The fit is ideal for a flat bum.
They are flattering and feminine.
---
Index Table: Top Rated Shorts for a Flat Bum
---
---