Finding a good pair of gym shorts should be quite a simple task. However, there are quite a few variables to consider.
With so many styles and designs available, you need to know exactly what you need for the specific gym routines that you are planning on training in.
Besides this, there are also other factors such as material and drying technology, fit, length, and what styles work best.
So in this article,e we will look at the best gym shorts for both men and women.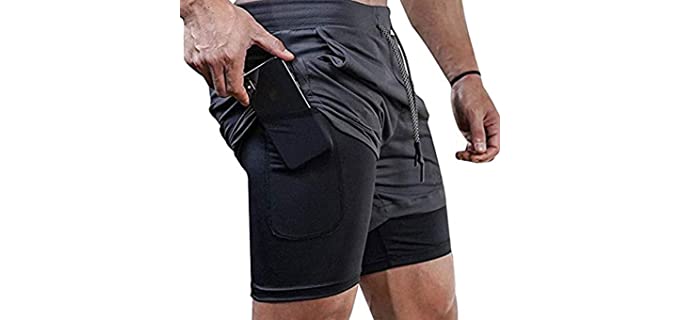 ---
Gym Shorts Lengths
Firstly, let us get into gym shorts lengths, as you have most likely noticed gym shorts come in different length options;
Four-, Five- and Six-inch Length Shorts – These are shorter length shorts for the gym that are more lightweight, breathable and usually consist of quick-drying materials. They are ideal for most cardio exercises and especially for running, as they are lighter and keep you cooler.
Seven-, Eight- and Nine-Inch Length Gym Shorts – These are longer length shorts. Your Nine Inch length shorts mostly come in cotton and heavier fabrics. These shorts are ideal for using gym equipment and weight lifting as they offer much more protection and are much more durable.
---
Gym Shorts and How to wear Them
So now that we have the gym shorts lengths down, let us look at a few more aspects of the best gym shorts;
What Exactly are the Best Gym Shorts – The best gym shorts are those shorts that you do not realize that you are actually wearing any. They will stay out of your way, not cling to you, and will feel like they are almost not there. Look for shorts with plenty of stretches that will not limit movement. Avoid overly loose styles that can snag on gym equipment and get in the way. Make sure that they consist of moisture-wicking materials that will keep you dry and prevent friction. Lok for seamless designs without hard edges and tags that can chafe and scratch your skin. Zipper pockets are also very handy as you can safely keep keys and other items in them while in your gym without the worry that they will fall out.
The Best Materials for Gym Shorts – Generally because of most of our technologies today, synthetic materials such as polyester are the best for gym shorts. Polyester is lighter in weight, wicks away moisture and is generally blended with stretch materials such as spandex or elastane to stretch. If you prefer natural materials, I will go for wool and cotton as they are breathable, moisture-wicking, and also quite comfortable and stretchable in the right blend.
Should Your Wear Anything Underneath Your Gym Shorts – Most Gym shorts have built-in linings or underwear, and some even come with a built-in second skin short to prevent chafing and irritation between your legs, these are prevalent in the very short's gym shorts. I would still recommend wearing snug but comfortable underwear underneath your gym shorts for added support in men and protection for women.
---
Features of Good Shorts for Gym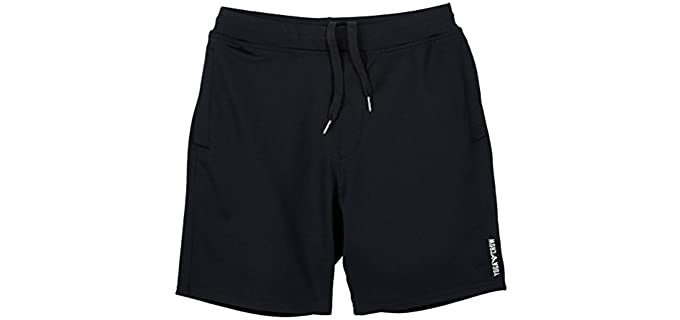 End Use – Your Choice in Gym shorts will be largely dependent on what sorts of exercise routines you are planning to do. Running shorts are shorter and more lightweight w, as well as quick drying. While weight lifting shorts are longer and do not need to be quick drying. For Yoga and Mobility exercises, you will need shorts that are more flexible and allow for a larger range of movements.
Style – Look at a style and color short that you feel comfortable in, and that is your own personal style and preference.
Pockets – For runners opt for a zippered pocket as you will have some items to carry with you. For gym use, you may not be able to still carry items in your pockets, so they are not quite necessary.
Fit – Sleeker and more snug-fitting shorts are ideal for the gym as they will not snag on equipment. However, you can still choose a baggier fit short.
Length – Length as we have discussed is available in five, seven and nine inches for gym shorts. The longer designs are ideal for weight lifting to protect your legs and thighs, while shorts are ideal for aerobic exercises and running.
Materials – Most gym shorts will consist of natural cotton, or a synthetic polyester with elastane or spandex materials for stretch.
---
Reviews: The Best Shorts for Gym
Here is a variety of gym shorts that are ideal for men and women;
---
1
Another addition from Under Armour for the ladies.
This is a Play Up gym shorts that is 100% polyester.
The shorts are comfortable and quick drying with moisture wicking materials.
They are stretchable and have an elastic waist with a drawstring closure.
More colors are also available to you.
---
2
Under Armour is a top sports brand that makes some of the best available gym shorts on the market.
The shorts are polyester and elastane for stretch.
They are HeatGear fabric that is ultra-soft and comfortable.
The fabric has a four-way stretch design and moves much better in every direction.
There are also more colors available from which you can choose as needed.
---
3
From Nike, we have the Dry training and gym shorts for women.
The shorts are 100% polyester with an elastic closure.
They are full coverage and built for movement.
The stay-dry fabric wicks away moisture and keeps you dry.
There are also a few more colors from which you can select as needed.
---
4
The Surenow shorts are ideal or running and gym.
They are a seven-inch length and have a drawstring closure.
The shorts have high elastic fabric construction for comfort and stretch.
There are also more colors available from which you can choose as needed.
---
5
The Cadmus shorts are a high waist running shorts for cardio workouts.
They are polyester with spandex for stretch.
The shorter length makes them ideal for more cardio-type workouts at the gym.
The shorts are likewise available in more sizes and color selections.
---
6
Champion is another well known sports brand , and I have chosen their favorite gym shorts.
The short us 100% pure cotton and very durable.
It has a shorter size inch seam design and a drawstring closure.
More colors are likewise available to you.
---
Index Table: Top Rated Shorts for Gym
---
---