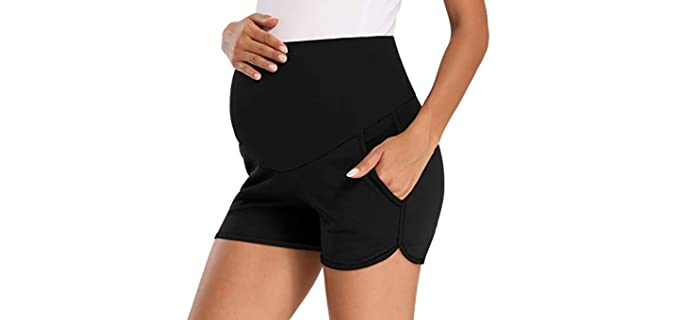 The Joy of being pregnant in the summer mommies, as if pregnancy hormones and having watermelon in your tummy is not bad enough.
Yet, there is a secret, especially for those very hot summers, and that is the best shorts for pregnancy.
You can choose from a few styles of regular shorts, which we will discuss, or from actual proper maternity shorts.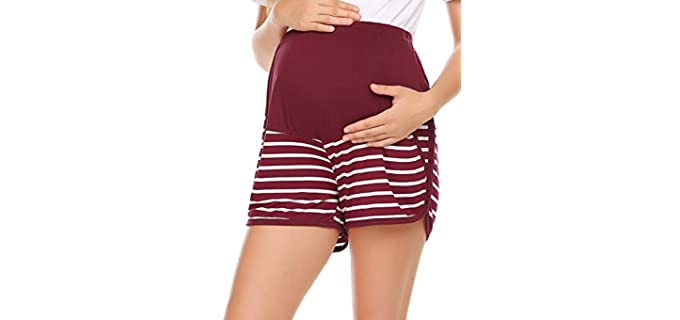 ---
Why You Need Proper Shorts for Pregnancy
When you combine the summertime heat with pregnancy hormones and that extra baby pounds, then you have a huge recipe for a very hot and bothered mommy.
So, you will need to dress wisely to feel cool and comfortable and to look still good and feel like yourself.
Skirts and shorts may become your best friends during summertime pregnancy, however choosing the right ones may be a bit more tricky, especially when it comes to shorts.
You may not want to invest in pricey maternity shorts, and there are other options, yet having one or two pairs of maternity shorts will be a good investment.
---
Best Types of Shorts for Pregnancy
In the choice between sundresses and shorts, sometimes shorts are just much more suitable. There is now chafing between the legs, or having to sit in a lady-like position all the time, as you will have t with a dress or skirt.
So let us look at a few shorts designs that are ideal for pregnancy;
Mid-Rise Shorts – Mid Rise Stretchable Skinny shorts will work well in a larger size or for early pregnancy. You can always unbutton it when it gets too tight.
Under the Bump – You can always wear stretchable or loose shorts of which the waistband is underneath the bump rather than over the bump. This works for most regular shorts, even denim shorts.
Soft Shorts – Soft knit, ribbed or athletic shorts are ideal for lounging. They are soft, stretchable, and comfortable.
Maternity or Stretch Waistband Bermuda Shorts – Sometimes you want something a bit more sophisticated. A tailored fit or wider leg type Bermuda style shorts or maternity Bermuda shorts are ideal for all occasions.
Adjustable Shorts – many maternity brands offer shorts that you can adjust the waistband to carry you throughout your pregnancy and still fit afterward.
Boyfriend Shorts – Maternity or regular boyfriend shorts with an elastic waist can be the ideal look and also quite comfortable during pregnancy.
Sports Shorts – Sporty shorts or athletic and yoga shorts are stretchy, comfortable, and mostly cool.
---
Features of Good Shorts for Pregnancy
Materials – For shorts, during pregnancy, I would suggest the more formal crisp kinds of cotton and denim styles for a special occasion. Opt for soft and stretchy materials such as T-Shirt cotton, viscose, and spandex for loungewear shorts.
Design – Look for either maternity shorts or shorts with a very stretchable waistband such as a drawstring or pull-on style. Also, take into account that you may need more roomy leg holes.
Closure – Drawstring and pull-on closures are the best options in shorts for pregnancy as they are easy and expand. However, some maternity styles do offer an adjustable closure design. If you wear your short under your belly, then a zip and button closure may still work, well, for a while at least.
models
Fit – Look for an adjustable or very stretchable and accommodating fit. You will also need to decide on above or below the bump shorts styles. Looses and more flowing fits are cooler and more comfortable during the hot summer months when you are pregnant.
Options – Look for size options that are a bit larger or plus-sized options if needed. Otherwise, opt for a size or two larger to accommodate for your growing belly. You will also be able to choose between colors and some prints depending on eth brand and model of shorts.
---
Reviews: Best Shorts for Pregnancy
These are some of our favorite picks in maternity shorts and shorts for pregnancy;
---
1
The Signature shorts from Levi's are ideal for pregnancy.
They are cotton, polyester, and elastane with a stretchable waistband.
The shorts are worn underneath the bump and are a cool and comfortable fit.
They are available in three colors and plenty of sizes.
They have a zip closure and are fully machine washable, which is convenient and comfortable.
---
2
These are over the belly maternity shorts for pregnancy and afterward.
They have an elastic closure and soft materials.
The shorts are breathable and lightweight for summer,
They are high quality and moisture-wicking with a built-in support panel for your belly.
---
3
The Umeyda shorts for women are maternity design distressed denim shorts with an adjustable waistband for pregnancy.
The distressed denim design is very trendy and fashionable.
Because they are maternity shorts, they cater to a growing belly with an adjustable belt.
The shorts ate machine washable and had a comfortable elastic closure.
---
4
The Fitglam shorts also are maternity shorts for sports and yoga.
They are comfortable and soft, stretchable materials that will expand with you.
The shorts consist of cotton, rayon, and spandex that are light and stretchy, ideal for those hot summer months.
They are available in more colors and prints and have an elastic closure.
The shorts are designed specifically for use as leisure or gym wear for pregnant women.
---
5
Cnfufen offers you their comfortable summer drawstring shorts that are also ideal for pregnancy.
They are a lightweight summery pair of shorts with a wide-leg design.
The shorts are durable a stretchable, and machine washable, which makes them comfortable and very convenient to have.
They have an easy drawstring closure, and the waistband is fully elastic.
---
6
Here we have full maternity shorts that are athletic ad ideal for pajamas or leisurewear when you are at home.
They have a soft and stretchable design and are available in different color striped options.
The shorts are soft polyester and rayon with an elastic waistband that will expand with your growing belly.
They offer a cool and loose fit for pregnant ladies and are perfect for those hot summers.
---
[/super_product]
Index Table: Top Rated Shorts for Pregnancy
---
---