Hot Yoga and Bikra is a form of Yoga where the room is heated to warm your body in order to facilitate sweating, to remove impurities, increase flexibility and burn fat.
Yet, just because the room is hot does not mean you need to be half naked. The idea is to sweat; however, you do not want your yoga pants to sweat and chafe too much.
That is why you need the best shorts for hot yoga.

---
Why You Need Hot Yoga Shorts
You really do need the right shorts for hot yoga, as they can make a huge difference in your performance and your comfort levels.
Hot Yoga is a very damp affair, so you need yoga shorts that are breathable, moisture-wicking, and quick drying.
If you do not wear proper hot Yoga shorts, you will slip and slide all over, and you may become irritated, and there will be plenty of friction, causing rashes and chafing. On the other hand, you may also become so overheated that it will not be possible to perform properly anymore.
Thus, yes, Hot Yoga shorts are a must to keep you cool, comfortable, and confident.
---
Hot Yoga Attire
So besides just the shorts, let us look at some suitable attire for hot yoga;
Pin It
Leggings – Leggings made from lightweight moisture wicking materials are ideal. You get high waist, mid-waist, and low waist styles which you can choose from. The higher waist styles flatten your tummy a bit. Make sure that the material is lightweight and moisture wicking, and opt for sports style leggings that consist of synthetic materials such as polyester. Look for three quarter and knee lengths. They are usually ideal.
Shorts – Shorts are a bit tricky, unless you opt for legging type shorts . Make sure that the shorts are fitted and close to your skin. Loose shorts will not work for most of the pose, as everything will show. Shorts may seem cooler, but they need to be reasonably tight fitting.
Tops – A lightweight fitted tank top or loose tank top over a sports bra is ideal. Again, look for quick drying, moisture wicking materials that breathes well.
Sports Bras – Sports bras or crop tops are the best for hot yoga, they provide essential breast support, they are cool and open. Make sure that the materials are moisture wicking, breathable and flexible. Opt for sports brand crops or sports bras.
Other Essentials – Well, besides s small towel and your water bottle, you will need a thicker yoga mat, a good hair band to tie your hair, maybe a head band, especially if you have a fringe and wrist band for wiping off sweat.
---
Features of Good Hot Yoga Shorts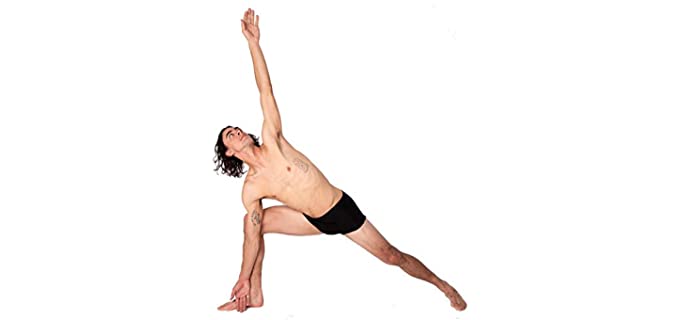 Materials – Hot Yoga shorts generally consist of lightweight and stretchable materials such as Polyester, Lycra, spandex, elastane or polyamides. Many of these materials have moisture-wicking technology or fibres that actually draw moisture away from the skin, towards the top layer of the short where the moisture then evaporates. Thsi in tyrun keeps you dry and has a cooling effect.
Waistband – There are high, mid and low waist options available. The high waist options od offer some tummy control. The waistband can be straight or have a V-design. All in all, you need a comfortable fitting waistband, and I suggest a waistband that is broader so that it does not actually dig into your skin, which can be quite uncomfortable.
Seamless – Most hot yoga shorts are designed to be completely seamless in order to reduce friction and to chafe. Flat seamed stitching can be used to reduce friction and give a much smoother feel to the seams.
Length – Hot Yoga shorts are usually cheeky length or above the knee length in design. The shorter they are, the cooler and more comfortable they are. Keep in mind that for Yoga, you want to stay clear of very loose fitting shorts, so opt for tight fits and legging types shorts. You also do not want to layer, so the double short and built-in underwear short may not be the most comfortable or cooling options when it comes to hot yoga practice.
---
Reviews: The Best Hot Yoga Shorts
Here is our list of some of the top favorite available yoga shorts for Hot Yoga;
---
1
From Hotsuit, we have a high waist hot yoga short that is available ins standard and plus sizes.
The yoga shorts are machine washable and made of soft buttery fabric that stretches and breathes well.
They are available in plus and standard sizes as well as for ore color options.
The shorts are ideal for yoga and hot yoga and have convenient side pockets for storing a phone or small items as you may need them.
---
2
From YogaAddict, we have shorts for hot yoga, yoga, and Pilates.
They are a quick dry materials with no pockets and an elastic closure.
The shorts are very comfortable and stretchable.
They will breathe well and are also a comfortable shorts in length.
Many more colors are available to you.
---
3
The Amazon Essentials hot yoga shorts are ideal for ladies.
They are polyester and spandex that are lightweight and breathable.
The design wicks away moisture to keep you dry and cool.
The shorts are a three layer construction for comfort and stretch.
There is also more color ranges available to you.
---
4
From Yoga Crow, we have to swerve yoga shorts for hot yoga.
They are machine washable with an elastic closure.
The shorts have an anti-microbial inner lining for your convenience.
They are breathable, stretchable, and lightweight.
---
5
From The Gym people, we have high waist hot yoga shorts.
They are a tummy control high waist design with deep pockets for storing small items.
The shorts are available in more sizes and similar colors.
They are stretchable and moisture wicking.
---
6
These are some very shorts hot yoga shorts for gents.
They come in three color options and a 3.25-inch inseam length.
The shorts are elastic and comfortable.
They consist of nylon and spandex mainly.
---
Index Table: Top Rated Hot Yoga Shorts
---
---