When taking any class, fitness, or pole dancing, comfort and functionality should be our outfit's main aim.
Pole fitness is a new sport and a fashion that is becoming much more commercial over the years.
One of our favorite outfit types of role dancing is, of course, the pole dancing shorts.
The best pole dancing shorts are comfortable and have a certain flair to them.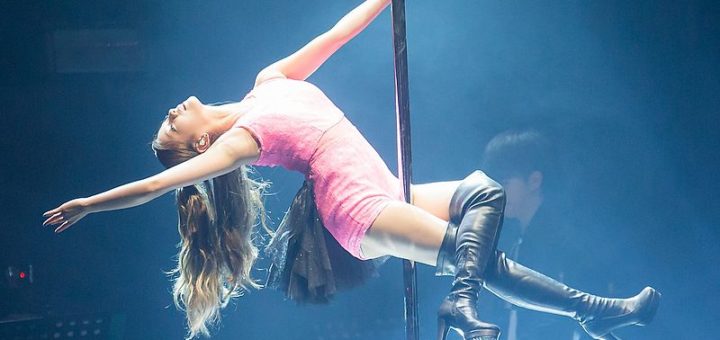 ---
Tops and Bottoms for Pole Dancing
Before we get into the shorts for pole dancing, let us look at how you want to match your tops and bottoms for pole dancing;
Bottoms – For beginners, longer shorts that are just above the knee are usually advised. For more advanced pole dancers, shorter shorts are a favorite. Generally, you want something comfortable that stretches and allows you to move easily.
Tops – Anything from a loose t-shirt or tank top is ideal, and then there are the more daring crop tops and sports bras. The top should be comfortable, allowing movement and flattering for your body type.
---
Pole Dancing Shorts Styles
Shorts are an absolute staple for pole dancing and those who are following pole dancing fashions.
They are essential to allow pole dancers to grip the pole with their legs easily, and many tricks will be impossible without them.
Your shorts need to be fitted and not loose or baggy as they will flap around and get in the way.
Tight-fitted shorts and athletic shorts are an excellent idea for pole dancing.
High Waist Athletic Shorts – A fitted high waist athletic short is ideal and gives you a comfortable fit that flattens your tummy a bit.
Yoga or Gym Shorts – Any yoga or gym shorts are ideal for Pole dancing practice. They offer a comfortable and very stretchable fit that usually consists of some moisture-wicking fabric.
Cycle Shorts – Cycle shorts offer a stretchable tight fit and are available in different lengths for beginners and more advanced pole dancers. They are one of the favorites for pole dance training.
Fancy Pole Dance Shorts – For when you want to take some pictures or videos, or when you advance to perform o stage, or for a crowd, you will want some show-off outfits. Metallic shorts, mermaid design shorts, or anything with some shiny sequins or glittery material can be ideal for these events.
Leg Warmers – For those who are following the pole dancing fashion. Leg warmers are ideal as a fashionable addition to your pole dancing shorts. They do not help you in any way on the pole. In fact, they will make it more difficult, but they can be worn for warm-up or afterward to keep your legs warm.
---
Features of a Good Pole Dancing Short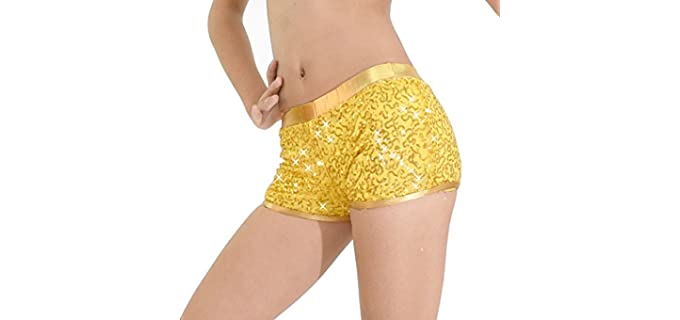 Materials – Look for shorts consisting of stretchable materials that contains either spandex or elastane. Other materials such as nylon, cotton, or polyester are also the idea.
Design – The design should be fitted with a comfortable and stretchable snug fit.
Closure – Most pole dancing shorts will be a pull-on closure as you do not want zips and clips getting in the way.
Fit – The fit needs to be tight with no loose pieces of materials or wide legs that can get in the way.
Options – Most pole dancing shorts models and brand offer a variety of color options, as well as plus and standard sizes.
---
Reviews: Best Shorts for Pole Dancing
Below are some of our top choices in shorts that are ideal for pole dancing;
---
1
Comfortable and elastic shorts that are ideal for pole dancing from Uratot.
These are breathable and comfortable Yoga and dance shorts that are perfect for pole dancing.
They have a very short length and elastic closure for an easy and comfortable fit.
The shorts are easy to maintain and fully machine washable.
They come in more bright and colorful options and more sizes.
---
2
The iHeartRaves dance shorts are ideal for Pole dancing shows and professionals.
These are ideal for shows and dancing in public.
They are flashy and elegant with a shiny appeal.
There are four colors available for your perusal.
The shorts consist of stretchable and soft materials that are easy to dance with.
They have a very short length that is ideal for pole dancing.
---
3
The High waisted Yoga Shorts from Emprella are ideal for pole dancing practice sessions.
More comfortable for training and practice.
The shorts are cotton and spandex for stretch.
They have four-way stretch technology that allows for maximum movement.
There is a high-rise top that flattens and controls your tummy, so no more muffin tops.
They also have three pockets so that you can easily store a few small items.
---
4
These shorts are also perfect for practice and training sessions.
They come in a set of three.
You can choose from three similar solid colors or options with different slid colors.
There are also extended sizes available.
They are very stretchable with polyester and spandex.
The fabric is a non-see-through design.
---
5
The Kamo Fitness shorts are an absolute staple for any pole dancer.
High-waisted design athletic shorts that flatten your tummy for a sleeker appearance.
They are tight-fitting and comfortable with stretchable materials that allow for better movement.
The shorts come in many solid colors available.
They are sleek and fit like a second skin.
---
6
When you need to show off your pole dancing skills, why not try a pair of these glitzy shorts.
Another gorgeous piece for showing off your talents.
These shorts have shiny sequences embroidered on them.
They are a short fit, available in five color options and more size.
The shorts are a pull-on design and very stretchable.
They consist of polyester ad spandex for stretch.
All sizes are available.
---
Index Table: Top Rated Shorts for Pole Dancing
---
---